The best places to buy affordable art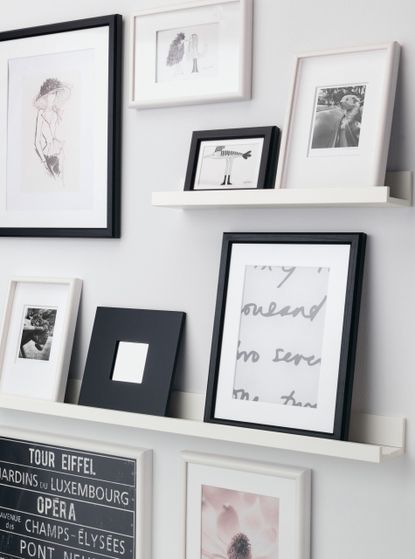 woman&home newsletter
Sign up to our free daily email for the latest royal and entertainment news, interesting opinion, expert advice on styling and beauty trends, and no-nonsense guides to the health and wellness questions you want answered.
Thank you for signing up to . You will receive a verification email shortly.
There was a problem. Please refresh the page and try again.
Ever gone to your friends' house and admired the art on their walls? Love the way it's been effortlessly arranged? It's not as easy as you think - a lot of thought and planning goes into a successful home gallery wall. And nowadays more people than ever are looking to improve their wall decorations as part of the trend to stay put and renovate.
There are a plenty of places to buy wall art but the question is where to start and, ultimately, what to choose. 'Don't just go for the overpriced, commercial abstract stuff that matches a colour in the room. That's out to cater for the corporate world,' renowned artist Derek Marks advises. Instead, spend some time curating your own taste. Remember you're not going to nail your gallery wall in a day - it takes time and patience. Go to galleries, explore and push your own mental boundaries about what art actually means to you. Browse the National Gallery and places such as the White Cube (opens in new tab) and the Gagosian Gallery (opens in new tab) for inspiration from real, raw art. Ben Cotton, Director of the Hang Up Gallery in Stoke Newington, also recommends checking out the Pace Gallery (opens in new tab), Victoria Miro (opens in new tab), the Wellcome Collection (opens in new tab) and the Geffrye Museum (opens in new tab) in Hoxton. If you can't get to the galleries but want to be in the know, try artsy.net (opens in new tab) whose mission it is to 'make all the world's art accessible to anyone with an internet connection.'
We've selected seven of the best places to buy affordable art right here. Also, don't miss our tips on how to create your very own gallery wall.
Best places to buy affordable art....
1. Nelly Duff
Nelly Duff (opens in new tab) houses some very cool art. You can buy online or visit their shop in London's Columbia Road. They have both limited editions and original pieces from a very wide range of artists. From street art, graffiti art, fine art, portraiture, humour and illustration to name a few, this place is a surefire little gem which caters for the most weird and wonderful art tastes.
SON OF MAN (opens in new tab) by Nick Smith, £295
2. Degree Art
Be a trendsetter and invest in the talent of tomorrow. Degree Art is a wonderful place to browse breakthrough artists who are begining to garner attention internationally. Don't be alarmed at the price of some of the pieces, you can easily filter by budget and there's plenty available under £100. If you don't want to buy, you can always rent your favourite for a fee - an afforable way to spruce up your place in time for your next dinner party. If by chance you pick an artist who later goes on to become a household name you can expect to see your purchase grow in value by up to 400%. If that wasn't enough Degree Art also enables you to commission artists directly for something supremely personal.
FIBONACCI SPIRAL By Elizabeth Picton, £50
3. Affordable Art Fair
The Affordable Art Fair (opens in new tab), which takes place in Bristol (18-20 September) and then tours Europe, has really made a stamp on the art world. Starting life as Will's Art Warehouse which prided itself on making art accessible to the masses because it was affordable, Will's shop soon turned into an international art colossus. Offering art to suit small and big budgets (£100 - £5000) and showcasing a mammoth amount of art under one roof you're guaranteed to find a lot that you like. It's also a great family day out - the fairs are kid friendly offering a creche plus heaps of art activities for youngsters, all in a bid to instil a passion for art from a very young age.
SILVERY MOON (opens in new tab) by Sarah Ross Thompson, £90
4. Nottingham Contemporary
Standing proud within Lace Market in Nottingham, this place is one of the UK's largest centres for contemporary art. It's large and open interior mean it's the perfect host to some wonderful exhibitions. This March it will open the largest ever UK exhibition of the works of Turner prize winner, Simon Starling. They sell limited edition prints, exclusive artist editions and catalogues plus all profits go back into the upkeep of the gallery and to supporting its future exhibitions.
FIRST SUPPER (AFTER A MAJOR RIOT) (opens in new tab), ASCO, £150
5. The Tate
The Tate (opens in new tab) is home to a very wide collection of fine art prints and visiting exhibitions all year around. You can happily shop from their permanent and visiting exhibitions in the gallery shop or online. There is also a wide selection of limited edition prints in a range of formats. Once again shopping is easy as you can browse by theme, artist, room or exhibition. Home also to prints that are exclusive to the Tate and may only be bought there. It also has a good selection of artworks for children's walls.
GATHER ALL THE TREASURE (opens in new tab), Fiona Rae, £350
6. Hang Up
This wonderful gallery in Stoke Newington is a little bit special and exclusive as it has been a Banksy specialist since 2008 and now houses a very exclusive 'Banksy Bunker.' Launching first as a street art website specialising in highly collectible and sought after limited edition prints, Hang Up (opens in new tab) has grown to become Europe's leading online urban art gallery. 'We sell a lot of work that makes for very good investments, artists like Banksy, ConnorBrothersand Harland Miller' says Director Ben Cotton. So if you want to invest in art, this is the place to come but don't be alarmed as they also do sell art that isn't going to demand a remortgage and that will look exceptionally cool on your wall. If you want to see how art should be hung, a visit to the gallery is well worthwhile.
EMBRACE PURPLE (opens in new tab), Joe Webb, £195
7. Etsy
Ah! At last! A place for the individual artists and craftspeople to reach us from the far corners of this very wide world. Etsy (opens in new tab) is a veritable mine of creativity and inspiration There are millions of prints, paintings and all manner of wall art housed here from artists ALL over the world. You don't even have to wait for the package to arrive sometimes as you can buy the print and download it digitally and instantly print at home it so you can hang it straight away. The wonders of technology!
HUMMINGBIRD (opens in new tab), Koby Feldmos, £360.02
SEVEN STEPS TO ARRANGING YOUR ART
Once you have your art it's important to ask yourself if you want a static gallery (yes you can change the picture in the frame but not where it's positioned without filler and paint), or do you want it to be flexible so you can move the art when the mood takes you. If you want more freedom with your home gallery, it's worth considering shelves upon which you can prop artworks. These shelves are most useful for this:
Mosslanda picture ledge, Ikea (opens in new tab), from £4.50
Once you've decided on your art, here are a few tips and pointers to help hang your own enviable collection:
1) Find the right wall. What room or space is this art for? Is it a place where you will sit regularly or an occasional room such as the dining room or somewhere that is transitory such as the hall? How big is the space? Do you need distance to appreciate the artwork?
2) Decide on a theme - do you want an overall theme that is consistent or has something in common in each picture? You might want to theme by colour - monochrome? All the colours of the rainbow, various shades of just say, green? Or do you want it to be more thematic so florals and botanicals? Or maybe a vintage, retro theme with old film posters and film stars in black and white. East London based artist Derek Marks recommends buying the art first then decorating your room around the picture - only the brave!
3) What size? Do you want uniformity or do you want the pictures to be different shapes and sizes and also a mix of portrait and landscape? Do you want them all to hang from straight across the top or instead be jagged and randomly placed.
4) What frames? Frames should never be underestimated. 'The best pictures will look bad in a poor quality frame' says Ben Cotton, Director of Hang Up Gallery. Do you want the frames to be all the same or do you want a varied selection? All the same gives an orderly look which allows the art to shine.
5) How many are we talking? Do you want a floor to ceiling gallery? Or do you just want a few pictures up? Is this the start of a gallery wall that will grow and you will add to as you purchase your pieces?
6) Lay it out. Remember: 'Space is good. Let the pictures breathe so they don't hang too close together.' says Ben. Before you hang you can try the composition of the frames together on the floor to see if you like how it looks. Or you could grab a picture shelf and prop framed pictures and other trinkets upon it. This way, when you get bored of the way it looks you can mix it up in the blink of an eye. Swap art in and out on a whim.
7) Hanging tough. Start with the largest piece and hang that on the wall, off centre. Use that as your reference and from there hang the smaller pieces outwards. Personalise your statement wall by also framing and hanging your own doodles, kids drawings and family photos.