An expert's guide to making your presents look more expensive with clever wrapping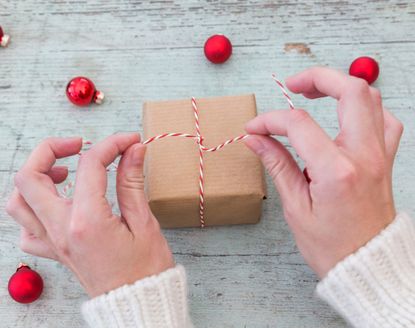 For presents you'll be proud to give, take some top tips from our gift-wrap gurus.
Nothing says Christmas better than a pile of pretty packages under the tree.
So whether you're sorting presents for five or 50, here's how to get gift wrapping right every time...
Less is more when it comes to the paper
"Gifts wrapped in understated paper, and sealed with double-sided sticky tape look far more professional than busy paper with sticky tape all over it," says gift wrapping expert Jane Means. For a neatly wrapped parcel, don't use too much paper around the sides. You only need a little bit of overlap to seal.
Wrap simple oblong shapes without tape
Simply secure with a tied ribbon. It means you can reuse the paper too.
Personalise the gift wrap for a really thoughtful touch
"Designer Abigail Warner creates bespoke paper, printed with recipient's name or a special message," says Eleanor Gregory, a Christmas and gifting buyer at Selfridges. "You can print yours in store at the Selfridges Christmas Shop this year."
Make gift wrap from your memories
Simply upload your favourite photographs to the website wrap.me and it will create a sheet using your pictures. What a lovely idea - almost a present in itself!
Choose trimmings that add a personal touch
"The smallest decoration immediately adds a touch of luxury," says Jane. Use embellishments to personalise each gift. Try tying a candy cane or a bauble onto the gift with ribbon. Or attach a bundle of fresh foliage, a cinnamon stick or a slice of dried clementine. Wire, wooden or porcelain initial gift tags make nice keepsakes for the receivers.
Play with different textured ribbons to add class to a gift
A velvet or silky ribbon – which can be reused – or some colourful raffia a will bring simple brown paper alive and create a vintage feel.
Wrapping for the men in your life?
Try a monochrome theme for a classic masculine look. If you're choosing a print, go for a bold pattern or stripes.
How to prep for wrapping
Mastering the art of wrapping at speed lies in the preparation. Clear your table and set out your materials. Measure your wrapping paper and ribbon against each item before you begin wrapping – it means you'll avoid excess paper, which makes the gift bulky and unmanageable.
Invest in a personalised stamp to cut down on tag-writing time. Or find some tasteful self-adhesive labels that you can stick straight on.
Go for a gift box if you're really against the clock, as they require minimal effort without sacrificing style. "There's something quite special about opening a box," says Caroline Gardner, a leading stationery and giftware designer. "You can use it to store other keepsakes."
Tackling tricky shapes and sizes
Tackle tricky shapes by being resourceful and creating at surfaces wherever possible – with paper and old cereal boxes. "Disguising and packaging provides endless amusement in my household around Christmas," says Caroline. It's especially good for Secret Santa presents.
Cellophane and tissue can rescue even the most awkward shapes. Simply pop the item in the centre and gather cellophane/tissue around it.
Use a paper tablecloth to wrap really large gifts. They're inexpensive and readily available in supermarkets. If the gift is in several parts, wrap them individually and place into a basket with a ribbon tied onto the handle.
Delivering your gifts
Be savvy when delivering your gifts. If you're travelling abroad for Christmas, wrap presents on arrival, as airlines may ask you to open wrapped gifts for security reasons.
Consider buying from a retailer that offers tasteful gift wrapping as part of the service. Cath Kidston, Selfridges, Anthropologie and Amazon, among others, offer a gift-wrap service with a personalised message for online orders.
The pro tool kit:
Double-sided sticky tape for a professional-looking finish.
A fountain pen to write the gift tag for an elegant and personal touch.
Sharp scissors so you can cut your paper with precision. 4A wrapping "first aid" kit of fabric ribbon, cellophane, tissue and tags.
Isa Jaward is a journalist from London who has written for the likes of Time Out, The Guardian and Music Week.