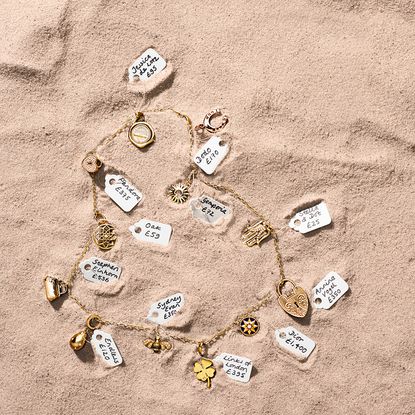 Need a jewellery update? Add a simple charm. Our fashion team have picked out the very best...
The interest for jewellery with meaning is having a resurgence and nothing conveys this trend more than a charm. Talismans, amulets, call them what you will, these keepsakes exist in virtually every culture and have done for thousands of years. Here we've focused on the meanings behind them, and whether it's a protective charm to ward off negativity or a bee to represent fertility this is a thoughtful gift that will resonate with even your hardest to buy for friend.
Charms make ideal birthday presents and are a great option for bridesmaid and flower girl gifts – did you know that the Victorians had wedding charm cakes where the bridesmaids would pick a ribbon to pull from the cake and out popped a charm? How gorgeous!
Or are you looking for a little boost yourself? Many believe in the powers of charms, and if you choose one you love and wear it every day, something good has to come your way, right?! Not only that, our pick of the best charms has something to suit everyone, and they're as beautiful as they are spiritual. Wear them as a necklace, or add them to your favourite bracelet and wait for their powers to start working!
Click through now to choose your favourite...
Main image (clockwise from left):
Jessica de Lotz, 18ct gold plated
Dodo, 9k rose gold
Gemporia, 9k gold and diamond
Stella & Dot, gold plated bronze with pave stones
Annina Vogel 18ct gold
Dior joaillerie, gold, diamond and lapis lazuli
Links of London, 18ct gold and diamond
Sydney Evan, yellow gold and pave diamond
Endless, 18 ct gold vermeil and cubic zirconia
Stephen Einhorn, 9ct gold
Oak, gold vermeil
Pandora, 14k gold and cubic zirconia
Evil Eye - Protection
Worn to ward off the Evil eye, certain cultures believed that you could have bad luck, illness or death when a person gives you this glance. 18ct gold and diamond, £395, www.sydneyevan.com
Key – Knowledge
The Ancient Greeks believed them to be a symbol for knowledge and life. Three keys unlock the doors to wealth, health and love and a silver and gold cross keys represents authority and the keys to the Kingdom of Heaven. 10kt gold and diamond key, £425, Theo Fennell at www.harrods.com
Sound ball – Protection
Coming in different colours each with different meanings, the bell inside the sound ball has its own unique and subtle chime. They are believed to call your guardian angel to your side to protect you from danger. Rose gold plated, from £79, www.engelsrufer.de
Dream Catcher – Protection
From Native America, this spider's web catches any bad or negative dreams and the good dreams find their way through the middle. £75, gold vermeil, Mura at www.luluwinter.com
Hand of Hamsa - Protection
The palm shaped amulet of an open right hand and five fingers is believed to protect against the evil eye and is particularly prominent in North Africa and the Middle East within the Islamic and Jewish communities. Hand of Fatima - Protection This has similar meanings to the hand of Hamsa and is seen to represent femininity. 18k gold, pave set blue and silver diamonds and freshwater pearl, £1,800, Annoushka at www.harrods.com
Tree of Life – Spiritual Interconnection
This is worn to remind the wearer that everything on earth is connected and that we are all essentially leaves on one tree, we all are connected to each other. Gold plated silver, £60, Endless available at www.beaverbrooks.co.uk
Birds – Freedom
Birds represent finding your path in life and represent the middle space between heaven and earth, when lost the sparrow would lead you back home. Sterling silver, £144, www.alexmonroe.com
Bees – Fertlity/Immortality/team work
In Victorian England they represented the art of doing and the idea that you could accomplish anything through hard work and focus. Ancient Middle East, Greece and Egypt believed the bee also symbolized royalty and it is also thought to bring about fertility with its reference to the queen bee who produces thousands of eggs every day. 18ct rose gold and diamonds, £450, www.linksoflondon.com
Heart – Love
This universal symbol for love, caring and affection comes from the middle ages. A heart with an arrow through represents a captured heart. Sterling silver initials pendant necklace, £120, Meli – Li Rose at www.boticca.com
Peace
Created in 1958 by British artist Gerald Holton as a symbol against nuclear disarmament in Britain. By the 1960's it was adopted in rallies against the Vietnam War in America and is one of the most recognized symbols today. The three lines in the circle represent two letters – N & D (Nuclear Disarmament) made up from the flag-signaling alphabet, whilst the circle represents earth. Sterling silver and cubic zirconia, £25, www.pandora.net