EXCLUSIVE: Jo Malone "I'm Still The Girl That Made Good"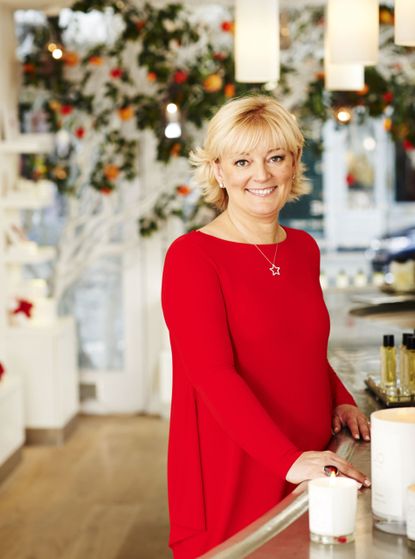 Jo Malone talks to Victoria Young about her identity crisis after leaving her business, and how writing her autobiography taught her who she really is...
Jo Malone, 53, lives in London with her husband, Gary, and their 15-year-old son, Josh. She grew up in Bexleyheath and trained as a facialist with her mother before they went into business together. Jo left the business at 21 and became estranged from her parents and younger sister, Tracey. She launched Jo Malone in 1994, sold it to Estée Lauder in 1999 and, after having breast cancer, in 2006 made the decision to leave the business. She was contractually unable to work with fragrance for five years but in 2011 she opened a new fragrance company called Jo Loves. Her inspirational autobiography, Jo Malone: My Story, is out on 6 October.
Writing this book taught me a lot about myself. Before I wrote it I'd have said that I made a success of my life in spite of things that happened to me. Now, for the first time in my life, I realise I am who I am because of them.
I didn't have an unhappy childhood; but I had a tough childhood. We didn't live in poverty but there was certainly not a lot of money around. I never felt I wasn't loved but, my goodness, I was definitely the breadwinner from a very young age.
I became an adult at the age of ten or 11. I was my sister Tracey's carer, often looking after her while Mum was at work. It was my job to make sure that we had food in the cupboard. We had an electric metre and a gas metre and I'd hoard 10p coins up in my room because I knew Dad would take them otherwise, and we needed light and heat when we got home from school. I always had to be two steps ahead in my head. I do have a control issue and I've suffered huge anxiety because I can't always control things. I understand now that comes from my childhood.
At school I was told I was stupid or lazy and I always knew I was neither. But I just didn't understand why I couldn't learn in the same way as other people. It wasn't until years later that someone said I might have dyslexia and it was such a relief.
My dad was a wheeler dealer - that is where I got it from. I'm quite a wheeler dealer too, still now; every day of my life! I am still definitely the girl that made good and I'd be quite happy sitting in a market and selling something. I'm quite roguish and if I hadn't married Gary I think I'd have ended up more like my father.
I loved my dad, but he wasn't a reliable man. He sometimes worked as a magician and I loved being his assistant. But I didn't like the gambling and poker that was a big part of his life. All I wanted was to be secure; I longed for that and vowed I'd have that in my marriage.
My mother was always classy. She came from a council estate but she looked like she could have lived in Belgravia. She always wore lipstick and had a manicure but what I really saw in her was how hard-working she was.
She had a nervous breakdown when I was 14. She just sat in a chair and rocked backwards and forwards for months and months. I was really frightened, but I was the one holding it all together. I stopped going to school, and carried on the work she was doing as a facialist, and somehow managed to prevent my sister and me getting taken into care. My dad was around a bit but I got most help from the neighbours.
That feeling of not being able to make ends meet never goes away.Even now I can't throw food away. Every Sunday we have what I call a "bits and pieces" dinner to use up leftovers, and I still have the feeling of needing to put something away for a rainy day. I've never in my life been overdrawn, apart from the time when I inherited Mum's business debt of £30,000, after we had gone our separate ways.
The day I left the business I built up with Mum, something was broken that would never be fixed. I did go back and try, many times, to mend our relationship. And each time I thought "One more time". But we never fixed it.
But I don't resent or regret anything about my childhood. They did the best that they could and I choose to remember them as wonderful people who made my life better. I choose not to look at the times that were hard because I don't want to go there.
Gary and I met at bible school when I was 21. I was looking for someone to marry and feel safe with and he was the Robert Redford of bible school; blonde, he laughed the whole time, he was kind, wise, but funny and had a glint in his eye. On our first date we went for a walk on Wimbledon Common and had our first kiss. I was head over heels and knew I'd met The One.
We've been married for 31 years and he is the most wonderful husband. He's my foundation, my best friend and my soul mate. We drive each other nuts but I really love him and he really loves me. We both have very separate identities but we come together to make a very strong team.
My faith still plays a big role in my life. I don't stand on mountaintops and shout about it but every day of my life I say a prayer. Gary was very sick recently and nearly died and that was when I held onto my faith like there was no tomorrow.
The day I sold Jo Malone to Estée Lauder I really felt like I was getting married. I was one of the happiest people on the face of this earth. We were a small business with a finite pool of money and we were growing much faster than we could keep up with. We had so many offers to sell but none of them were right: I didn't just want money; I wanted someone to show me the way. Estée Lauder offered that and I fully intended to stay there for the rest of my life.
But I didn't plan on having cancer. It came from nowhere and there were no warning signs. I thought I was going to die, until I got into gear and said to myself, "You're not going to die, girl." I didn't even think about work for a whole year; all I cared about was Gary and Josh, who was just two years old. I couldn't bear the idea of him going to school and getting married and me not being there. I'd lie in bed telling myself I had to be there for him and literally willing myself to live.
When you face your own mortality, something dramatically changes. I fought every day for a year to stay alive and had so much chemotherapy, I couldn't think straight. At the end of it I had a different perspective.
When I got back to the business it had moved on. Suddenly the captain of the ship wasn't there any more and it had had to move on without me. I couldn't feel my character or myself in there. It had become "just a job" and I felt I didn't belong.
No one chucked me out the door. I made that call to leave. And I take responsibility for that decision. Lots of people think there must have been a falling out but there was nothing like that.
But a lot of it was my recovery talking. You should never make a life-changing decision from the bottom of the mountain; always do it from the top. And I remember close friends saying, "Are you sure?" They knew I was making a decision based on emotions. I don't regret the decision, but now I've had time to think about it, I would have gone about it in a very different way - not that I know how.
Fighting cancer wasn't the worst time because I knew how to fight cancer. The worst time was the next five years when I wasn't working. Not being allowed to create fragrance was miserable; I felt unproductive. I didn't know what to do with myself. I had lost my identity and wondered, "Am I the person? Am I the brand? Who am I?" People actually suggested I change my name but I was still Jo Malone!
I didn't like who I was in those five years. I found myself becoming quite bitter. I felt resentful. I felt lost and like I had no purpose. Jo Malone was my best friend.
I had enough money but I'm not governed by money. I like making it, and I like splurging every so often, but all money does is give you choice. If someone had offered me a job I would have taken it but I wrote my CV and thought, "Who would employ me?" I'm slightly unemployable because I am so used to doing things in my own way.
My mum, dad and sister all passed away within 18 months of each other.It was awful. Mum had dementia so I was relieved for her that she didn't have to suffer any more. But my sister's death was the worst because she was so young. I don't go there in the book because it still hurts; it still feels very raw. But it was absolutely awful. She was in intensive care. I was the only one there and I held her hand and told her all the things I'd never told her. I said my goodbyes and told her I loved her. Love doesn't disappear because someone is not there any more.
When my parents died Tracey got everything and it doesn't bother me.I just wanted something to remember them. All I asked for was a letter rack belonging to my mum, which is in my bedroom, and some pictures drawn by my dad, which are in my bedside drawer.
The anticipation of going back to fragrance was amazing. The reality was awful - because I couldn't do it. I hadn't done it for five years, plus I'd had 18 months of chemotherapy before that. For the first year of trying it was like having been in a race, left the track, and then trying to just jump back in again and keep up without any training.
Then the inspiration for [the fragrance] Pomelo came to me one day when I was on the beach. And I realised it had been there all along; I just had to realise it. I have a bottle by my front door and I spray it when I go out and when I come in, and to me it just says, "You can do it."
Sometimes I'm unsuccessful. When I first launched Jo Loves with red packaging, I knew it was wrong. At the time it was humiliating. I wanted it to go away and it was awful. Now, we've changed it, and I know we've got it right but that red box was about me being a teenager and dyeing my hair red saying, "I am here!". It was painful, but I needed to travel that journey.
Setting up Jo Loves in Selfridges was a vulnerable moment. We were situated close to the Jo Malone counter and I looked over and thought, "Gosh, you're my best friend". I could feel it saying to me, "Come and stand here beside me" and I wanted, more than anything in the world, just to go over and smell Lime, Basil & Mandarin. I still love that brand - and the heartbeat of a founder of a brand never leaves a brand.
I'm really proud that I've come back a second time. Very few people would take on that challenge and I definitely wanted to quit many times. A couple of years ago I could feel failure around every corner; I just couldn't get it to work. But Gary just kept on saying to me, "One more week". He knew that in difficult times, the landscape changes.
The turning point was when I found the shop for Jo Loves on Elizabeth Street in Belgravia, London. It just clicked. I could see what it would look like as soon as I saw the shop and our first Christmas was just like it had been when we opened Jo Malone, with queues in the street.
People suggested I write my autobiography three years ago but the timing wasn't right. I knew the book had to end with me standing at the top of a mountain, not at the bottom. I won't take it for granted but now I am standing on top of the mountain; I'm going to build a global brand and I'm going to change the world again. w&h
Jo Malone: My Story (Simon & Schuster) is out on 6 October.
Video
Sign up to our free daily email for the latest royal and entertainment news, interesting opinion, expert advice on styling and beauty trends, and no-nonsense guides to the health and wellness questions you want answered.
Jane Kemp is the Features Director for Woman & Home, Woman's Weekly, Woman and Woman's Own. She's worked in journalism for many years, mostly in Women's consumer magazines, and enjoyed a long stint at Practical Parenting while her own four children were little. These days, her interests are more focussed on gardens and books, and she has taken great pleasure in seeing the expansion of books coverage in all the titles, as well as big-name authors writing exclusive fiction for Woman & Home and Woman's Weekly.