You need to see this chocolate orange-themed hotel room in the French Alps
Calling all chocoholics...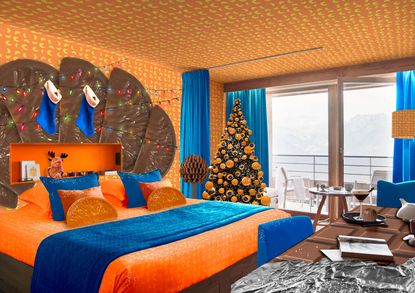 Chocolate orange is having a moment this year and, with Christmas just around the corner, we are absolutely living for it.
Anyone with a love of food will no doubt enjoy the festive season, with chocolate orange, Quality Street and gin advent calendars (opens in new tab) just some of the delights on offer.
The good news is that chocoholics can now go one step further and not only feast on the zesty flavour, but stay in a room dedicated to it, too.
A chocolate orange-themed hotel room is now a thing and it's located at Club Med's brand new resort called La Rosière, (opens in new tab) in the French Alps. The new spot means guests can immerse themselves in quite literally everything to do with the festive treat.
The unique room comes with orange and blue bedding, a chocolate orange segment as a headboard, chocolate orange scented toilet roll and a real Christmas tree adorned with chocolate oranges - which can be picked off and enjoyed at any time.
MORE:Pet hotel reviews wanted! And owners get to go along for the ride (opens in new tab)
What's more, guests will be treated to a personalised stocking filled with chocolatey treats every day of their stay and a number of chocolate orange-themed delicacies (including a hot chocolate) can be ordered through room service.
Of course, it's not just the interiors which are worth shouting about. The resort offers views of the stunningsnow-covered surroundings.Visitors will also be offered orange skis - so they won't be missed on the slopes.
Anyone looking to book can do so through the website (opens in new tab) and the room is priced at £93 per person per night - which seems pretty reasonable considering it'll be a once in a lifetime experience.
https://www.youtube.com/watch?v=rWNU5XMWZyU&feature=emb_logo
In terms of the resort itself - which is perched 1,900 meters above sea level - there's plenty on offer. La Rosière boasts state-of-the-art facilities and restaurants for the whole family. There are ski schools, beginner slopes and childcare for young families as well as walks, hikes and other entertainment options for adults.
The website says, 'La Rosiere is a picturesque ski resort known as 'The Balcony of the Tarentaise ski'. Offering unforgettable panoramic views across a stunning mountain backdrop of the French Alps.'
If all this talk has whet your appetite, don't forget to check out our recipe for chocolate orange cake. (opens in new tab)
Happy feasting!
Lizzie Thomson is a regular contributor to woman&home, and also contributes to Metro.co.uk, Ideal Home, Culture Trip, and Evening Standard, covering all things lifestyle.