EXCLUSIVE: Behind The Scenes On Poldark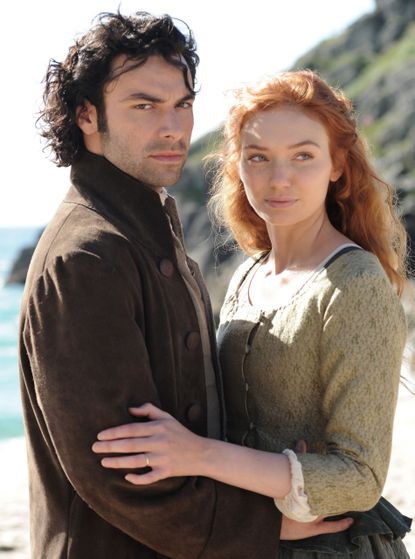 (Image credit: BBC Pictures)
woman&home newsletter
Sign up to our free daily email for the latest royal and entertainment news, interesting opinion, expert advice on styling and beauty trends, and no-nonsense guides to the health and wellness questions you want answered.
Thank you for signing up to . You will receive a verification email shortly.
There was a problem. Please refresh the page and try again.
From fine-tuning Ross Poldark's scar to disguising a pregnancy, Nathalie Whittle goes behind-the-scenes on the set of hit BBC One drama Poldark, and hears the secrets of three women who help bring the show to life...
The Hair and Makeup Designer
"Some of my fondest memories are of Aidan and I sharing our love of 80s music in the make-up room!"
Pamela Haddock, the hair and make-up designer on the new Poldark series, lives with her husband in Bristol. They have two children, aged 19 and 23.
If you thought Aidan's [who plays Ross Poldark] shirtless scenes caused a stir last year - well, this year there's more of them! I used a cosmetic camouflage called Dermacolor, which comes in about 12 different shades, and I'd give him a bit more definition with the darker shades. I even used it on his face under his cheekbones and on his temples... just to make him look a little bit more perfect.
We filmed all over Cornwall, from a beautiful sandy beach at Church Cove on the Lizard peninsula to Padstow on the north coast for the cliff scenes. It was out of season so we were lucky enough to be put up in little holiday homes. In fact, at one of the places, we each had hot tubs outside and wood burners, and my family would come and visit.
We had to start preparations at 6am every morning and we wouldn't get back until 8pm most nights, but all the cast and crew would have some food and a glass of wine together before bed, which was wonderful.
When the first series aired, there were a lot of comments about Ross Poldark's scar, so the pressure was on to get it right. To create Aidan's scar, I had to make up a cast, which was filled with a material called Pro Bondo, then apply it to his face, where it should stay in shape all day long. I had five weeks to prep and there wasn't a day that went by that I didn't make a new one. While I was prepping, I'd be in my dressing gown at 7am, trying the scars on my husband's face until I was completely happy with them. Then, when I finally got it, I had to make several more because you need back-ups in case one doesn't work!
Some of my fondest memories are of Aidan and I sharing music in the make-up room. You never know what mood an actor's going to be in when they're sitting in your chair, but Aidan was always great fun. I have a lot of playlists on my iPad and he'd say, "Let's put Huey Lewis on," or some 80's music. He loves his music. The funny thing is when you're out in public with him, it's like being at a pop concert yourself with groups of fans shouting, "Aidan! Aidan!" He has such a large fan base, but he gets very embarrassed by it.
One of my biggest dilemmas was with Eleanor Tomlinson's [who playsDemelza] hair, which is quite short. I took her to a wig maker in Bristol,which makes wigs for Hollywood stars such as Johnny Depp and Nicole Kidman, to get a couple of hairpieces made so it would look like she had these incredible cascading curls. But when we started filming, her dyed hair kept getting lighter and lighter in the sun, so the hairpieces didn't match. After several trials (and moments of sheer panic!), her colourist came up with a "magic" formula - shampoo and hair dye - to stop the colour fading. We also had to find a solution to the fact that Aidan had his hair chopped off for another TV role before filming on Poldark began... but we got there in the end!
The Costume Designer
"A lot of the characters in Poldark are wearing jewellery from the high street!"
Ros Little, the costume designer on the new series of Poldark, lives with her husband in London and has two grown-up children.
As soon as I started work on Poldark, I immediately amassed my collection of 18th-century costume books (I have in excess of 400!). When we meet Ross Poldark again in this series, his look has hardly changed because the reality is that he wouldn't have had a huge number of clothes. Luckily Aidan was very easygoing about his outfits. Demelza has a more "permanent" look, though, with four main outfits (usually a bodice and skirt).
One of my favourite scenes in the new series is where Demelza is on the beach wearing this beautiful red ballgown and she and Ross have a very important exchange. We hire a lot of the costumes from a shop called Cosprop, but we decided to have this gown made from scratch and getting it right wasn't easy. It took us weeks just to decide on the colour! I kept showing the producer and director different samples before I got the go-ahead. I then had to explain to other actors in the scene, "I know you love that wine-coloured evening coat, but let's try on this blue one now," for fear of the colours clashing. Even the set designer got involved, so he could think about how to decorate theballroom, so the dress would stand out.
A lot of the jewellery the supporting actors wear is actually from a high street shop, as by sheer luck they were selling 18th-century style jewellery, which we aged. I sourced some from eBay and vintage fairs too, but as we needed multiple engagement and wedding rings, it came in handy that we could source from the high street. After all, you can't afford to have one very special ring that's on the verge of falling to pieces!
One of the biggest challenges was disguising the fact that Gabriella Wilde, who plays new character Caroline Penvenen, was pregnant in real life - and her characte isn't. The producers were worried it wouldn't be possible to disguise it. But, fortunately, fashion in the 1790s was changing and the waist was rising, so I showed them some paintings of the period by Elisabeth Louise Vigée Le Brun, which illustrated the softly drapedfashions of the time, and these were the inspiration for some of Caroline's clothes. I'm just hoping you don't notice her bump on TV!
As for shoes, there weren't any of the period to be found, so we had to make them all. You stay until the job's done, so sometimes it meant doing 14-hour days. The character who goes through the biggest change this series is Elizabeth [Heida Reed]. I'm not allowed to tell you the details, but there's an accident and she goes into mourning - and, of course, follows the custom of wearing unadorned black clothing. There's light at the end of the tunnel for her though - as you'll see.
The Historical Advisor
"I've found myself answering questions about Poldark in the supermarket!"
Hannah Greig, historical advisor on Poldark, lives in York with her husband and two children, aged two and four. She is a lecturer in 18th-century British history at the University of York.
People always ask me what it means to be a historical advisor - well, I'm the on-call history geek! I read the scripts and look for any anachronisms and add in notes about historical context. Of course there have been times when I've read a script and thought, "I'm not sure about this." In the first series, there was a gambling scene where Ross Poldark reveals someone is cheating at the table. In the 18th century, the casual disposal of wealth was seen as a sign of manliness and those sorts of games were incredibly exciting, but I wondered how it would translate on screen. However, when I finally saw it on TV, there was so much suspense - even Bond films have poker matches that aren't quite as gripping as that scene!
Before filming begins, I hold Q&A sessions with the cast. First they'll read through their scripts, then we'll discuss the history of the period. They'll ask me anything from, "How do you curtsy correctly?" to "Why would I fall in love with this particular kind of person?" - they're all very conscientious students.
Some period details do stump me. Sometimes it's a case of phoning a historian friend, but others I need to do a lot more digging for. During the first series, we had a real conundrum over what a bank would look like in 18th-century Cornwall. Most images that survived are of the Bank of England, so finding out what a local bank would have looked like wasn't easy. In the end, an archivist at Barclays Bank gave me the pointers I needed. Those moments are incredibly gratifying.
Once filming begins, I'm on call 24/7 should the writer Debbie [Horsfield] or any crew have a question for me. I find myself answering Poldark-related questions when I'm on the train, at the supermarket or in-between teaching.
In series one, there was a scene where Ross's ex-lover Elizabeth is reading and they wanted to know what books to use. I happened to be teaching a seminar about feminism in the 18th century, so I said to my students, "If you were an 18th-century woman of this social rank, what sort of books would you be reading?" They still don't know I was actually working on Poldark at the time!
The most common complaint about the series is that words sound too modern or people are impolite. But it's a real misconception that everyone was very "proper" then with lots of bowing and curtsying - it honestly wasn't like that. The new series picks up in 1794 against the backdrop of the French revolution in a period of political and economic change - and of course there are drunk people and the men and women are swearing just as we do today. It's by adding in those little details that we create a world that's almost as real as it was hundreds of years ago.
Poldark airs on Sunday nights on BBC One.