Amazon is selling a freezable gel pillow to help you survive the night-time heat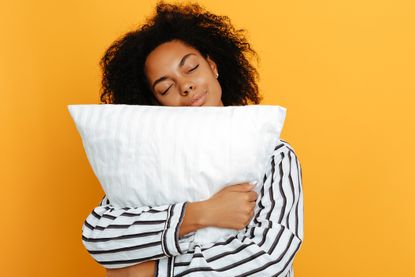 (Image credit: Getty Images/iStockphoto)
These cooling pillows have made sleeping through a heatwave a whole lot easier.
Finding the best pillow to see you through a bad case of the night sweats (opens in new tab) can be tough.
Whether it's the menopause (opens in new tab) or the Mediterranean-like heat we've been experiencing lately, our choice of bedding has never been so important in trying to get a good night's sleep – but did you realise how much finding the best pillow could affect your sleep?
And now our prayers of a solid seven hours have been answered in the form of Amazon's bargain freezable gel pillows.
With a RRP of just £8.99 for a pack of two, the amazing pillows by Keplin were designed to help alleviate headaches, migraines and flu, but customers are increasingly using them as a heatwave hack (opens in new tab) for sleeping through the night.
BUY NOW:KEPLIN 2x Cooling Gel Pillows, £7.64, Amazon (opens in new tab)
The pillows were spotted and shared by a savvy shopper on popular Facebook group Extreme Couponing and Bargains UK.
Group member Kerrie posted, "Anyone struggling to keep cool at night in this heat, these are a god send. Put them in the freezer for a few hours before bed and lay them underneath you. Best £7.99 I've ever spent."
The pillows have since come down in price and are also available with free delivery on Prime, so you shouldn't have too long to wait before trying them out for yourself.
Customers have also suggested using the versatile pillows for long car journeys in the hot weather, as well as underneath children's play mats during the heatwave.
MORE: Doctor warns people to avoid this popular heatwave hack and reveals what actually helps (opens in new tab)
'These are great! Just brought two packs so I have one and my kids have one each," wrote one satisfied Amazon customer. "Today was 35 here in the south of England and tonight muggy as anything. This really helped make it a bit easier to sleep. My daughter popped hers in the fridge and then the freezer to see if that made it last longer and both did, as long as you don't let it actually freeze. Just let it go really cold and pop it in your pillow for a comfy night's sleep."
Another customer meanwhile praised the pillows for alleviating her night-time hot flushes (opens in new tab), writing, "I have hot flushes during the night and these have saved my life... I swap them over during the night to keep my face/arms hands cool. Marvellous – have even taken them on holiday."
At just £3.50 per pillow, who could argue with that?
Kate is a freelance contributor to woman&home, covering everything she loves most: fashion, fiction, and fancy face cream. If she's not working, she's probably reading, feeding her online shopping addiction, or judging the taste level of celebrity houses (10/10 for Dakota Johnson, 2/10 for Tan France).

She graduated from Central Saint Martins in 2020 with a BA in fashion journalism, and her byline has also appeared in British Vogue, The Times, and Marie Claire.