Nespresso Vertuo Next review: Delicious coffee and espresso at the touch of a button? Yes, please!
We take a closer look at how the Nespresso Vertuo Next satisfies our caffeine needs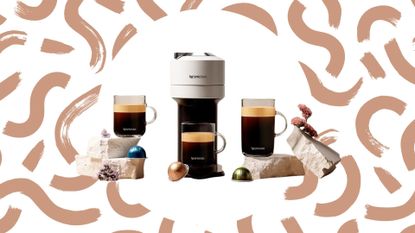 (Image credit: Nespresso)
The Nespresso Vertuo Next simplifies coffee prep without sacrificing quality. The compact, pod-style machine brews delicious coffee and espresso beverages with its exclusive Vertuo capsules.
Reasons to buy
+

Makes a great cup of espresso

+

Made of partially recycled materials

+

Only Nespresso machine that can make an 18 oz. carafe

+

Available in many colors and editions

+

Great customer service
Reasons to avoid
-

Milk frother costs extra

-

Only compatible with Nespresso Vertuo pods

-

Reliability issues
Why you can trust Woman & Home Our expert reviewers spend hours testing and comparing products and services so you can choose the best for you. Find out more about how we test.
When it comes to pod-style coffee, Nespresso holds a very large market share thanks to its highly versatile Vertuo line that brews both coffee and espresso at the touch of a button. Its most compact Vertuo model, the Vertuo Next is its most current debut, and the body is made with over 54% recycled plastics while keeping its stylish looks. Our coffee expert has put this machine through its paces in testing to bring you her honest thoughts and opinions on this coffee bar staple.
It's not a stretch to call Nespresso machines a cult favorite among the coffee-drinking crowd. For good reason: morning coffee (or an afternoon pick-me-up) turns a routine into a ritual, with a Nespresso coffee machine on your counter. The machines are easy to use and the accompanying coffee selections offer vibrant taste, intoxicating aroma, and a satisfyingly frothy layer of crema.
We tested the Nespresso Vertuo Next machine over a couple of months to properly asses the machine's capabilities and strengths, as well as its weaknesses.
At around $169 / £149, this machine is considered an investment appliance rather than a kitchen essential, but a good coffee machine is definitely a worthwhile investment if you want to cut down your takeaway coffee consumption.
If you're considering buying the machine, you'll want to remember that Nespresso machines only work with Nespresso coffee capsules, and the Vertuo Next specifically only functions with the dome-shaped Vertuo Pods. Together, a single serving pod costs more than a standard drip coffee serving, but far less than even the most basic espresso order at the cafe.
And if you're still stuck on what espresso maker to buy, you can continue reading with our breakdown of the best Nespresso machines or take it a step further and expand your search to include all the best coffee makers.
What is the design of the Nespresso Vertuo Next like?
SPECIFICATIONS
● RRP: $169/ £149
● Water tank capacity: 1.1L/ 37 oz.
● Dimensions: 5.5" x 16.9" x 12.4" inches
● Weight: 8.8 lb./ 4 kg
● Guarantee: 2 Years
The design of the Nespresso Vertuo Next is both attractive and sustainably made. In fact, it's Nespresso's first machine to be made of over 54% recycled plastic.
It's also quite slim at just 5.5" wide, with a clear 37 oz. removable water tank tucked away at the rear. However, when the lid is open, it does have some height, which you will want to account for if you plan to place it under cabinets.
Beneath the hood or the crown, as I lovingly refer to the head of the Nespresso machine is where the pod is inserted. It opens with a self-propelled movement thanks to the lock/unlock lever at the top. In order for the machine to brew, the lid must be securely "locked." The machine heats up in as little as 30 seconds and operates with just one button press.
The allure of the Nespresso Vertuo system is that your selected capsule has a barcode that automatically dictates the cup size, pressure, temperature, brewing time and brewing parameters that it will brew. Additionally, instead of your standard bar pump espresso system, the Vertuo utilizes Nespresso's propriety Centrifuison method, which combines the concepts of centrifugal force and infusion where the capsule spins in the machine at up to 7,000 rpm to blend the ground coffee and hot water. The pressure resulting from Centrifusion leads to extraction and helps develop a thick luxurious layer of crema.
After brewing, and the next time you go to place a new capsule, a special mechanism picks up the used pod and dispenses it into a discreetly hidden used capsule container that can hold up to 10 used capsules.
The Vertuo Next is available in a variety of colors, most often white, gray and red, with a number of finishes and special edition colors. Premium models feature chrome or rose gold accents while Deluxe models feature a chrome and dark chrome finish. They do add to the cost but the upgrades are purely cosmetic.
If you want to turn your espresso into lattes, the design is well-complimented with the Aeroccinno milk frother, which is sold separately, or often available as a bundle.
Also of note, it has a 29" cord length, so you'll want to make sure the coffee machine is in close range to an outlet. Depending on the beverage you make, the cup support and drip guard are adjustable according to the size of your cup.
What functionalities does the Nespresso Vertuo Next have?
The Vertuo Next brews espresso or coffee with just one button. It's as easy as popping in a pod and hitting brew.
The Vertuo system can brew six different cup sizes, including an espresso, double espresso, coffee (5oz, 8oz, 14oz), and the Next can uniquely brew an 18 oz. carafe too. The sizes are predetermined by the capsule you choose, but you can also override those settings and brew your own
In addition to brewing coffee, the Vertuo Next has Bluetooth capabilities to connect to the Nespresso app and can keep track of the capsules you use to prompt a reorder, as well as alerting you when it's time to descale or if the water tank is low. It's definitely not necessary to use the Bluetooth feature, but it can be helpful if you don't want to pull out the manual to figure out what the single blinking LED indicator means.
How did the Nespresso Vertuo Next perform?
It's true, I think a Nespresso maker makes some of the best single-serve coffee. It's quick, easy, and makes a delicious hot beverage. Everything you could want when its the barrier between you and your first dose of caffeine.
The downfall, as mentioned from a number of reviews I've combed through, is that they are not the most reliable machines. After a period of non-use, my machine would not brew and flashed a series of blinking lights at me. When I could not troubleshoot on my own, I called customer service—in which I will note I was connected to within moments — who diagnosed that something went wrong with the hot water heater. Being within the warranty period, my unit was swiftly replaced.
How easy was it to clean the Nespresso Vertuo Next?
The Nespresso Vertuo Next offers convenient used capsule storage and offers minimal mess, if any, when it comes to cleaning up.
The first time you use the Vertuo, you will want to run a cleaning cycle, which flushes water through the system. To initiate a cleaning cycle, you will press the single button indicator three times within two seconds.
When it comes time to descale, the machine will again notify you via a series of blinks (or via the app). The descaling process takes about 20 minutes.
What is the warranty?
This Nespresso Vertuo Next comes with a one-year warranty. In the event of an issue, customer service is easily accessible with minimal call wait time.
The one-year warranty is pretty average for the best coffee machines.
Our overall verdict on the Nespresso Vertuo Next
At it's core, the Nespresso Vertuo machine makes a wonderful cup of coffee, replete with a crema layer that other single-serve coffee machine's just can't replicate. Among the line up of Nespresso machines, this design is attractive and compact, has an eco-friendly build, and even a technical edge for those who who love the idea of a coffee maker that can connect to Bluetooth.
Daily use is simple and involves the touch of a button, though the minimal controls can prove frustrating should the single LED indicator start blinking like Morse Code.
Additionally, an investment in a Nespresso machine is also an investment in the Nespresso coffee. I've still yet to tire of the numerous coffee varietals, from single-origin master-pieces to expertly curated blends, plus seasonal flavors, but the Nespresso pods are typically only available through Nespresso directly, Amazon, and some select gourmet distributors.
When paired with one of the best milk frothers, I can replicate my favorite lattes and cappuccinos at home. Of course, it's a separate appliance that's not built into the machine, but that also reduces the amount of counter space and routine cleaning.
You can find the machines at many popular retailers, although they may not stock all the colors available—for the full selection you'll likely have to head to Nespresso directly, to find special color debuts and the best Nespresso deals.
Sign up to our free daily email for the latest royal and entertainment news, interesting opinion, expert advice on styling and beauty trends, and no-nonsense guides to the health and wellness questions you want answered.