The best copper cookware for a chic new piece of kitchen kit
The best copper cookware will make heat conduction easy. See our expertly tested selection here, with options for all budgets and cooktops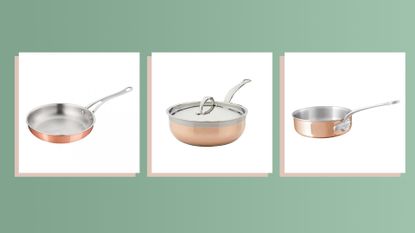 (Image credit: Future)
woman&home newsletter
Sign up to our free daily email for the latest royal and entertainment news, interesting opinion, expert advice on styling and beauty trends, and no-nonsense guides to the health and wellness questions you want answered.
Thank you for signing up to Woman & Home. You will receive a verification email shortly.
There was a problem. Please refresh the page and try again.
The best copper cookware is both practical and pretty. Its signature glossy finish, combined with great heat conduction, means it ticks both the form and function boxes.
Copper pots and pans are hardy and resilient cookware items that are well able to stand the test of time if you keep them properly conditioned—making them one of the best cookware pieces to pass on through generations. They conduct heat brilliantly (whereas the best cast iron skillets are great for retaining heat), making them excellent for cooking more delicate ingredients such as sauces, sweets, and fish.
To help you decide on the best copper cookware for your needs, our expert Homes and Food Writer Rosie Conroy has tested several of the best options. Over a few weeks, she cooked a variety of meals with the pans in order to assess each one's cooking performance. Each item was also assessed on value-for-money, design, and how easy each one was to clean and maintain. There are choices for every kind of cooktop (be it induction or gas), from many of the most acclaimed cookware brands out there, such as Samuel Groves, Tefal, and Mauviel.
How we tested the best copper cookware
Why you can trust Woman & Home Our expert reviewers spend hours testing and comparing products and services so you can choose the best for you. Find out more about how we test.
As with all of our tried-and-tested buying guides, we scrutinized each piece of copper cookware as we used it, to ensure we're giving well-rounded feedback. During testing, we weighed up factors including:
How quickly each pan came to heat—this, alongside the pan's overall cooking performance, was the single most important factor in our testing. Like the best induction pans, copper pots and pans should come up to heat pretty quickly, and cook food evenly too.
The design of the pots and pans—most copper cookware is undeniably stylish, but in our testing, we assessed which options looked the very best.
The quality and durability of each pan—over the course of testing, we were also interested in how sturdy each piece was and how well it lasted during its first few uses. So we paid particular attention to any wear and tear that appeared after cooking and cleaning.
If they had any point of difference over competitors—we also made sure to compare the pans to each other, to ensure that we noted the best pan for specific needs. We identified the best choices for those on a lower budget, those with a gas stove, or people who only need one new frying pan, as opposed to a whole new cookware set.
The best copper cookware as tested by our expert
1. Samuel Groves Copper Induction chef saucepan with lid 16cm
Best copper cookware overall
Specifications
RRP: $299.69/£120
Warranty/guarantee: Lifetime
Oven safe: No
Dishwasher safe: No
Materials: Copper, aluminium, stainless steel
Reasons to buy
+
Snug-fitting lid
+
Induction compatible
Reasons to avoid
-
No helped handle
-
Hand wash only
Made in Britain, Samuel Groves is one of the most luxurious cookware brands in the UK (but one that also sells in the US!) This means that their copper pans aren't cheap, but as with most things in life, you do get what you pay for. Beautifully designed, this high-sided, small copper saucepan is the perfect size for a couple of portions of rice, or to make a good quantity of sauce in. As with most copper pans, it reacted to heat well, allowing us to quickly change the temperature depending on our desired results, and we loved the snugly fitting lid for bringing things up to boil quickly.
Coming beautifully polished, this pan immediately marked, but that's part and parcel of owning copper pans, and if you don't mind it working up a bit of a patina over time we found that it was relatively easy to maintain by handwashing (it's not dishwasher safe). A hanging hook makes display straightforward, and with such a classic and stylish design we imagine this would quickly take pride of place in any kitchen. Plus, it's induction compatible too, which is a big pro considering many copper pans aren't.
The Samuel Groves Copper Induction Chef's Saucepan was supplied by Selfridges for this review.
2. Mauviel M'6S Induction Compatible Copper Saute Pan 24cm
Best luxury copper cookware
Specifications
RRP: $300/£269
Warranty/guarantee: Lifetime
Oven safe: Yes
Dishwasher safe: No
Materials: Copper, aluminium, stainless steel
Reasons to buy
+
Heritage brand
+
Sleek design
+
Excellent heat control
+
Aga and induction-compatible
Reasons to avoid
-
Long handle makes storage tricky
With over 190 years of experience, Mauviel has certainly honed its offering over the course of its lifetime to, like Samuel Groves, become one of the world's most luxurious cookware brands. And this saute pan was no exception—we loved the shape and size of it, which we found was perfect for all sorts of different recipe styles—from frying scallops to simmering a stew. As expected, the copper exterior helped get the pan to a high heat quickly, but the joint aluminum and stainless steel body meant it had a steady and even temperature, as well as making it induction-compatible (and compatible with an Aga!)
The precision engineering of the pouring lip paid off, with no drips or spills during testing, and we loved the carefully balanced body-to-handle ratio which meant even when we were being a little heavy-handed we didn't tip the pan accidentally. The stainless steel interior was super durable come tidy-up time, and while the exterior was characteristically soft, it maintained its color and shine even after multiple cleans. The longer handle of this pan meant storing it in a cupboard was tricky, but if it could be out on display in your home, this wouldn't be a problem.
3. Falk Classical Range Starter Set
Best value copper cookware set
Specifications
RRP: £466
Warranty/guarantee: Lifetime
Oven safe: No
Dishwasher safe: No
Materials: Copper, stainless steel, cast iron
Reasons to buy
+
Marked less easily than others
+
Cool touch handles
+
Well-designed pouring lips
Reasons to avoid
-
Heavy
-
Only one lid in the set
Falk is another example of a top-class heritage brand. These pieces have been carefully considered with practicality and performance in mind and despite them not necessarily being 'cheap' as such, we thought this trio offered good value for money when you consider it's a full kitchen starter set with some key kitchen essentials in.
The exteriors have a unique brushed finish which is meant to prevent the typical marking caused by everyday handling, and it did this well during testing. The main body of the pots and pans in this copper cookware set heated in seconds while the handles remained cool to the touch, even when using them over a gas ring. Each pan also had sturdy, well balanced handles, which didn't seem to loosen at all over the course of use. Plus, we liked that they were made from cast iron, so didn't need the same upkeep compared to something like stainless steel. However, the pans are heavy, which is something to consider if you struggle lifting kitchen kit. Well crafted pouring lips made transferring sauces and liquids from the pans to serving dishes easy though, and the 30-day no-quibbles refund policy solicits trust in the brand from the get-go. Our best copper cookware set for value.
4. Hestan CopperBond Induction Copper Essential Pan 3.5L
Best copper cookware for induction
Specifications
RRP: $499.95/£490
Warranty/guarantee: Lifetime
Oven safe: Yes
Dishwasher safe: No
Materials: Stainless steel and copper
Reasons to buy
+
Lifetime guarantee
+
Induction compatible
+
Good even heat distribution
Reasons to avoid
-
A serious investment
-
Handle can get hot during cooking
While traditional copper pans aren't compatible with induction—because of the lack of magnetism—Hestan's designs have been specifically made with induction in mind, resulting in finely tuned pans that work perfectly on induction hobs and even the best portable induction hobs. The stainless steel bottoms wrap around the base and up the sides, and there's an attractive strip at the top too which adds a handy little point of difference.
Flat rivets made this pan easier to clean than some of the others, and the addition of a lifetime guarantee meant we felt confident polishing the copper without the fear of it being buffed away in just a few short uses. As well as a copper exterior, this pan has a copper core, which made it fiery hot in no time at all, and also saw it react almost immediately to temperature changes. With no evidence of heat spotting across the bottom when making pancakes, we thought this was a pan that worked hard to deliver on its price point. Certainly the best copper cookware to buy if you can spring for it.
5. Lagostina Martellata Copper 5-Quart Covered Stewpot
Best copper cookware for a style statement
Specifications
RRP: $179.99/£106.62
Warranty/guarantee: Limited lifetime warranty
Oven safe: Yes
Dishwasher safe: Yes
Materials: Copper, stainless steel, aluminium
Reasons to buy
+
Beautiful hammered design
+
Dishwasher safe
+
Sturdy
+
Easy control with two handles
Reasons to avoid
-
Not lightweight
-
Slower to heat up than other brands
While aesthetics might not be the primary reason for choosing the best types of pans for your home, those looking for copper cookware sets might be more inclined to give equal attention to both style and function. And this stewpot should absolutely be the copper pan of choice for those who want something that looks chic and striking in their home. The hammered exterior of this stewpot gives it a unique edge which makes it perfect for proudly displaying in your kitchen.
This is a medium weight pan, which felt sturdy and secure enough that we imagine it would wear well over the years, while it was also light enough to make maneuvering it (even when full) straightforward. The double handles remained cool even on the gas ring, and the base heated quickly and evenly, although not quite as fast as ones with tin linings. The stainless steel interior did mean easy hand-washing as it's not too delicate to scrub, and we were pleasantly surprised at how easily the exterior buffed up too. Plus, it's dishwasher safe too, which is a big plus.
6. Jamie Oliver By Tefal Premium Copper 24cm Frying Pan
Best copper frying pan
Specifications
RRP: $129.99/£100
Warranty/guarantee: Two years
Oven safe: Yes
Dishwasher safe: No
Materials: Copper, stainless Steel, aluminum
Reasons to buy
+
Oven and grill safe
+
Comfortable silicone handle pad
+
Good pouring lid
+
Induction-compatible
Reasons to avoid
-
Short guarantee
-
No non-stick properties
-
Hand wash only
The weighty tri-ply construction of the body of Jamie Oliver's copper frying pan for Tefal means the pan conducts heat exceptionally well with no heat spotting evident during pancake making (the most important test of all, of course). While the pan felt robust, it wasn't too heavy to make flipping prohibitive, and the padded silicone handle was ergonomically designed to be comfortable and easy to grip, which it absolutely was.
The copper does its job on this one to help the pan heat up quickly and evenly, while the core allows it to keep its heat better than some other alternatives, maintaining its temperature well even after being crowded with ingredients. And, it's induction-compatible which is helpful to know. We found that while not non-stick, the interior was fairly easy to clean by hand and came up like new each time we used it. The copper did begin to mark from the start, but because of the shallow sides there's not too much surface to cover if you want to scrub it clean after each use. If it's a frying pan alone that you're after, this is the best copper cookware item for you.
7. Netherton Foundry Copper 15cm Spun Saucepan and Lid
Best copper saucepan
Specifications
RRP: $351.79/£265.10
Warranty/guarantee: Limited
Oven safe?: No
Dishwasher safe?: No
Materials: Copper and tin
Reasons to buy
+
Plastic, PTFE & PFOA free
+
Easy to clean
+
Excellent heat responsiveness
Reasons to avoid
-
Expensive
-
Won't withstand high heat
Staunchly traditional, Netherton Foundry's copper saucepans are handmade, making each one ever so slightly unique, and are lined with tin—a combination that cooks have held in high regard since the 17th century. We found the tin lining to be more non-stick than stainless steel, and it bolsters the copper's heat conduction, rather than hampering it (as is the case with other metals). Netherton Foundry warns not to get the saucepan too hot though, so this isn't the pick for those who like for searing or open-flame cooking. But for everyday simmering and sauce making, we absolutely loved this heritage brand.
The snuggly fitting lid assisted in bringing liquids up to a simmer quickly and we thought the overall design was classy, with a functional handle and simple, clean lines. Because tin is softer than stainless steel, this pan may need to be relined eventually, so this isn't a super low-maintenance piece—but is a stand-out in terms of performance, and one of the best copper cookware pieces on this list for incredibly reactive cooking.
Why is copper cookware so popular with chefs?
Aside from their undeniable good looks, many people cite copper pots and pans as one of the best pieces of cookware on the market functionality wise too (and frankly, you'd want them to be high achievers given their price). The reason for copper cookware being thought of as a good, solid choice for cooking—and the reason it is generally beloved by professional chefs—is because of its superior heat conduction. Copper pans heat up super fast, so are prized by cooks for their responsiveness rather than their heat retention—which something like a cast iron skillet is best for.
The responsive nature of copper pans means they're great for dishes where you want to get something hot quickly and then cool it down quickly too, like a caramel, or a butter or cream-based sauce that you don't want to split. As soon as copper is removed from the oven or hob it will lose its heat rapidly, giving you good control over dishes. This also makes copper pans great to serve straight from, as the metal doesn't stay hot for very long—ensuring easy handling. One of the most important things in making sure copper works at its best for as long is possible is knowing how to clean copper properly—so be sure to investigate the best ways to care for it.
Is copper cookware worth the money?
Copper pans and pots aren't your everyday, run-of-the-mill pieces of cookware. Unlike even the best stainless steel pans or the best woks, they offer something a little more special, given how effortless they can make cooking feel. While you can of course get pieces of cookware that are cheaper, the responsive nature of copper pieces is hard to replicate. And many cooks (novice or professional), would agree that they are generally worth the investment if you love cooking and want the best tools to do it with.
The additional bonus of buying copper pans is that they undoubtedly look good too, meaning they are perfect for displaying in your home. We'd generally suggest getting a couple of small copper saucepans to use in addition to other essential pieces, like some of the best non stick pans, rather than investing in an entire set—which would be pretty punchy price-wise.
Sign up to our free daily email for the latest royal and entertainment news, interesting opinion, expert advice on styling and beauty trends, and no-nonsense guides to the health and wellness questions you want answered.
Rosie Conroy is a food and drinks journalist with over a decade of experience working for big-name titles in both print and online. Formerly the Digital Food Editor of woman&home, Rosie went on to head up the team at SquareMeal, reviewing the best London restaurants and hunting out emerging culinary trends. With previous experience in food styling and recipe development, Rosie knows what to look for in a good piece of kitchenware and has extensive experience testing consumer goods—from kitchen electricalz and cooking accouterments through to new foodie treats.