Eve Premium Hybrid mattress review—how did this high-end option stack up during testing?
In our Eve Premium Hybrid mattress review, we evaluate whether the mattress, layered with the latest foam and top-notch touches, lives up to the hype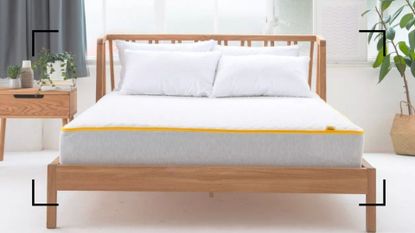 (Image credit: Eve)
This luxurious Hybrid is jammed with top features that really do deliver—particularly when it comes to cooling and support. The extra height is welcome and makes getting out of bed a little easier, especially if you have a low-slung bed frame rather than a divan base. It's designed to suit all types of sleeping position—but we found it most comfortable sleeping on our side or back.
Reasons to buy
+

Next-generation pressure relief

+

Low-risk 100-night trial

+

Easy to clean

+

Deep and luxurious
Why you can trust Woman & Home Our expert reviewers spend hours testing and comparing products and services so you can choose the best for you. Find out more about how we test.
In our expert Eve Premium Hybrid mattress review, our tester evaluated the top-end mattress for a few weeks to get a feel for its firmness, cooling properties, value-for-money and overall comfort—here, she feeds back what she found and why it's a great option for those who love an all-foam mattress.
Established in 2015, Eve Sleep's mission was to build people-pleasing mattresses that suit all body types and positioning needs. Realizing it's not possible to achieve this mission with one mattress option, the range has since expanded. There are now three main mattress designs—Original, Lighter and Premium, each available in Hybrid and Foam versions to cater for those who like a bit of bounce with their foam, and those who prefer the stillness and support of all-foam.
We tested the most expensive option in Eve Sleep's portfolio—the Eve Premium Hybrid mattress—for two weeks in early summer, and also invited a few sleep-savvy colleagues for a little lie down to get extra feedback on first impressions and firmness levels. A double mattress costs just shy of £1,000—read on to find out if we found it worth the extra spend. Let's just say, there's a reason it made it into our best mattress guide.
WHAT IS THE EVE PREMIUM HYBRID LIKE TO SLEEP ON?
The very first thing we noticed was this mattress' chunkier depth. Most memory foam mattresses are low to the ground—25cm deep is the norm. At 28cm deep, the Eve Premium Hybrid mattress is closer to a traditional pocket sprung mattress in thickness, which makes it feel more luxurious from the get-go. You might not think an extra 3cm would make much difference, but sometimes getting out of a low mattress requires yoga-like flexibility. Whereas the Eve Mattress makes getting out of bed incredibly easy.
It is important to note that if you are not familiar with foam mattresses (like the Emma Original mattress or the Nectar mattress), it can take a couple of nights for your body to adjust. This is the reason sleep experts say you should test a mattress for at least 30 nights before you make any decisions. If, like us, you usually sleep on a traditional pocket-sprung mattress, you could easily be put off by your first experience on a foam mattress, even one with springs like this Hybrid. Because of this, we found the Eve Premium Hybrid mattress quite unyielding to begin with. Do keep the faith, though. By the end of the first week our muscle memory had made the necessary adjustments. From night seven onwards this mattress felt more forgiving and, crucially, we were sleeping more soundly than ever before.
SPECIFICATIONS
● Sizes: UK Double, King and Super King.
● Filling: Spring and foam (hybrid)
● Sleep position: All
● Comfort: Medium
● Trial period: 100 nights
● Warranty: 10-year
● RRP: From £978 (it's available in the UK only)
Perhaps one of the reasons we were sleeping better was down to the Eve Premium Hybrid's low motion transfer. This refers to how much movement is shared from one part of the mattress to another. Low transfer is particularly useful when one partner is heavier and/or wrigglier in bed, as is true in our tester's case. Even night-time loo breaks were achieved without disturbing the sleeping partner, which made a big difference to sleep quality and general happiness come morning.
This mattress features a top layer of new generation foam (Eve calls it Floatfoam), that promises weightless support and breathability. An easy way to check effective support is to ask your partner to lie on their side and simply look at the shape of their spine. Ideally the hips and shoulders should sink more than the legs and waist, keeping the spine aligned through to the neck, and this was clearly the case with the Eve Premium Hybrid. A combination of manual jobs (him) and fitness fanatic (me) means we both often wake with aches and pains in the mornings. But by week two of sleeping on the Eve Premium Hybrid, we realized getting out of bed no longer came with the usual grunts and groans, and we felt pretty much pain free, which is impressive.
WHO IS THE EVE PREMIUM HYBRID MATTRESS BEST FOR?
Despite the official "medium" status on firmness, we'd rate the Eve Premium Hybrid closer to medium-high. Our six extra testers (three male, three female) also rated it on the firmer side of medium. This means we found the mattress very comfortable and supportive for most sleeping positions, especially when sleeping on our back and side. But it was maybe a little too firm for sleeping on our stomach.
Note: don't confuse firmness with plushness—the top layer of this mattress offers cloud-like softness of the type you'd expect from a luxurious topper. The firmness we are referring to is more about overall body support. You don't feel like you're sinking into this mattress when you lie down, which is especially good news if you are prone to back or hip pain. But not very helpful if you sleep on your stomach, or if you prefer a very squishy, enveloping mattress.
WHAT IS THE EVE PREMIUM HYBRID MATTRESS MADE OF?
The cover is threaded with silver strands that make it antibacterial and antimicrobial, which is great for hygiene. Then there are no fewer than four layers of foam in the mattress, including the aforementioned Floatfoam layer. (Eve also offers one of the best pillows, made of the same foam). There are 1,500 springs too, all in individual pockets to stop them from getting tangled and, more importantly, for providing great support.
Finally, there's a non-slip case at the bottom to keep it all neatly in place. And the plush top cover zips off for washing—we popped it in the machine at 40 degrees and it went back on with ease and no shrinkage. A lot of the layers in the Eve mattress feature aerating and cooling properties, including graphite-infusion, which disperses heat out and away from your body, and they really do work. Usually, we crank the window down in our bedroom at night and throw the covers off halfway through the night, but no need for this mattress, making it a brilliant option for those who experience hot flushes or those who generally feel hotter at night.
DOES THE EVE PREMIUM HYBRID HAVE ANY UNIQUE FEATURES?
There's nothing groundbreakingly unique about this mattress but it is packed with high-end features that you don't usually get all together in one mattress. We're talking about antibacterial silver strands in the luxuriously quilted top cover, aerating graphite in the top two foam layers (for good sleep hygiene) and a generous collection of 12cm tall pocket springs, sandwiched between yet more foam, which helps with support and provides a little bounce.
We did note on the Eve website that you can test out the mattress in person in the UK, at various Next and Dunelm showrooms nationwide, which is a nice touch for those who prefer to try before they buy.
IS THE EVE PREMIUM HYBRID MATTRESS GOOD VALUE FOR MONEY?
As the name suggests, this is absolutely a premium product and it comes with a premium price tag to match.
A breakdown of the prices:
UK Double (135x190cm): £978
UK King (150x200cm): £1,128
UK Super King (180x200cm): £1,247
If this is a bit too pricey, you'll save just over £200 by choosing Eve's Original Hybrid model instead—but you won't get quite the same level of superior foam or high-tech fabrics, and it's not as luxuriously chunky either.
DO YOU GET A TRIAL PERIOD AND WARRANTY?
Yes, the Eve Premium Hybrid mattress comes with a 10-year warranty, plus free returns after 100 days (or rather nights), no questions asked. This isn't the longest testing period out there but it's certainly long enough to decide if you are compatible with this mattress. A 10-year warranty is pretty standard and you should probably think about replacing any mattress before then anyway.
WHAT IS ORDERING AND DELIVERY LIKE?
Ordering online is super easy and delivery is free and quick—often within three days. You can choose your delivery day and time slot for free, too. You'll be texted a two-hour delivery window the day before.
We tested a super king and the box was much bigger than the Eve Original mattress, but then it is a thicker model. However, it was still vacuum-compressed into a fairly tight roll, making it easy to manhandle up the stairs, even if you have a turn in your staircase. It was very heavy and needed two people to get it up there which is important to note—but luckily Eve's courier service includes two-man delivery to a room of your choice (unless you request contact-free delivery for COVID reasons). You can also have your old mattress removed and recycled by them too, for £40.
WHAT DID WE NOT LIKE ABOUT THE EVE PREMIUM HYBRID MATTRESS?
In all honesty, there were very few drawbacks we found during the course of our Eve Premium Hybrid mattress review.
So we reckon only the price would make us think a little harder before buying this mattress—but overall, it's a great, premium quality mattress and you could certainly do a lot worse.
WHAT DO ONLINE SHOPPERS THINK ABOUT THE EVE PREMIUM HYBRID MATTRESS?
At the time of writing, the Eve Premium Hybrid mattress was rating an impressive 4.6 (out of 5) on TrustPilot, which collects reviews independently after purchase. This figure was taken from 242 reviews. There is a lot of "you get what you pay for" style praise, alluding to it as a luxury purchase worth the investment. Many, many folks have reported experiencing an end to various aches and pains, and most shoppers only have nice things to say about the customer support at Eve.
An interiors journalist for more than 20 years, Linda Clayton has worked on a wide array of consumer titles, including Homes & Gardens, Livingetc, Country Homes & Interiors and Real Homes.
She graduated from Cardiff's esteemed School of Journalism, Media and Cultural Studies with a First Class degree and Postgraduate Diploma in Magazine Journalism.