5 best industrial sewing machine brands with topnotch reputations
With one of these industrial sewing machine brands, you're guaranteed to get to the next level of your sewing journey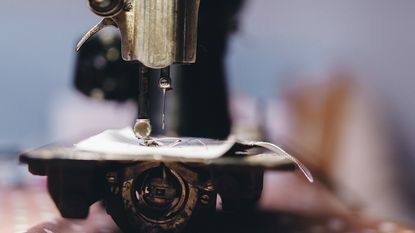 (Image credit: Getty)
Kitchen-table start-ups are quickly turning into cottage industries, with social platforms and seller websites like Etsy rapidly increasing customer demand.
If you, too, are planning on setting up your own side hustle or business, it might be too much for a domestic machine, even if it's one of the best sewing machines (opens in new tab) on the market. Perhaps it's time for an industrial or heavy-duty sewing machine that can help take the strain as orders come flooding in?
While an industrial machine used in mass production might seem a worthy investment, home sewing models with industrial features are proving more than capable of producing higher volumes to equally high standards. So, it's worth taking a look at the model specifications and working out what you'll be using the sewing machine for before parting with your cash.
There are several differences between heavy-duty and industrial machines, mainly that the latter is built to stitch products en masse and long-term at a professional level. Usually, industrial sewing machines will just tackle one specific job, like buttonholes, but there are some models out there that can do the works.
Semi-industrial sewing machines have caught on to the idea that a fusion of domestic and professional features makes for the perfect model, often boasting high stitch rates, larger sewing spaces, aluminium cast parts, upstanding spool stands for industrial-size thread spools and automatic functions.
With one of these machines, you're guaranteed to get to the next level of your sewing journey. So, take a look at our list of the best industrial sewing machine brands, and their machines, to take your stitching to the top.
The best industrial sewing machine brands
1. Singer
Singer is an icon in the world of sewing machines, having launched way back in 1851. For a tried-and-trusted sewing machine that won't break the bank, Singer is the brand for you.
Just starting out and don't have much to spend? The Singer Heavy Duty 4423 is the perfect transition sewing machine to get you up and running.
Sure, this heavy-duty machine doesn't really fit into the industrial category, but sometimes baby steps are the way to go. Having said that, this model is like a domestic sewing machine on steroids. It's stronger, faster and can sew anything compared with its home sewing counterparts.
Among its many almost-industrial traits, the Singer Heavy Duty 4423 is capable of sewing 23 different stitches and multiple layers of thick fabric, such as leather. It also has the ability to transform from a flatbed to a free arm, making cuffs and hems a walk in the park.
The good thing about this machine is that it's as easy to use as a regular home sewing model, so learning how to thread a sewing machine (opens in new tab) and how to use it is simple to grasp.
It's a mechanical sewing machine so, if you're used to an electronic or computerised interface, keep reading to see if there's a more suitable industrial sewing machine brand for you.
2. Janome
Another well known domestic brand in the UK market, Janome has come up trumps with its industrial-cum-domestic sewing machine offering. The Janome M7 Continental Professional ticks all the boxes when it comes to industrial standard sewing.
The price is high for a model of this calibre, but packs a magnitude of features into one of the largest domestic machines on the market. With a huge flatbed, it's the ideal sewing machine for quilters.
The Janome M7 Continental Professional's advanced touchscreen controls allow easy selection of stitches, with the ability to memorise your favourite settings, and it comes with a plethora of feet, too, to match its stitching capabilities. But the professional-grade needle plate and corresponding feet are what take this machine to industrial levels of stitching.
If you're trying to keep to a budget and want to stick with a Janome-branded machine, the Janome MC6700P would be the perfect solution as a semi-industrial alternative.
3. Brother
Recognise this brand? Of course you do. It's another firm favourite with sewers around the world. But you can forget about domestic and semi-industrial machines when it comes to their line of professional models.
These machines are for full-scale production lines, so if you're really wanting to make a splash in the industrial sewing industry, check out what they have to offer.
With stitch speed times from 2800 stitches per minute, you can really see the difference between an industrial and domestic sewing machine, which maxes out at around 1300 stitches per minute.
4. Juki
For the ultimate step up, a Juki model has got to be on the list of must-have industrial sewing machines. Producing both home sewing and industrial sewing machines, you can see the difference in features immediately.
While a domestic sewing machine can flexibly create a range of stitches, the industrial sewing machine has specific functions, executing a single type of stitch perfectly and at great speed.
Take the Juki DDL-8700, for example – a great industrial sewing machine if you're looking to upscale a business making garments or repairing clothing.
It can work with a multitude of light- to medium-weight fabrics at 5500 stitches per minute. Plus, for those on a tighter budget, the price is similar to that of a domestic model. So, if speed is of the essence and cost is critical, this is the industrial sewing machine for you.
Alternatively, mix it up in favour of the semi-industrial Juki DX-2000QVP model, which boasts a lot of home sewing features with the durability of a professional machine.
5. Jack
If you're looking for something a little more specialist, a Jack sewing machine is what you're after. Jack is a relatively new company, established in 2003, and as a result their industrial sewing machines are the most contemporary in style and design.
The automated sewing machinery on offer is purely professional, specialising in lockstitch, overlock, interlock, bartack and button stitch models, to name a few.
These industrial sewing machines are for scaling up production lines, so it's worth investing in a couple of different machines to streamline your processes and reduce timescales if you're working to high-volume targets.
Our in-house craft expert, Esme Clemo, has been working within the craft magazine industry for eight years, having turned a sewing hobby into her career. She's adept in a number of crafts, including sewing, papercraft, calligraphy, embroidery and printing and has also completed an interior design course with the University of Arts London,
There's nothing she doesn't know about DIY and interiors. Everything in her home and wardrobe has a DIY twist and she knows all the tools needed for getting the job done - meaning she has a very hands-on approach when it comes to testing out products for our reviews.