How to make New Year's resolutions that last in 2023
Discover how to make New Year's resolutions that will last in 2023 with these expert tips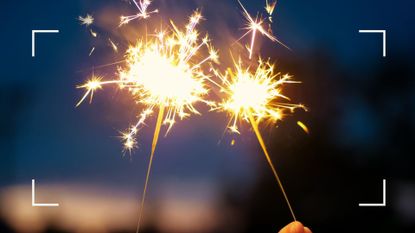 (Image credit: Getty Images)
woman&home newsletter
Sign up to our free daily email for the latest royal and entertainment news, interesting opinion, expert advice on styling and beauty trends, and no-nonsense guides to the health and wellness questions you want answered.
Thank you for signing up to . You will receive a verification email shortly.
There was a problem. Please refresh the page and try again.
Looking to learn how to make New Year's resolutions that actually stick this year? While most of us start the year with all the best intentions, research shows that our motivation to change tends to ebb away by the middle of February.
The University of Scranton (opens in new tab) study found that most people tend to stick with their resolutions one week into January, but this quickly falls to just 55% of people after one month, down to 43% two months later, and 40% after six months. Only 19% of people in the study were able to say they'd turned their NY resolution into an actual life change in a follow-up report, having stuck with it for two years.
The trick to being one of them? Keeping things simple and sustainable, the experts agree. Whether you want to pick up one of the top fitness trends 2023, new techniques with one of the best self-help books, or just learn how to be more confident in the new year, here, woman&home speaks to various life coaches, psychotherapists, personal trainers, and wellbeing experts to reveal exactly what it takes to keep up a new year's resolution.
Why do most New Year's resolutions fail?
Most New Year's resolutions fail, the experts say, because we often set them up with unrealistic goal setting. "Lots of people set the bar far too high and want to create some radical change overnight, which can place a lot of pressure on that person," says Anna Williamson (opens in new tab), counselor, life coach, and master NLP practitioner.
"[The start of the year] is typically a very challenging time with low mood and motivation due to financial reasons and the weather being colder and darker than other months," Williamson, who is also the founder of the relationship coaching platform The Relationship Place (opens in new tab), says. "The more challenging the parameter to implement change, the harder it will be."
Personal trainer Rachael Sacerdoti (opens in new tab) agrees. "Often the reason why people fail with their resolutions is that they are either too ambitious with their goals, fitness or otherwise, or they're in too much of a rush, or not specific enough," she explains. "Changing a long-standing habit or routine is hard. It requires planning, learning how your psychology works and committing yourself to change."
So, if you're looking to change your ways in 2023 and learn how to make a resolution that lasts through the year, this is what you need to know.
How to make New Year's resolutions
1. Create an action plan
Right, it's time to get serious. If you want to learn how to make New Year's resolutions that last, it's time to create a plan. As Jade Thomas, a registered psychotherapist at Private Therapy Clinic (opens in new tab) says, this "not only makes the goal seem more manageable but it also ensures your new year goals or resolutions are realistic, specific, and achievable to avoid any feeling of disappointment."
To set your plan, write a schedule for yourself detailing how you're going to implement your resolution into your daily life. This could be in a diary, one of the best productivity planners, or a piece of paper that gets stuck somewhere you're going to see it every day.
"It's also important to develop ways of checking your progress either weekly or monthly throughout the year," Thomas explains. "Typically, we create New Year's resolutions and forget about them until the following New Year's Eve but by regularly checking in on your progress, you'll increase the likelihood of achieving your goals or resolutions."
2. Think about how the resolution will slot into your life
As part of this action plan, it's important to consider whether your resolution is achievable for you and your lifestyle. While some people might have time to totally revamp their sleep routine or optimize their workout to the best time to exercise every day, you may not. Focusing on what is achievable will always be the best way forward, says Ally Fekaiki (opens in new tab), a wellness expert specializing in workplace wellbeing, founder and CEO of Juno (opens in new tab).
"There's no point in making New Year's resolutions if you don't think about how you'll make time to do so," she says. And for those working every day, this is particularly important. "For many of us, this might mean being more disciplined with our work-life boundaries. Remote work makes it all too easy to lose track of time and work late into the evenings or on weekends. Being more strict with your working hours can help."
3. Don't make too many resolutions
The start of the new year may motivate us to want to make big changes, but all the experts suggest that trying to do too much at once is a surefire route to giving up early on.
"Don't overwhelm yourself by creating too many resolutions," offers Thomas. "It's great that you want to make so many positive changes but ensure all your goals are achievable within the timeframe of 365 days. When we don't make achievable goals or fail at sticking to resolutions, this reduces our confidence and motivation to continue, so don't set yourself up to fail by creating too many goals which will be difficult to stick to."
She suggests, "Focus on one to three resolutions for the year when figuring out how to make New Year's resolutions. This way, you will be more likely to stick to them."
4. Take something up instead of taking something away
Giving up on New Year's resolutions can all be linked to confidence, says celebrity life coach Anna Williamson. "If we set ourselves a resolution such as wanting to learn how to get fit and healthier, but two weeks in we start to get bored of the gym and find ourselves reaching for the chocolate tin late at night, we can feel we've failed and quickly spiral into just not bothering anymore. Our self-esteem and confidence take a knock and we may feel it's simply easier to just give up rather than finding new ways of framing that goal," she explains.
Instead, Williamson suggests, "The key is to create a New Year's resolution that's set with a positive intention. Not giving something up but perhaps adding something to your life that's realistic and achievable."
This could mean making a resolution to cook from home, rather than eating out at restaurants if you want to change the way you eat, or you could sign up for a new activity that will help you get fitter. "Something like this is completely sustainable and something that you can check in on as you go through the year. It also doesn't feel so rigid that you can't have relaxed days among the days you're being super healthy," she says. Looking for inspiration? Try one of the best podcasts for self-improvement for ideas.
5. Ask yourself why
Setting a resolution for the new year is something most of us do when we're feeling tired at the end of the year, full of hope for a fresh start to come. But to make a resolution that stands the test of time, psychotherapist Jade Thomas suggests asking yourself why exactly you've picked the resolution you have.
"Is it to enhance your health and wellbeing? To improve your social life? Is it something you have always wanted to do? Providing specific rationale behind your resolutions makes them more meaningful for you, which then enhances your motivation and willingness to stick to them throughout the year," she says. To do this, you could use a planner or one of the best journaling apps to pick apart your feelings.
6. Make the resolution part of your routine
This is where fitness-orientated resolutions tend to hit a roadblock. If you're not someone who's had a regular workout program before, finding a place for it in your daily routine may be the biggest challenge in making it sustainable. That's why it's always important to have an action plan and lay your plans out on paper using a goal planner, or similar.
Personal trainer Rachel Sacerdoti has some advice for those unsure of where to begin with this. "I am an advocate for strength training as it's so important to build and maintain muscle mass. Reaching for the weights, or simply using your body weight three to four times a week will increase bone density and help to increase strength, mobility, range of motion, and balance," she says.
It works because you don't need to overdo it, Sacerdoti explains. "Exercise snacks throughout the day are brilliant too if you haven't got the time for long sessions. Just start light and perfect your form because once you experience the feeling heightened endorphins give you, you will never look back and this positive vibe will be reinforced each time you move."
7. Remember it's mind over matter
There might be a couple of physical obstacles in the way of achieving your New Year's resolution and, hopefully, setting an action plan and making it achievable in your routine should help with that. However, a mental block is the other trip-up many of us have when it comes to learning how to make New Year's resolutions that'll last this year.
Using a one of the best habit tracker apps or planner can help with this, Sacerdoti suggests. "And keeping track of your time, especially in the first 28 days, is brilliant if you are brutally honest with yourself," she says. "You'll be amazed at how emotions, food, and exercise are linked. By having everything written down, you can easily sport internal and external triggers."
8. Adopt accountability
If you tend to struggle with keeping up your resolution, get a friend or family member in on it with you. It could be quitting caffeine, ditching booze, or going to the gym a couple of times a week, whatever it is, Sacerdoti says accountability is the way forward.
"Once you have committed to yourself, having someone else rely on you and vice-versa can be the glue that keeps your motivation strong and helps the habit stick," she says. "It makes the entire experience more social. You can share your accomplishments and goals, cheer each other on, and lean on each other for support."
9. Take the guilt out of your resolution
Resolutions can be a force for positive change in our lives but they can also be the source of a lot of guilt, says Glenn Shelford (opens in new tab), a personal trainer who specializes in creating immersive exercise programs.
"Health and fitness-related goals are consistently ranked as the most common New Year's resolutions, which can be hugely positive. It can also be an unhealthy source of pressure and guilt, depending on your approach," Shelford, who also works with the Juno app, says.
"If you want to hit the ground running on New Year's Day, that's great. If you'd rather sit on the sofa and spend time with friends and family, that's also totally fine. Exercise is only sustainable year-round if it's enjoyable, rather than feeling like a chore."
10. Celebrate the small wins
Lastly, if changing your mindset around something is part of your New Year's resolution, this will be one of the most important tips. When learning how to make New Year's resolutions, Sacerdoti says, "Remember to check in and celebrate your achievements too, no matter how small you may consider them to be. Being present and enjoying your life's success is crucial for maintaining and nurturing your overall wellbeing."
Most common New Year's resolutions
Start exercising regularly
Mediation practices like mindfulness
Eat healthier, or another goal around changing the way we eat
Save money
Make the time to read more books
Take less public transport/drive less and walk more
Travel more
Catch up with friends and/or family members regularly
A digital health journalist with over five years experience writing and editing for UK publications, Grace has covered the world of health and wellbeing extensively for Cosmopolitan, The i Paper and more.
She started her career writing about the complexities of sex and relationships, before combining personal hobbies with professional and writing about fitness. Everything from the best protein powder to sleep technology, the latest health trend to nutrition essentials, Grace has a huge spectrum of interests in the wellness sphere. Having reported on the coronavirus pandemic since the very first swab, she now also counts public health among them.