I tried Reiki for the first time, and my emotions didn't know what hit them…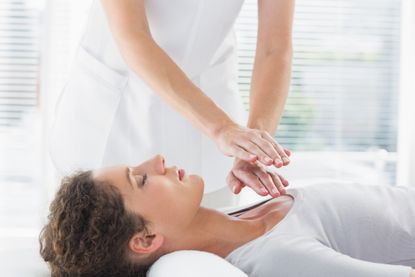 (Image credit: Getty)
As a person with a long-standing interest in all things 'alternative', reiki was the natural next port of call on my 'things I'll do for the sake of my wellbeing' to do list.
Plus I'd had a healing session at The College of Psychic Studies in South Kensington many moons ago, and had a very strong reaction – instead of feeling zen, I felt a LOT of pent up anger bubble to the surface; so much so that I booked myself into a cheapo hotel room for the night in Earls Court just to give me a good 24 hours to cool down before heading back home (at the time I was sharing a room with my sister and I didn't want her, or my parents, to be on the receiving end of what felt like PMT x 100).
Did I know I was about to have steam coming out of my ears for the next few days? Not an inkling, but then I shouldn't really have been surprised, as the idea of issues being stored in your tissues is no new thing.
So it was with the above in mind, and curiosity to see if lightning would strike twice in terms of my emotions (opens in new tab), that I tapped 'reiki Wimbledon' into Google.
Dee da Costa's entry was first in the list, and after sitting on her number for a few days, I buckled down to the task in hand, and dialled up and booked 45-minutes of reiki for one of my days off.
Reiki means universal life energy in Japanese, and is a hands-on energy healing system initially created by Mikao Usui more than 100 years ago, and is rumoured to have a number of purported benefits including stress relief.
MORE:This is the 'happy place' most people go to to escape stress (opens in new tab)
I went into the session with a key decision in my mind that I needed to make but hadn't felt able to. After a brief chat explaining the session I lay on the treatment table and Dee started at the top of my head and worked her way down, sometimes placing her hands lightly on top of my body while gentle lilting music played in the background.
Reiki Healing
Initially I didn't feel anything happening and I was beginning to question whether the session would 'work' and whether reiki was a thing after all. Soon after I started to feel very relaxed and started to see some vivid colours behind my closed eyes — magenta purple, something I've also seen during meditation (opens in new tab), lime green and a perfect ball of sunshine yellow. Shortly following that my eyes opened involuntarily and I could have sworn I saw the face of someone that was on my mind— as in literally as if they were in the room — smiling down at me which didn't actually freak me out until I processed things later.
At the end of the session I had a brief chat with Dee to share what I experienced — she's keen not to really prep you with any expectations of what could happen and let you arrive at your own experience organically — and she pointed out that some of the colours/areas where I felt sensations could mean that I am holding back on expressing/communicating something — 'err yep' is all I could think.
Afterwards I hopped onto the bus home and felt very, very zen unaware of the emotional storm that was to come the next day. Cue three days, ok not 24/7, of blubbering tears and bemused looks from a friend who had come down to London for a fun night out and found me in the doldrums. Come Monday morning my head was feeling clear — though I was still feeling a little wobbly as my emotions continued to do a strange dance — and after an 11th hour call to my cousin in Canada I knew what I needed to do and made the call — literally. What followed were two weeks of feeling unusually energised and sure in my decisions as well as the path that lay ahead. Yes this feeling didn't last forever, but I definitely think that the session sparked some kind of change within me. And that's no small thing.
I had a 45 minute session at Wimbledon Reiki (opens in new tab) with Dee da Costa for £30.
Would you give Reiki a try?
Miriam worked for woman&home for over five years and previously worked on the women's lifestyle magazines Woman and Woman's Own.