The findings of a new health study could finally persuade you to go vegan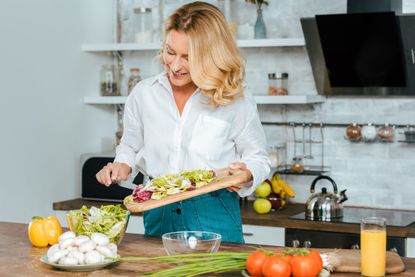 (Image credit: Getty)
If you've been dabbling with the idea of moving towards a more plant-based diet, or going vegan altogether, but have struggled to make leap, then the findings of new scientific research could act as the proverbial dangled carrot.
Published in the Journal of the American Heart Association (opens in new tab) – the Open Access Journal of the American Heart Association/American Stroke Association – it found a number of impressive health benefits for those who ate a mainly plant food-based diet.
Reviewing a database of food intake of over 10,000 middle-aged U.S. adults – monitored from 1987 through 2016 and who didn't have cardiovascular disease at the study's start – they categorised the eating patterns of study participants based on proportions of plant-based foods participants ate versus animal-based foods.
They found that overall those with a mainly plant based diet had:
32 per cent lower risk of dying from a cardiovascular disease
25 per cent lower risk of dying from any cause compared to those who ate the least amount of plant-based foods
16 per cent lower risk of having a cardiovascular disease such as heart attacks, stroke (opens in new tab), heart failure and other conditions
Concluding the study noted, that 'diets consisting of predominantly plant foods and that are lower in animal foods were associated with a lower risk of incident cardiovascular disease, cardiovascular disease mortality, and all‐cause mortality in a general population.'
Before adding that even tipping the balance in favour of plant-based foods – rather than animal-based ones – may also have a beneficial impact on health outcomes.
MORE:Considering a plant-based diet? This free app helps you crave less meat (opens in new tab)
'Dietary patterns that are relatively higher in plant foods and relatively lower in animal foods may confer benefits for cardiovascular health,' the report continued.
Commenting lead researcher, Casey M. Rebholz, Ph.D., assistant professor of epidemiology at Johns Hopkins Bloomberg School of Public Health, Baltimore, Maryland, said, "While you don't have to give up foods derived from animals completely, our study does suggest that eating a larger proportion of plant-based foods and a smaller proportion of animal-based foods may help reduce your risk of having a heart attack (opens in new tab), stroke or other type of cardiovascular disease."
The study also highlighted that 'due to the adverse outcomes associated with refined carbohydrate consumption', more work needed to be done to look at if the quality of plant-based food (healthy vs unhealthy) also had an impact on cardiovascular disease and mortality.
Miriam worked for woman&home for over five years and previously worked on the women's lifestyle magazines Woman and Woman's Own.