PETA reveals results of Vegan Food Awards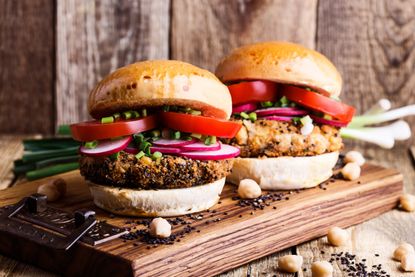 (Image credit: Getty)
With a growing number of people following a vegan diet, popular restaurant chains are practically bursting at the seams with delectable plant-based menu options.
And to help us whittle down which we should sample animal rights organisation PETA have revealed the results of its vegan food awards – now in it's seventh year – with some of the highlights from the 24 categories listed below:
Launch of the Year
Greggs Vegan Sausage Roll.
Best Vegan Burger
LEON The Love Burger.
Best Vegan Sandwich
Caffè Nero Sundried Tomato & Pesto Tostati.
Best Vegan Pie
Exclusively launched by PETA's 2019 Vegan Food Awards, Fray Bentos Vegan Steak and Kidney Bean pie.
Best Vegan Dessert
Bella Italia Vegan Cookie Dough Al Forno.
Best Vegan Cookie
Costavegan caramel and hazelnut cookie.
Best Vegan Ready Meal
Aldi Thai Yellow Curry.
Best Vegan Pastry
Carluccio's.
Best Vegan Cake
Wagamama Mango & Matcha Layer Cake.
Best Vegan Pizza
Also exclusively launched by PETA's 2019 Vegan Food Awards, Zizzi Jackfruit Italian Hot.
Best Vegan Mac and Cheese
Starbucks.
Best Vegan Sausage
Sainsbury's.
"Growing concerns about health, the environment, and animal suffering are driving more and more people to choose vegan options," says PETA Director of Vegan Corporate Projects Dawn Carr. "The forward-thinking businesses we've honoured this year have all responded to the booming demand with delicious, plant-based foods that appeal to vegans and meat-eaters alike."
MORE:The findings of a new health study could finally persuade you to go vegan
With PETA citing figures that reveal that the number of vegans in the UK is reportedly set to jump by a massive 327 per cent by next year, it looks like the only way is up when it comes to the UK's food offering.
Figures cited by The Vegan Society also show that the UK meat-free market is estimated to grow from £559m in 2016 to £658m in 2021.
Have you tried any of the items from the above list? Which was your favourite?
Miriam worked for woman&home for over five years and previously worked on the women's lifestyle magazines Woman and Woman's Own.