My wellness week: Holistic health practitioner, Francine Forde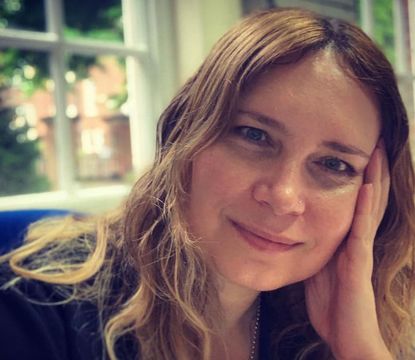 (Image credit: Francine Forde)
Holistic health practitioner Francine really does practise what she preaches
Francine Forde, 49, is a holistic health practitioner and registered craniosacral therapist based in South London. She has clinics in London as well as hosting virtual meditation sessions and classes teaching people how to detox their homes and personal care. She is currently the attendance officer at a local secondary school and juggling it all.
My wellness journey...
Really started when I had my kids, both of whom had allergies to additives found in foods, skincare (opens in new tab), household cleaning products, etc. From there I started to do a lot of research and realised I needed to get as many toxins out of my home and personal care products as possible. As years went by I began to realise that wellness was so much more than what we put in our bodies or on our skin, it's the people we surround ourselves with, our mental health, physical health, and emotional wellbeing. I'm now very conscious of it all and have simplified my life considerably. Last year I left a career that I had outgrown and started to really look at what I wanted for this next phase of my life, finally putting myself first for my overall wellbeing.
Each morning I...
Wake between 5:00-5:30 so I have time to meditate and move my body. I used to be the person who stayed in bed until the very last minute, then rushed around frantically trying to make up time to get to where I needed to be. It was exhausting! And would set me up for a morning of stress.
Waking early sounds extreme, but it really is worth it for the balance it brings to my day. I have time to walk the dog and get out in nature or workout on my mat (I'm obsessed with Melissa Wood Health (opens in new tab) and her yoga/pilates flow), then I shower and meditate for 10-30 minutes, depending on what my day holds. I follow my meditations with 6 minutes of tapping (Emotional Freedom Technique) to work through any blocks that are holding me back and follow with a cup of cacao with ginger essential oil (I gave up coffee and caffeine five years ago). Then I have a very simple breakfast of porridge or bircher muesli with fruit and plant-based milk.
I don't pick my phone up until my morning rituals are finished, it is so important to give yourself space to ease into the day without outside influences. Then I take 15 minutes to update my social media platforms or deal with emails or patient/client queries.
"My wellness week is a monthly instalment of wellness advice from real women, weaving the best of health and wellbeing into their busy daily lives and sharing their insights with you."
Every evening I...
I'll spend time with my now grown-up children, or I might watch a bit of television (Home and Away is my guilty pleasure) but I mainly catch up on a podcast (opens in new tab) or business webinar/training. I'm growing my holistic business so there is always much to be doing/learning.
As I am up so early I tend to be in my bedroom by 9pm. Again, extreme to some, but I actually sleep much better if I drift off before 10pm. I do a gratitude practice which I've been doing for years and either write down what I am grateful for in a journal or say it out loud during a short bedtime meditation. I then attempt to read, but usually fall asleep after two or three pages.
I end each day with an essential oil and guasha facial session as it keeps my skin hydrated and clear and is just a nice way to unwind.
Once a week I try to...
Recreate a spa trip at home. I'll have a long hot Epsom salt and essential oil bath, apply a face mask and put on an audio book and just soak for about an hour. Epsom salts and certain oils work really well to rid your body of aches and pains and toxins, they calm the mind and leave me feeling relaxed and refreshed.
If I'm on the run I eat/drink...
I'm that person who always has a snack in her bag. Nuts, fruit,/veg, fruits bars are the easiest and best fuel to keep me going. I avoid refined sugar when possible and don't like to get caught out, so I take my own. I always have a flask of filtered water in my bag as well to stay hydrated. I have worked really hard to reduce single use plastics this past year so always have my own bottle.
When I have time to cook I eat/drink...
I make an effort to cook as often as possible to avoid processed foods. I eat a mainly plant based diet, occasionally fish…never meat or poultry. I love simple, one tray dinners and soups. You can generally throw any old combo of veg and seasonings together and add pulses or noodles and have a tasty dinner. I love the Happy Pear's books and youtube channel for super simple recipe ideas.
On the weekends...
I love to get out on a long adventure with my dog, a longer than usual walk in the woods, letting him lead the way or a wander around one of the many markets in London looking for bargains. I also like to cook for friends or go to theirs for dinner. Being single in a city like London can be challenging and isolating so it is vital for my mental health (opens in new tab) to spend time with the friends I love. Laughter and connection is so important to emotional wellness.
One thing I would really recommend is...
Meditation (opens in new tab) and daily ritual is the single most important thing you can do. Life is so hectic, learning to sit in stillness and breathe fully, for even 5 to 10 minutes as day can greatly improve your mental clarity, reduce stress, and help you focus on the bigger picture. One thing I notice in my clinics is how poorly many people breathe! Stress and anxiety reduces our ability to inhale fully, so daily connection with ourselves is so important to keep us breathing and grounded. Meditation needn't be difficult, just focus on your breath and relax.
The one thing I do to achieve a better work-life balance is...
I've learned to say no to things that don't bring me joy. I stopped saying yes to the nights out, events, gatherings, years ago and it was the best thing I've ever done! Yes, I still go out, but I'm selective. I choose to attend events that I'm really interested in, not ones out of a sense of duty or fear of letting others down. I was exhausting myself by never saying no, so it needed to change.
Also, I had to really look at the work I was doing. Did I love it? Was it fulfilling? If you dislike your day job then chances are you are disliking a lot about your life and owe it to yourself to change it. I learned that lesson the hard way!
In the future I hope to...
Two things immediately spring to mind. One is to improve my swimming technique. I love the freedom of being in water and want to be one of those people who can glide through effortlessly. I know I'll go more often if I get better at it.
The second is to get to Nicaragua to the GLO Self Care Centre (opens in new tab) for one of their retreats which look so beautiful! It's on my list for next year when I turn 50, so I'm saving for it. I'm a homebody by nature and dislike flying, so it will be a challenge on many levels. I'm committed to facing my fears as I know (through experience) that facing them and working through them is so liberating.
My pearl of wellness wisdom...
Wellness is ever evolving, I didn't just wake up one day and decide I was going to be "well", it was something that took years and something I will always work on. Small, consistent, daily actions towards a better way of life is all it takes. Join a meditation class or find an app you love, start to read and research what goes into your personal care products and food. Empower yourself! Real change can be one of the most frightening yet rewarding gifts you can give yourself. Make time for you, even if it is only 5 or 20 minutes a day. Book a massage or craniosacral treatment, buy yourself dinner at a restaurant you've always wanted to try, take yourself to the cinema, walk in nature, find that something that lifts you. Just get comfortable being with you.
You can find Francine on Instagram @francineforde_thisholisticlife (opens in new tab) Or Facebook facebook.com/ThisHolisticLife/ (opens in new tab)
Will you try out any of Francine's wellness tips?
Miriam worked for woman&home for over five years and previously worked on the women's lifestyle magazines Woman and Woman's Own.