The real cost of menopause misdiagnosis: how women are suffering due to a lack of understanding
Education surrounding the menopause is still seriously lacking, according to new research. But delayed diagnosis comes at a high price, for both individuals and the NHS.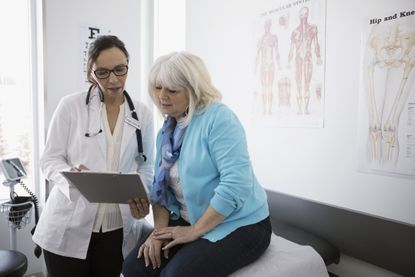 (Image credit: Getty)
The menopause is an unavoidable fact of life - it's something almost every woman will go through when she reaches a certain age.
It can be incredibly taxing, both physically and emotionally. According to a 2019 study conducted by Forthwithlife, 34% of women reported developing anxiety and/or depression during the menopause, while 73% experienced hot flushes. Almost half of the women surveyed suffered with low moods, low concentration, and problems with their memory.
And that's before we even get to the issues that women can face socially during the menopause. Forthwithlife reveal that 63% of women said their working life had been negatively impacted by the life stage.
Yet still, the medical provisions and education surrounding the menopause are reportedly lacking - and it's having serious consequences on the health of women across the nation.
MORE:The 11 obscure symptoms of the menopause that could be affecting you
The not-for-profit menopause organisation Newson Health Research and Education recently conducted a survey of almost 5,000 women - which found that hours and hours of women's time, not to mention NHS money - are being wasted when doctors misdiagnose menopausal symptoms as something else.
Newson Health explained that a third of women they spoke to waited at least three years for their symptoms to be correctly diagnosed as menopause symptoms, while a further 18%, shockingly, visited their GP six times or more before receiving the help they needed.
For Beverley Hocking, the stats chime all too close to her own menopause experiences. The 53-year-old senior compliance officer, from Leeds, struggled so much with the menopause that she was eventually signed off from her job.
For Beverley, symptoms started soon after she entered her 50s."I started to feel a bit out of sorts; not quite like myself," she explained. "My periods, which had always been regular, changed to every 60 or 70 days and my once lustrous hair started to thin slightly. What's more, I'd cry over anything and everything. I would have terrible mood swings, and I no longer took any enjoyment in my life."
However, when she went to the GP, she wasn't given the help she expected - or thought that she needed. She explained, "I was offered anti-depressants three times, and beta blockers twice - despite me having normal blood pressure. Knowing that I wasn't depressed, I declined and struggled on wondering what was happening to me and wanting to get to the root of it."
Why are women being misdiagnosed?
Dr Louise Newson, who has written the Haynes Menopause Manual (£12.99), Menopause and Perimenopause Experience Survey reveals just how many women are struggling to geta menopause diagnosis.While conducting her research, Louise found, "I constantly hear from thousands of menopausal women how they are misdiagnosed with conditions such as fibromyalgia, migraines, depression, cystitis, irritable bowel syndrome and chronic fatigue, when no healthcare professional has considered their menopause or perimenopause as being the underlying cause for their symptoms."
Menopause specialist Kathy Abernethy, who is immediate past Chair of the British Menopause Society, and co-leads an NHS Menopause service in Harrow, also revealed to w&h that she has seen the same thing happening. "I think depression is probably the commonest misdiagnosis," she explained. "It is partly because women may present with low mood and appear depressed, but in fact if you dig deeper, you understand that the mood changes often come and go and started around the age of perimenopause."
According to Kathy, another big problem is the fact that menopause training for medical professionals is often optional. She told w&h, "There are plenty of study events and course, but they are optional so only enthusiasts attend. We need easily accessible courses that all GPs in particular can be encouraged to attend. The biggest issue is helping all health care professionals to understand the need for such education. Many see menopause as 'natural' and avoid offering treatment at all, despite it being in NICE guidance. The issue is not really about access to training - it's about being willing to do it."
So what effect is a delayed diagnosis or misdiagnosis having on women?
As it turns out, a pretty big one.
Consistently having your menopause symptoms misdiagnosed means a delay in treatment, and missing out it seems, can have huge repercussions on women's health. Newson Health report that without a diagnosis, many women are unable to get access to HRT (hormone replacement therapy), which can work twofold to improve their health and ease symptoms. During the menopause, there's an increased risk of heart disease, type 2 diabetes, osteoporosis, and even dementia. But taking HRT can lower the risk of many of these common diseases - namely heart disease and osteoporosis. (It's important to be aware that HRT also isn't for everyone - and there are a range of many other menopause treatments available too).
For Beverley, the fight to find the right symptoms drained her of her time and money, as well as taking a toll on her emotionally.After not receiving the treatment she thought was best suited to her, Beverley was forced to conduct her own research to help with her symptoms, seeking treatment ideas from celebrities such as Carol Vorderman, who had opened up about their own menopause experiences. She said, "I read a lot online about women who had successful experiences with oestrogel, a form of HRT. Armed with all the research I could find I went to a doctor's appointment in August 2017."
MORE:We asked menopause experts about HRT alternatives following news of a national shortage
But to her disappointment, Beverley found that her doctor wasn't able to offer much help or guidance on the menopause treatment. She said, "The GP was dismissive and said they'd never heard of it, despite it being recommended as a treatment in the NICE guidelines.Instead I was given HRT tablets to use for three months, and was sent on my way. "
"After a long wait for the right treatment for my menopause symptoms, I couldn't handle my job, and had been signed off with sickness"
Beverley couldn't fight the feeling that there was something out there that would work better for her, returning to her GP and suggesting to them that she should try oestrogel. After a fight to get a prescription, the treatment worked well for a little while, but she found her symptoms returned after four months. After yet another visit to the doctors, begging them to test her testosterone levels again, she was told that everything was normal. "I knew this couldn't be correct." Beverley said.
"I begged to get an appointment at the local hospital's menopause clinic and was told no. After nattering the doctors I was finally referred." But the NHS wait time was lengthy, and the delay was having a serious impact on her life. Beverley confessed, "After waiting nearly 3 months, I was told that I would have to wait at least 18 weeks for an appointment, or likely longer. By this point, I couldn't handle my job and had been signed off with sickness."
The financial implications of a delayed diagnosis extend beyond individuals to the entire NHS system, with precious funding reportedly being wasted on unnecessary testing. Dr Louise Newson's study revealed that 45% of women over 45 had a hormone blood test in order to diagnose the menopause and begin treatment. However, NICE (National Institute for Health and Care Excellence) guidelines state that women don't actually need this test to be diagnosed.
NICE states, "Your GP should be able to tell if you are in perimenopause or menopause based on your age, symptoms and how often you have periods, so you are unlikely to need tests." It continues, in fact, to say that you should only be offered the test if you are under the age of 45.
MORE:Menopausal women are being wrongly prescribed antidepressants: 'Quite frankly, insulting'
These unnecessary hormone tests cost the NHS over £9 million a year, according to Newson Health - money Dr Louise says should be given to menopause clinics - most of which are private at the moment. "There are many GPs, like me, who are keen to work in NHS menopause clinics, but there is no NHS funding for these clinics, and some have closed in the past year," Dr Newson explained.
Sharing her opinion on the matter, she continued, "Clearly this is a huge drain to the NHS when there is cost-effective treatment available for most women which improves symptoms, as well as lowering future risk of common disease such as heart disease and osteoporosis. In addition, 71% of women had had time off work to attend various GP and hospital appointments for their menopausal symptoms, which is a personal cost to them and a cost to the economy, too."
Luckily for Beverley, during the waiting period for the menopause clinic, she stumbled upon a private menopause clinic and with some dedicated attention finally began to feel like herself again.
"Instantly, my doctor listened to what I had experienced so far and addressed my symptoms in a sympathetic and understanding manner.She conducted two tests for my testosterone levels (previously only one part of a test had been done by my GP), increased my dose of oestrogen gel and told me my free testosterone level was barely readable, so she prescribed testosterone."
Since then, Beverley's life has changed for the better, after finding that her debilitating menopause symptoms were affecting her relationship with the man who was to be her future husband.
MORE:Women living in THESE areas start the menopause 16 months earlier, research reveals
She revealed, "Since that point, I've felt really well and thankfully have only minor issues to contend with such as itchy skin.I got married in May this year, and am not sure that we'd have made it down the aisle if it hadn't been for finding a solution – my husband has been so patient and understanding with me on this journey and for that I'm grateful as it really does put relationships under strain. Happily, I feel like a different person from those dark days."
What can women who worry their menopause symptoms are being overlooked do?
Beverley is keen for other women to not have to experience what she did, sharing her opinion that there need to be a change in approach when it comes to menopause care.
"It's all too easy to fob women off with treatments that don't work for them. We need to right this. Better education is needed for not only women and their families, but also GPs and the workplace so that they can have the right policies in place."
Of course, not every woman will have the same experience as Beverley, and for many women, HRT will work brilliantly. But her story highlights a need for more individualised, targeted menopause care, revealing that delays and push-backs in finding the right treatment can have a huge - and extremely negative - impact on a woman's life.
Kathy has suggested that women find the doctor at their practise with the most experience in the topic, until more targeted care becomes more widely available. Kathy explained, "Not all women will need a specialist and if each practice had a practitioner with an interest, who had completed a two day course, most women will be well served.
"Within a GP practice, ask around to find out who might be the GP with a menopause interest. It might be the same one who does sexual health and contraception, but not always. Practice receptionists usually have good idea who is best to see."
Amy Hunt is an experienced digital journalist specialising in homes, interiors and hobbies. She began her career working as the features assistant at woman&home magazine, before moving over to the digital side of the brand where she eventually became the Lifestyle Editor up until January 2022. Amy won the Digital Journalist of the Year award at the AOP Awards in 2019 for her work on womanandhome.com.