Can the Louise Parker Method help you lose weight? Here's the expert take on the Kate Middleton diet
If you're wondering whether the Louise Parker Method is worth it, then this is the expert verdict on the so-called 'Kate Middleton diet'...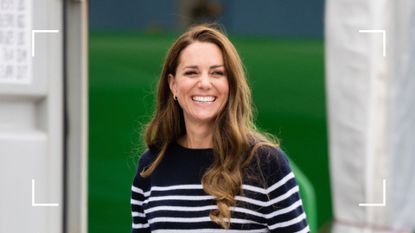 (Image credit: Max Mumby/Indigo/Getty Images)
If you're after a healthy eating regime that is fit for a (future) queen, then the Louise Parker Method might just be the perfect option. The nutritious approach to eating is sometimes termed the 'Kate Middleton diet' thanks to its links to the Duchess of Cambridge. She reportedly turned to it to achieve healthy, sustainable weight loss after the birth of her children.
Indeed, the Louise Parker Method, which revolves around eating well-balanced meals and making lifestyle tweaks, may be able to help you too. But who exactly is the woman behind the popular eating regime? Louise Parker is a sustainable weight loss expert whose program have helped thousands of people, including celebrities, royalty and CEOs get results.
So, if you're stuck on how to achieve a calorie deficit for sustainable weight loss in a safe, effective way then we will reveal exactly what the Louise Parker Method entails - including the foods you should be piling onto your plate. We've also got the expert take on whether this approach - that's worthy of a real-life princess - can help you lose a stone in a month and fuel your body properly so that you feel your best...
What is the Louise Parker Method?
If you're wondering how to lose weight in a week, then the Louise Parker Method gets you rethinking the best way to slim down. Just like the Mediterranean diet, it is more a way of life than a quick-fix eating regime. Which could be helpful, particularly if you have long been dieting but not losing weight.
Because, importantly, Parker doesn't believe in taking a restrictive, crash dieting, approach to mealtimes. In her book The Louise Parker Method: Lean For Life she writes: "I loathe dieting. I'm actually on a mission to end it." What's more - in addition to the Duchess of Cambridge - she has another famous fan, Emma Thompson, who used the program to lose 8kg after turning 40, and praised her method in the book's foreword. The actress notes: "I love that her method is NOT a diet - and is genuinely sustainable - so I can have my glass of wine and manage to avoid spending the rest of the week eating cheesy Wotsits."
There are 'Four Pillars' to Parker's method that those following her program should stick to in order to achieve results. These include 'thinking successfully', 'living well', 'eating well' and exercising 'intelligently'. Here's a bit more about each of them...
Louise Parker Method: The Four Pillars
Thinking successfully means harnessing a positive mindset, and visualizing your weight loss goal - you need to believe that you really can achieve it.
Living well is focused more on your lifestyle, and also things like self-care. You'll learn that it is key to get enough sleep, embark on digital detoxes and declutter your surroundings in order to feel your best.
Eating well is pretty self-explanatory. Parker's method encourages you to stick to three well-balanced meals and no more than two snacks per day.
Finally, exercising intelligently is all about harnessing motivation and maximizing your training sessions. You could try Kate Middleton's Crossfit workout, for instance.
What food can you eat on the Louise Parker Method?
As previously mentioned, the Louise Parker Method wants you to still enjoy mealtimes. Indeed, Parker's plan doesn't exclusively include kale and kombucha (although, both are very good for you!) but also encourages you to embrace snacks and treats from time to time. In her book, she helps with nutritious culinary inspiration by providing a variety of recipes - from bircher muesli to white bean and rosemary soup, and a spicy, tomato and egg dish called huevos rancheros.
On the plan, you'll begin with a month-long 'transformation phase', where you begin to establish healthy habits. These include that each meal should contain protein, low GI (glycaemic index) carbohydrates and a small amount of healthy fat (which will also deliver a generous dose of omega-3, found in nourishing foods like oily fish). You should likewise eat plenty of fruits and vegetables, and are also allowed two snacks per day.
Parker also points out that healthy, sustainable weight loss doesn't just come from nutritious eating - it's important to get plenty of movement in your day too. She suggests doing strength training (perhaps with a pair of the best dumbells) and suggests that - in addition to a 15-minute workout - you should aim to complete 10,000 steps per day.
Additionally, Parker notes that there are other lifestyle factors that can impact directly on your health and weight. She suggests doing a digital detox at night - putting your phone to one side and getting stuck into a book before bed - and also believes 'brain naps', which essentially mean taking a break from everything that occupies your day, can be hugely beneficial. This includes going for a stroll, or even just resting on the sofa for 20 minutes. We like the sound of this...
Is the Louise Parker Method good for weight loss?
The short answer is that the most effective way to achieve health goals like this is to take a sustainable and holistic approach to how you live your life, as the Louise Parker Method encourages, rather than crash dieting.
If you're finding it hard to get your head around why restrictive dieting doesn't work for weight loss, then here's the expert verdict. "Long-term calorie restriction is perceived as a stressor to the brain," says Tanya Borowski, nutritional therapist and functional medicine practitioner. This can then actually risk overeating, creating a vicious cycle.
It can also be worth exploring the other reasons why you may be struggling to lose weight. Very often there is poorly managed inflammation present, and the very presence of an aberrant inflammatory response affects weight control or the ability to lose it," explains Borowski. "It triggers the body to store fat, mainly around the tummy, and also interferes with another hormone, leptin, that helps to control weight." What can cause this inflammation in the first place? "Everything from daily stress to chronic infections and nutrient deficiency can be behind it," she adds.
The Louise Parker Method: A nutritionist's verdict on Kate Middleton's diet
Tempted to try the so-called Kate Middleton diet? "It's a very balanced approach, not the slightest bit faddish," says Borowski. "The dietary principles are focused on choosing the correct form of macro and micronutrients and not counting calories.
"It teaches you to select protein with each meal - for example, two eggs, a salmon fillet, 100g meat, 125g tofu or 150g yogurt. Carbohydrates are encouraged to be whole grain, which keeps blood sugar steadier, and to include plenty of colorful vegetables. Finally, fats are not demonized, and the inclusion of mono and polyunsaturated fats - like nuts, seeds, fish, eggs, avocado and oils in dressings - are encouraged."
The method also recommends avoiding certain foods lacking in nutritional value. "These include refined carbohydrates - like white wheat and products derived such as bread, pasta, cereals and high sugar containing processed foods such as cakes, biscuits and ready meals," notes Borowski. She adds: "There is also an important focus on movement; to take at least 10,000 steps a day and to get adequate sleep in your routine - both vital for optimal metabolism."
However, Borowski also notes some disadvantages to consider. "It cannot be tailored to the individual's life stage or personal circumstances, and as such will miss roadblocks to healthy weight management control," she explains. "For example, women experiencing perimenopause symptoms or who are entering the menopause become more insulin resistant as a direct result of changing estrogen levels, meaning a bespoke approach would be needed here." What's more, as with any program like this, it is always important to consult with your doctor first.
Sign up to our free daily email for the latest royal and entertainment news, interesting opinion, expert advice on styling and beauty trends, and no-nonsense guides to the health and wellness questions you want answered.
Lauren is a freelance writer and editor with more than six years of digital and magazine experience. In addition to Womanandhome.com she has penned news and features for titles including Women's Health, The Telegraph, Stylist, Dazed, Grazia, The Sun's Fabulous, Yahoo Style UK and Get The Gloss.
While Lauren specializes in covering wellness topics—ranging from nutrition and fitness, to health conditions and mental wellbeing—she has written across a diverse range of lifestyle topics, including beauty and travel. Career highlights so far include: luxury spa-hopping in Spain, interviewing Heidi Klum and joining an £18k-a-year London gym.