How to get slim – and stay slim!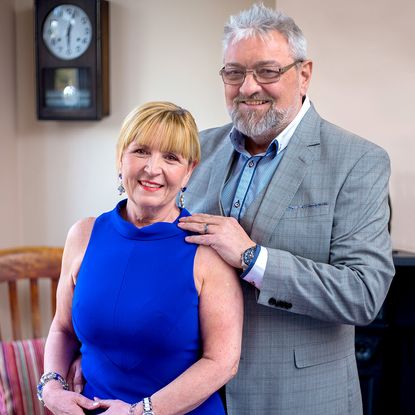 Promotional Feature
If you're looking for a way to shed pounds, Almased®, Germany's No. 1* meal replacement programme, could be just what you need. Meet three people who achieved weight-loss results beyond their expectations, and who have managed to keep the weight off too...
Carole and Chris' story
Meet Carole and Chris - a couple from Fife in Scotland who recently achieved their dream to lose weight and look great.
Between them they have lost over 10 stone!
Their weight-loss journey began in 2013 when, on returning home from a holiday in Jamaica, they were shocked by their holiday snaps. Determined to get slimmer, they looked around for a natural weight-loss solution and discovered Almased®, Germany's No. 1* meal replacement programme.
Safe and effective, each 230kcal protein-rich shake uses a scientifically proven formula** made with high-quality raw ingredients, such as fermented soya for energy, probiotic yogurt to strengthen your immune system, and enzyme-rich honey to settle your stomach, all while leaving you feeling fuller for longer.
The 2013 holiday snap that prompted Carole and Chris to slim down
Chris and Carole knew Almased® was the best choice for them because not only did they want a diet that was simple and easy to follow, they also needed one that would suit Chris's dietary needs, since he has Type 2 diabetes. Almased® meets these needs, due to the formula having a low glycaemic index and glycaemic load. Importantly, its nutrient-rich, high protein content ensures the body is provided with enough energy to utilise fuel from fat stores, rather than from essential muscle.*** In keeping with the wholesome and clean nature of Almased® there are no artificial flavours, fillers, stimulants or preservatives. It's also gluten-free and suitable for vegetarians.
How Carole and Chris achieved their goal
The couple chose to follow the Almased® Long-Term Plan, which has 4 phases. As Carole and Chris had constantly battled with their weight, they wanted a diet they would both be able to stick to. With Almased®, they have successfully managed to maintain their new weight, with Chris down to 16.5st from 22st 3lbs and Carole maintaining 4st weight loss, 3 years on. They both feel healthy and look great - and the best news of all is that Chris has been taken off two of his medications, much to the delight of his doctor.
'Almased® works,' says Carole. 'It really works. I feel good and I'm looking so much better. The two of us are. And our energy levels are right at the top!'
Quite some achievement.
Watch Carole and Chris's story here
Gayle's story
Gayle from Glasgow works full-time in a pharmacy and had tried several diets in the past, but none had worked. She wanted a diet plan that would fit into her busy lifestyle, and Almased®'s Long-Term Plan happened to fit the bill. Within 10 months of starting it, Gayle lost an impressive 5st. Since losing this weight, she now feels so much more confident.
Gayle's busy lifestyle meant she had little time for diets I feel healthier and have a lot more energy,' Gayle says. 'And I find it's just so convenient. I take it to work with me and have it for my lunch. Sometimes I even make up a shake and take it with me in the car. 'Almased® has made a really big difference to me - and it's great to know I can now fit into size 12 clothes!'
Gayle, now, after finding success with Almased® 's long-term plan Watch Gayle's story here
The Almased® Long-Term Plan
1. The Initiation Phase - All of your daily three meals are replaced with Almased®. An optional bowl of homemade vegetable soup can be consumed as an additional meal. This phase should not be continued for more than two weeks as it will result in unhealthy weight loss.
2. The Reduction Phase - In this phase, two daily meals are replaced with Almased®. The main meal, typically eaten at lunchtime, should be high in protein, lower in carbohydrates and rich in vegetables. This phase can last up to six weeks.
3. The Stabilisation Phase - This is the phase that really helps with weight maintenance. Here, one regular meal is replaced with a shake to support your body's energy needs while maintaining muscle integrity. This phase can last as long as you wish.
4. The Life Phase - Once you have achieved your desired weight you can return to eating three balanced meals and incorporate Almased® as a go-to healthy nutritious snack, pre or post-exercise.
For more inspiring stories and to find out more about Germany's No.1 meal replacement shake, go to Almased.co.uk.
Almased® weight-loss shakes are available at Boots and Lloyds Pharmacy
* IMS Health (2016). ** Deibert et al (2004). Intl. Journal of Obesity; 28(10):1349-52. *** Konig et al (2008). Annals of Nutrition and Metabolism; 52(1):74-78
Sign up to our free daily email for the latest royal and entertainment news, interesting opinion, expert advice on styling and beauty trends, and no-nonsense guides to the health and wellness questions you want answered.