Why all good running shoes have these features
Experts share the five features you'll find in good running shoes.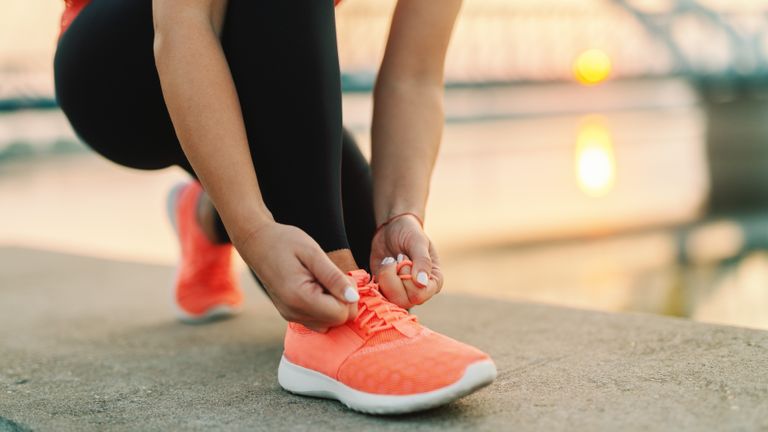 (Image credit: Getty Images)
Looking for good running shoes? It's easier to select the right pair for you if you know the key features to look out for. 
Good running shoes are a must-have when it comes to the sport, whether you're pounding the pavements or running on a treadmill. You'll want a pair of the best running shoes out there for comfort while you run, and also to protect you from injuries. 
If you're a regular runner or looking to become one, you could be spending an average of 20 miles a week in these shoes. So, you want to make sure you're making a worthwhile investment and bagging yourself some good running shoes. 
To help you on your quest, we asked the experts what key features to look for in running shoes. From cushioning to flexibility, they gave us a lowdown on the five features to look out for.
Features good running shoes have
1. Breathable material
Although we may not be able to see it, our feet sweat when we run. If your feet are sweating for a long time, they're likely to rub against the surface of your shoes. This can lead to discomfort at a minimum, so it's important to pick running shoes that are made using breathable material.
"Sweat build up can actually cause blisters, so the more breathable your shoes, the more you can reduce the chance of blisters occurring," says Ashley Scott, technical representative supervisor at Brooks Running.
This feature is especially important on any material uppers (the top of the shoe). When you're researching what shoes to buy, look out for engineered mesh or stretch-woven finishes for optimal breathability. 
2. Good cushioning
Running can have a huge impact on our bodies. As well as the positive effects of this activity, you can experience sore muscles and aching limbs. It's important to find trainers that are designed to minimise any ill-effects. Specifically, running shoes with good cushioning.
In fact, Saucony's Jonathan Quint reveals, "When we land during a run, we're putting up to three times our body weight through our lower limbs and back, so good cushioning will help protect against this impact".
When shopping, choose a trainer with cushioning under the foot. This will help to soak up the shock – putting less impact on both your feet and the rest of your body. Most brands use their own high-tech foams (which come with various complicated names), but test the running shoes to make sure they feel lightweight, too. You don't want to feel the heaviness of the foam on your feet when you're halfway through a run. 
3. Flexibility
A flexible shoe design will help to avoid injury. When you're shopping for running shoes get a feel for just how bendy or stiff they are. The way they move when you push on them will reflect how they react when you run in them. If they barely move, they will be inflexible when you run. Look for models that spring back into place – they will perform the same way when you're running.
Jonathan reinforces this, saying running shoes should accentuate your movement, therefore the more spring the better. "You want them to absorb impact, but give you something back," he says.
He also emphasises the importance of the spring on the toe. "Look at a shoe on a shelf. If the toe curves to point upwards, you know it's going to help you get on your toes. Our Speed Roll technology helps do this even more."
4. Comfort
When you run, you don't want to stop every few minutes to adjust your laces or to stretch achy calves. If you get a chance, try the shoe on in the shop. Specialist running shops will actively encourage this, but if you're in a standard sports shop, at the very least you need to walk around in the shoes and make sure they feel good on your feet.
Comfort, when applied to a running shoe, is quite specific. There are certain things you want to avoid. "Shoes should hold the foot as a firm handshake," says fitness coach Emma Kirk Odunubi. "Ashoe where the foot swims in it can cause blisters. Plus, a shoe that is too small can cause cramping toes, feet or calves and even black toenails."
A gait analysis, where a camera records your running strides on a treadmill, could help you find the right pair for your feet. Plus, it could give you an idea of what is comfortable. "If your shoe aligns with your gait, it will naturally support you through every stride," says Emma. "If your shoe fits incorrectly, you may get pains and injuries very early on, as well as discomfort if the shape isn't right."
5. Lightweight
With all these elements added you'd think that you could end up with extra weight on your feet, which is definitely not what you need when you're trying to concentrate on racking up the miles.
"Running shoes need to be as lightweight as possible," says Olly Law from On Running. "You run more efficiently in lighter footwear, which lets you run more naturally. You should choose the lightest shoe, which still provides enough cushioning."
Don't be scared to pick up the trainers you're considering and get a feel for how heavy or light they are, and definitely try them on and move around in them. 
The ultimate tip: make sure they feel like a natural extension to your foot, and not in any way a hindrance. Then you'll know you have yourself some good running shoes.
With thanks to Ashley Scott, technical representative supervisor at Brooks Running, Jonathan Quint at Saucony's, fitness coach Emma Kirk Odunubi and Olly Law from On Running.