70% of women over 40 have a weak bladder, so we ask an expert how to fix bladder leakage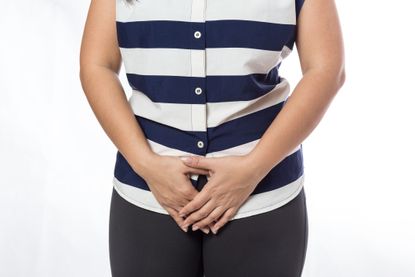 (Image credit: Getty Images/iStockphoto)
It makes for sad reading that millions of women are having to avoid sneezing, running and even laughing due to a weak bladder, with one in 10 being unable to enjoy life 'to the full' for fear of having an 'accident'. And a tenth claiming that their bladder weakness has even led to depression.
A new study by pelvic floor muscle trainer Pelviva has revealed that 70 per cent of women over 40 have a weak bladder and have suffered from leaking urine when coughing and chuckling. And a staggering one in three have experienced these symptoms when taking part in physical activities such as running or jumping.
It's become so bad for so many women, that 17 per cent of sufferers admit that their weak bladder dominates their thoughts and a quarter said these issues make them feel older than they really are. As well as this, 23 per cent of sufferers watch how much they drink and 30 per cent always plan toilet breaks when travelling to avoid leaking urine. No wonder 10 per cent of women are feeling depressed, that's pretty life limiting.
READ MORE: How's your vagina? The five signs something could be wrong down there
Julia Herbert, consultant physiotherapist and clinical director for Pelviva, said: 'Bladder leakage is a health issue, which affects millions of women of all ages across the UK'.
The study involved 2000 women, all aged 40 and over, with over two thirds of the women revealing they are currently struggling with leaking urine.
Julia adds that even though it's such a common ailment, bladder leakage is still seen as a taboo subject; women may find it hard talking about having a weak bladder with loved ones. 'It's a perception we'd like to see change,' says Julia.
Weak bladder causes
What causes bladder weakness? Julia explains, 'pregnancy, childbirth, hormonal changes associated with the menopause and putting on weight are among the many causes of bladder leakage due to weakening pelvic floor muscles.'
She elaborates, 'these issues are more commonly experienced by older women, but it can just as easily affect someone in their 30s or even younger.'
Weak bladder treatments
If you are one of the millions of women leaking urine and suffering from a weak bladder, there are things you can do to help.
Undertaking pelvic floor exercises is a key way to improve a weakened bladder, however only 10 per cent of women regularly train their pelvic muscles.
Woman & Home's Personal Trainer Lucy Gornall explains that the easiest way to find your pelvic floor muscles is to stop peeing, mid pee. 'These are the muscles you want to be training. You can start by squeezing them 15 times, five times a day. When you squeeze them, hold the squeeze for three to five seconds before releasing.'
Julia adds that the Pelviva treatment has been designed to train your pelvic floor muscles correctly, and is completely automated and simple to use.
Only one in 10 of the women questioned have been to see a healthcare professional about the condition. If you are concerned about a weak bladder, you are not alone. We recommend that you speak to your GP about a urogynaecology physiotherapy referral, where NHS professionals can help you retrain your bladder and pelvic floor muscles.
Lucy Gornall is the former Health & Fitness editor at Future and a personal trainer specializing in pre and post-natal exercise.