Skipping this meal could lead to mental health issues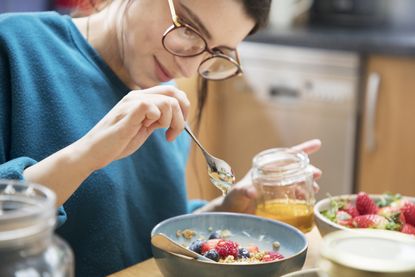 (Image credit: Getty)
The famous claim that breakfast is the most important meal of the day is sometimes thought to be nothing more than a silly cliche.
But a new study has suggested that ditching cereal and toast and getting on with the day on an empty stomach could actually wreak havoc on our mental health.
According to research published in the journal Psychological Medicine, delaying or skipping the morning meal is associated with a higher likelihood of having a mood disorder, like depression or bipolar.
The study saw researchers analyse data from more than 1000 participants. When the participants were aged between 26 and 36 they were asked to track their eating habits. They were then asked to do the same ten years later, when they were 36 to 46.
The participants also completed an assessment of mood disorders, such as depression, dysthymia, and bipolar disorder.
READ MORE:Everything you need to know about depression (opens in new tab)
"Research has shown that a healthy diet is linked to a lower risk of depression. We were interested to know if when people ate during the day was linked to a higher or lower risk of having depression," said study author, Johanna Wilson, a PhD candidate at the University of Tasmania.
It was found that those who had skipped or delayed eating breakfast were more likely to develop a mood disorder, compared to participants who stuck to more conventional ways of eating, like tucking into breakfast, lunch and dinner.
So while it's important to eat breakfast, it has to be early in the day too. Those who put off their morning munch and ate a big portion of food later were at risk with those who skipped it all together.
"Our study highlights that when you eat may be important for your health, not just what and how much you eat. We found that people who tended to skip or delay breakfast and consume a larger proportion of their daily food intake later in the day were more likely to have a mood disorder," Wilson told PsyPost.
"This may be due to hormonal and circadian effects of eating at a certain time, but it could also be due to whether someone is a morning or evening type person, known as chronotype."