Scientists say THIS is the surprising secret to getting to sleep on a hot summer's night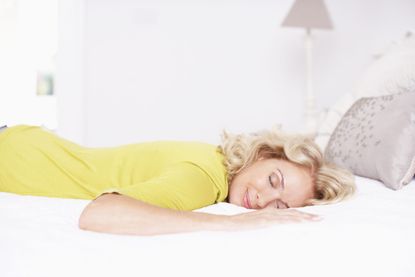 With temperatures set to soar into the thirties in certain parts of the country, hot, stuffy nights are making it harder and harder to get a good night's sleep.
Cut back on caffeine, turned off your phone, invested in a fan and still struggling to get to sleep in the heat? Never fear: help is at hand, and it comes in liquid form…
That's right – scientists have discovered that a bedtime drink could be the trick to keeping your cool. But we don't mean a refreshing glass of water, or even a cheeky G&T. We mean a cup of hot milk.
It might sound counterintuitive, but hear us out. Ollie Jay, a researcher at the School of Human Kinetics at the University of Ottawa, has found proof that a hot drink can actually cool you down.
After conducting a series of experiments on cyclists, Ollie's team concluded that a warm drink can lower body temperature more quickly than a cool drink.
'What we found is that when you ingest a hot drink, you actually have a disproportionate increase in the amount that you sweat,' he told Smithsonian.
And sweat is designed to cool you down. 'If you drink a hot drink, it does result in a lower amount of heat stored inside your body, provided the additional sweat that's produced when you drink the hot drink can evaporate,' he explained.
For obvious reasons coffee and tea are out, but a soothing cup of warm milk is an ideal choice. Thanks to its high tryptophan content, it will cool you down and boost production of sleep hormones like serotonin and melatonin.
Vegan? Opt for almond milk. It's packed with nutrients that help with sleep and relaxation, including calcium, iron, zinc, magnesium, potassium and B vitamins. Add some freshly grated turmeric and ginger root for an Ayurveda-inspired cup of golden milk.
But you do need to make sure the extra sweat can evaporate – that means light bedding and loose-fitting nightclothes are key. 'On a very hot and humid day, if you're wearing a lot of clothing, or if you're having so much sweat that it starts to drip, then drinking a hot drink is a bad thing,' Ollie warns.
'If the sweat's not going to assist in evaporation, go for a cold drink.'
Noted.
Samantha Simmonds is a freelance journalist, content writer, copywriter, and editor based in London.
She graduated from Reading University with a First Class degree in Psychology, later achieving a Distinction in her Diploma in Fashion & Personal Styling from The London College of Style.
Samantha is currently creating digital editorial content for John Lewis, writing for The Edit's wellbeing channel. She also writes for publications including Women's Health, Top Santé, Refinery29, GoodtoKnow, Cosmopolitan, Healthy, Health & Wellbeing, woman&home, and Yahoo, and has created commercial content for brands including Berghaus, Amazon, and Regaine.