Researchers say blood pressure pills 'work better at bedtime'
Get the best out of your medication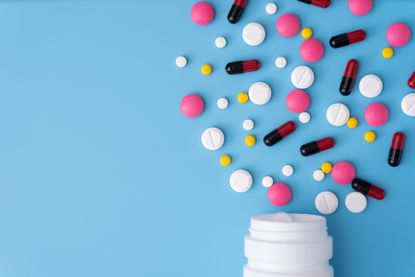 Results from a new study could impact how blood pressure pills are prescribed in future.
New research has found that taking blood pressure (opens in new tab) pills at night time - rather than in the morning - could be better for your health.
According to the European Heart Journal, the simple tip could save lives as it could cut the risk of heart attacks, heart disease and strokes.
Experts believe the body's natural biological clock alters our response to medication.
The study (opens in new tab) was the biggest of its kind to investigate how the time at which we take drugs can impact our health.
Almost 2o,000 people with high blood pressure were split into two groups. The first took their medication at night, whereas the second took their pills when they woke up.
The groups had their blood pressure monitored over a period of 48 hours, at least once a year.
Those who took their medication in the morning had significantly lower average blood pressure both at night and during the day. Blood pressure also dipped more at night, compared to patients taking their medication each morning.
After taking into account patient lifestyle factors and medical history, the team found those who took pills at bedtime had a 56% lower risk of death from cardiovascular disease and a 49% lower risk of stroke. They also had a 44% lower risk of heart attack, compared with the morning group.
Lead researcher Ramón Hermida offered one possible explanation, saying that the hormone system that regulates blood pressure peaks in activity during sleep.
This means the medications that interact with this system have a greater effect when taken just before bed.
He said, "The results of this study show that patients who routinely take their anti-hypertensive medication at bedtime, as opposed to when they wake up, have better-controlled blood pressure and, most importantly, a significantly decreased risk of death or illness from heart and blood vessel problems."
It's worth pointing out that the team have said that further research is needed across a more diverse range of ethnicities and with those who partake in shift work.
Vanessa Smith, from the British Heart Foundation, said: "Although this study supports previous findings in this area, further research amongst other ethnic groups and people who work shift patterns would be needed, to truly prove if taking blood pressure medication at night is more beneficial for cardiovascular health.
"If you're currently taking blood pressure medication, it's important to check with your GP or pharmacist before changing the time you take it. There may be specific reasons why your doctor has prescribed medication in the morning or night."
Lizzie Thomson is a regular contributor to woman&home, and also contributes to Metro.co.uk, Ideal Home, Culture Trip, and Evening Standard, covering all things lifestyle.