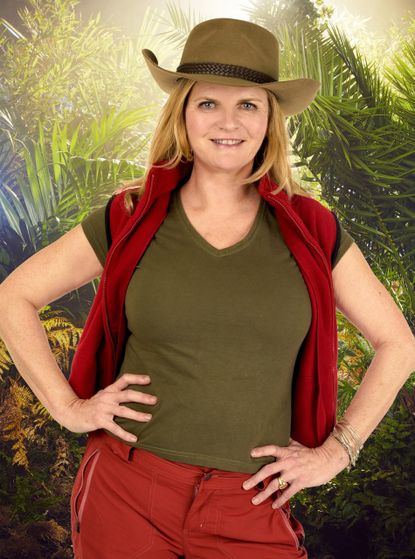 (Image credit: Rex Features (Shutterstock))
woman&home newsletter
Sign up to our free daily email for the latest royal and entertainment news, interesting opinion, expert advice on styling and beauty trends, and no-nonsense guides to the health and wellness questions you want answered.
Thank you for signing up to . You will receive a verification email shortly.
There was a problem. Please refresh the page and try again.
Find out how our favourite celebrities stay looking so fabulous after fifty
We've long asked ourselves just how some women manage to look so incredible aged 50+. Those hard-working ladies who inspire us with their dedication to their work and family lives, and still manage to pull off that glamorous look at every occasion.
Susannah Constantine is a perfect example. Married with three children, we spoke to the I'm A Celebrity star about body confidence in your 40s...
"There's a real sense of calm in your forties. I now have an understanding of my body, knowing what shape I am and how to dress it. Yes, my stomach is like a waterbed with a life its own, and I hate my upper arms, but I don't worry about the fact that I'm nowhere near perfect. I used to be lazy, but now I run 15 miles a week with my two dogs, and if I want to dress up in my Alexander McQueen pencil dress, I accept that the only way I'll get into it is if I wear my body shaper. I've got four of them; they're indispensable. I would never have imagined that I'de appear totally naked on TV, as I did for the ITV show The Great British Body. But Trinny (Woodhall) and I felt we couldn't ask people to do something unless we did it ourselves. I've never felt so vulnerable; it was hideous! It was the strangest thing to see 600 people around us, all sunny side up!"
Dame Helen Mirren
Oscar-winning actress, Dame, wife - and she still looks fabulous in a bikini at 69! Her secret? An exercise plan designed by the Royal Canadian Air Force. Helen follows a routine designed by a Doctor in the 1950s. It comprises 10 exercises for women including push-ups, sit-ups, running on the spot and arm circling to work all of the muscle groups. Talking of the plan, Helen said: 'Each day, you have to do the exercises within the 12 minutes and until you can, you can't move up'. Just 12 minutes a day? This is one celebrity exercise plan that could really work for us! Pair that with plenty of sleep, and Dame Helen thinks you have the perfect recipe for looking great, no matter what age you are: "When I'm working hard, I don't party. I just go to bed. If I'm on a film, I even try to catch some sleep in my trailer at lunchtime. I really try to sleep as much as possible...it's very important."
Kim Cattrall
Kim Catrall, 58, is a super sexy and confident woman who believes staying stunning at 50 is all about taking care of ourselves. 'I work out every other day. I try to do cardio three or four times a week,' says Kim in our May issue. 'I also do physio yoga - a combination of physio and yoga, so I'm constantly trying to rehabilitate my body'. It seems to be doing the trick - we think Kim's looking fabulous!
Meryl Streep
Meryl Streep, 65, has learned to take everything in her stride. Speaking after a recent career retrospective in New York, she said: "They were showing clips from my earlier films. All I could see was this beautiful young woman who was anxious about whether she was too heavy...I felt like saying to her: 'Just relax and it will all be okay'."
Jerry Hall
Jerry Hall, 58, believes the key to beauty is romance. "Being in love makes a woman beautiful", she says. "Nothing beats that. I also drink lots of Evian and sleep a lot."
Annie Lennox
Annie Lennox, 60, is still an independent trendsetter, always dressing for herself and staying true to her innate sense of eclectic style.
Sharon Stone
Sharon Stone, 57, has a figure most 20-year-olds would envy. Sharon follows a strict GI diet, which includes eating protein, dairy and moderate quantities of fat.
Michelle Pfeiffer
Michelle Phiffer, 57, insists she has a low maintenance approach to beauty. "I can go months, years without a mani", she said in a recent interview. "I never pluck my eyebrows. As far as body maintenance goes, I do eat well and I exercise. I go at it hardcore in my gym, but that's it.'
Carol Vorderman
54 year-old TV presenter Carol Vorderman is comfortable in her own skin. "I believe that as you get older, you become less concerned about looks," she said.
Cherie Lunghi
Cherie Lunghi, 63, stole the nation's hearts when she appeared on Strictly Come Dancing. Cherie has the moves, the figure and the flattering fashion choices!
Lulu
Like plenty of other women in their sixties, Lulu is starting a new chapter in her life. Quite literally. "My generation has the chance to be ageless. It would never have occured to my mother that she could write a book, or start a business at 60." The topic of her book? Looking fabulous at any age.
Trudie Styler
Trudie Styler, 61, thanks yoga for her enviable, toned body: "I practise for 45 minutes to an hour-and-a-half every day. Yoga is the best holistic workout and body toner there is."
Glenn Close
Even though she's been nominated for five Oscars during her three-decade-career, actress Glenn Close insists that she's never felt happier. "All your life you think 60 is ancient", she said after celebrating the milestone birthday. "And all of a sudden you find you're 60 and you don't really feel that different. I feel stronger and more engaged. This is the best time of my life."
Andie MacDowell
Model and actress Andie MacDowell, 57, is a fan of natural beauty but she doesn't judge others for having plastic surgery. "There isn't an age limit on beauty", she says.
Emma Thompson
Emma Thompson, 56, reveals she felt fine about turning fifty: "It's a big milestone because when you reach it, you can turn around and do or say whatever you want."
Pamela Stephenson
Pamela Stephenson, 65, isn't one to sit still. "It's perfectly possibly to be athletic and enjoy dancing at this age", she said after coming third in Strictly Come Dancing.
Olivia Newton-John
After successfully battling breast cancer a few years ago, Olivia Newton-John (66) doesn't waste time on the negatives. "Health and happiness go together", she said in a recent interview. Olivia also exercises every day, even if it's just taking her dog for a walk.
Fern Britton
Fern Britton, 57, dresses to impress since her recent weight loss, favouring colourful dresses, embellished jackets and classic court heels for a sophisticated finish.
Kristin Scott-Thomas
Actress Kristin Scott-Thomas, 54, lives in the moment instead of worrying about getting older. "Unlike most actresses, I don't lie about my age. I'm liking this bit [of my life]. I love it. I wouldn't swap it for a million years", she said.
Julianne Moore
At 54, Julianne Moore knows what suits her when it comes to fashion. She favours unfussy, elegant dresses from designers like YSL in muted tones. "It's hard to get [colour] right when you're a red head", she admits.
Joan Collins
The ever-fabulous Joan Collins, 81, doesn't bother with faddy diets. "A lot of health comes from proper eating", she says. "I believe in eating well, not eating too much but eating a variety of foods."
Madonna, 56, is seriously fit and fabulous at fifty but it's all down to hard work. "There are no tricks. Tricks don't work. Discipline does," she says.
Diane Keaton
Diane Keaton's dressing table isn't packed with anti-aging lotions and potions. The 69-year-old actress follows a very simple beauty regime: "I wash my face and put some cream on".
Goldie Hawn
Goldie Hawn is one of the most stylish sixty-something A-listers around. She lives in figure-hugging dresses, boho-inspired long skirts and effortless vests.
Jo Wood
Jo Wood, 60, swears by organic food and skincare. She also rides her bike around Richmond Park most days.
Joanna Lumley
69-year-old Joanna Lumley has a refreshing view on getting older: 'People often say you can't have long hair over 40. B******s to that! I'm going to keep my long hair and there's no reason we shouldn't go in to Topshop because of our age. You can always find something to go with what you've got in there.'