Chocolate lover? These are the best dairy-free alternatives you can buy
These are just as yummy!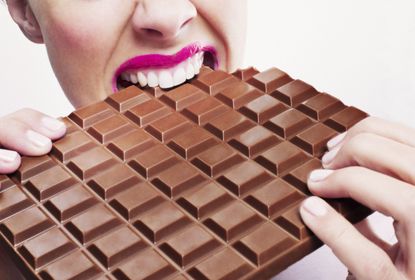 Chocolate: it's one of those foods that very few of us can turn down. Annoying really as it doesn't exactly scream health... Well, not in the quantities we want to consume.
But when dairy is off the menu, it's hard to find chocolate alternatives that taste as good as the real deal.
Or is it?
Now there's a new breed of chocolate taking over supermarket shelves.
It's dairy free and often filled with other nutritional benefits such as fibre, cacao (that's chocolate in its pure form) and even good gut bacteria.
These five dairy-free chocolate treats will certainly hit that sweet craving…
For making a difference
SHOP NOW: Divine Smooth Dark with Tangy Clementine 90g, £2.20, Waitrose (opens in new tab)
Divine Chocolate is the only Fairtrade company owned by cocoa farmers; in fact half of the profits go towards these farmers and 2% of its turnover is invested in farmer projects that empower women, improve farming techniques, and help protect rainforest. So not only doe this 70% dark choc bar taste great, but it's doing great things too.
For the raw food lovers
SHOP NOW: Ombar 72% Cacao 35g, £1.99, Planet Organic (opens in new tab)
One of the W&H Health Editor's favourite 3pm treats. It's creamy, indulgent and made from 100% organic cacao. Oh and it has beneficial gut bacteria too. Despite the fact Ombar is made with no artificial sweeteners or flavouring, it still has just enough sweetness thanks to the coconut sugar. And, this is one of just four ingredients that make this perfect handbag-sized bar.
For the little bit of luxury
SHOP NOW: Raw Halo Dark & Pink Himalayan Salt 70g, £2, Waitrose (opens in new tab)
You'd never know this wasn't a milky bar of dark choc. Instead, it's a vegan, raw chocolate bar made from ethically sourced, plant-based ingredients, sweetened with coconut sugar and sustainably wrapped. Phew. Is there any box this bar doesn't tick? Plus, this year saw the launch of Raw Halo's partnership with One Tree Planted; for every fifty bars sold, Raw Halo plants one tree in Peru or Indonesia.
For the big kids
Coop Free From White Buttons 25g, 60p
White chocolate buttons take us right back to being a kid, when the Milkybar kid paraded our screens on ad breaks. These are quite simply the closest you'll get to the classic Nestle treat, yet they're dairy free. Plus they're a steal at 60p.
For the health conscious
SHOP NOW: Prodigy Chunky Orange Chocolate & Baobab Bar three pack, £4.99, Ocado (opens in new tab)
Think of a Yorkie, but a little smaller, less heavy and with no dairy. Plus, these chunky bars have less than half the sugar of cu rrent brands and 30% of your daily recommended intake of fibre. So they're helping aid digestion too!
Lucy Gornall is the former Health & Fitness editor at Future and a personal trainer specializing in pre and post-natal exercise.