7 ways to avoid weekend weight gain (and you can still drink wine!)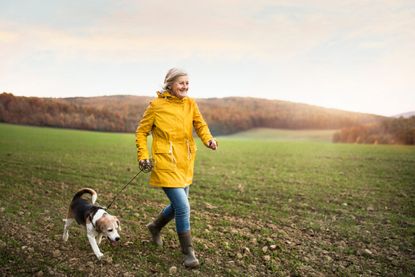 Come Friday we're feeling secretly smug following five days of healthy eating and exercise but then the weekend hits and BAM - we're faced with meals out, lack of routine and often, a sore head from a little too much Pinot noir.
All of this adds up and before we know it, it's Monday and we're back to square one. But why should two days of fun wreck our weight loss plans? Follow these seven tips and swerve the weekend fat traps...
Drink up
Water, that is. Melissa Weldon, Head of Training at London-based fitness studio, Sweat It London, explains: 'Water really is the answer to everything.
Dehydration can cause water retention, which will make you feel (and look) bloated, so it's important to keep up the water intake all weekend long.' Not a fan of plain H20? Add some sliced lemon or cucumber for a fruity kick.
Is a sugar-free diet necessary for a healthy lifestyle? Apparently not, according to this nutritionist
Switch up your plans
As the days get colder, more than half of Brits reduce the amount they keep fit over the winter months, or stop altogether.
In fact, a 2018 study by Selkie Swim found that this can lead to a 4lb average weight gain. Keep activity up by meeting friends at a fitness class instead of the pub, or go for a 30-minute speedwalk.
Swap the booze
'The average beer or wine contains 200 calories, so if you are trying to lose fat, aim to be in a deficit of 500 calories per day to lose a safe 1lb per week,' says Melissa.
Swap high calorie booze for a lighter option. There are some great light beers and ciders out there, or opt for a clear spirit, which usually has an average of 50 calories per measure.
Don't try to be perfect
Avoiding all 'naughty' food is hard and no one wants to live a life of total restriction. In fact, allowing yourself a dessert or a 'treat' can often help you stay on track.
Factor this into your day, stick to just the one, and savour every mouthful. When you're done, go back to eating natural, whole foods.
Keep moving
It's easy to lounge on the sofa all weekend, especially if you're nursing a hangover. But Melissa explains that one of the best cures is a long walk outside.
'Oxygen is important for any type of recovery, as it kick-starts healing by helping your body to flush out toxins. A long walk will also help you to burn off the excess calories and help you to feel fresher.'
Snack right
Hunger can kick in at any time and being unprepared means you're far more likely to reach for shop bought, processed snacks AKA high calorie food. Instead, pack a small bag of nuts or a piece of fruit in your handbag to tide you over till your next meal.
Plan ahead
Reservations made at the local Italian? Check the menu out ahead of time – often these are found online – and decide what you'll order before you go.
This way, there's no pressure to decide in a short space of time. Try to order first too so you won't be influenced by anyone else's decisions.
Sign up to our free daily email for the latest royal and entertainment news, interesting opinion, expert advice on styling and beauty trends, and no-nonsense guides to the health and wellness questions you want answered.
Lucy Gornall is the former Health & Fitness editor at Future and a personal trainer specializing in pre and post-natal exercise.