Herbal Tea Benefits That Boost Your Health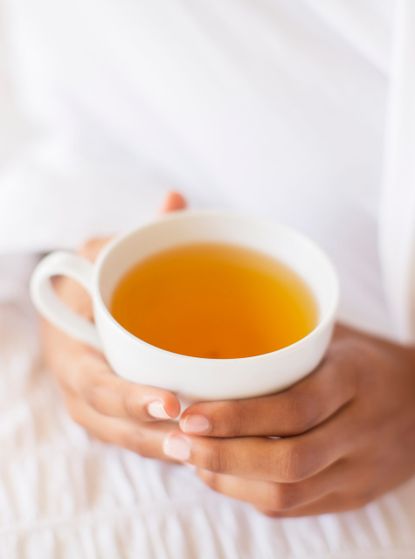 (Image credit: Rex Features (Shutterstock))
The surprising health benefits lurking in your morning cuppa...
It only takes one stroll down the 'hot drinks' aisle in the supermarket to see that herbal teas are big news. Black, green, redbush...herbal teas are more popular than ever, and not just as comforting cuppas. Numerous studies have shown herbal teas to do everything from staving off colds to helping you shed the pounds.
We've all heard that drinking green tea can boost metabolism, and that chamomile tea can help you de-stress, but what about all the other herbs and spices - many of them hard to pronounce! - that are filled with heart-healthy flavonoids and antioxidants? If you're confused about all the herbal teas out there, read through our round up of the 10 best health-boosters.
Whilst shopping, don't be fooled by pretty packaging and outlandish claims - always check the ingredients, and avoid teas with artificial flavourings or added sugar. To reap the most benefits, you want the main or only ingredient to be the actual herb.
So see if you can swap your usual cup of coffee or breakfast tea for one of these herbal teas to discover a healthier you...
Green Tea
Green tea isn't called the 'superman' of herbal teas for nothing - from aiding weight loss to reducing your risk of Alzheimer's, Parkinson's AND strokes, this leaf's properties make it a must-have for your shopping basket. A month-long study has found that women taking a green tea supplement - the equivalent of one cup a day - has less acne than the placebo group. It is believed that an anti-oxidant in green tea, known as ECGC, has anti-inflammatory and antibacterial properties.
The antioxidants in green tea have also been suggested to help with lung, breast and stomach cancers, amongst others. Green tea is also a great alternative to coffee or black tea if you're looking to reduce your intake of caffeine. Get yours:
Clipper
, £2.69
Hibiscus Tea
Otherwise known as sorrel, hibiscus flower has been shown in numerous studies to lower blood pressure. It can also help the body to excrete uric acid, a substance that can build up to cause gout. Get yours: Wild Hibiscus tea from Ocado, £4.89
Ginger Tea
Ginger tea is one of the most beneficial drinks you can put into your body. It's known to aid digestion, ease nausea and relieve rheumatic aches by widening blood vessels. Try it with a squeeze of lemon and honey for a warming brew. Get yours: Yogi Ginger Tea,
Cinnamon Tea
This deliciously scented spice is a powerhouse of health and is recommended for diabetics for it's blood sugar lowering properties. Get yours: Pukka Three Cinnamon tea, £2.39
Peppermint Tea
Peppermint is popular among IBS sufferers for its ability to break down fats in the digestive system and ease intestinal cramps.
The menthol present in peppermint tea also acts as a muscle relaxant, which helps reduce stress and anxiety.
As it's naturally caffeine-free, it also makes for a relaxing cuppa before bedtime.
Chamomile Tea
The most calming of all herbal teas, chamomile is perfect for winding down in the evening. Look for one with added valerian root - another popular sleep aid - if you're in need of a good night's sleep. Scientists have claimed that drinking chamomile tea could help keep diabetes under control. It's also linked to longer life expectancy for women.
Chamomile tea is considered to be an excellent skincare treatment, due to its moisturising and cleansing elements. Get yours:
Celestial Sleepytime Extra tea
, £2.60,
Echinacea Tea
Let's face it, we could ALL use a bit of a boost to our immune systems around this time of year. Try a cup of echinacea tea - packed with vitamins and minerals, it can stimulate antibody production and help fight off nasty colds. Get yours: Dr. Stuart's Echinacea Plus tea, £2.29
Roobois Tea
Low in tannins and caffeine-free, this tasty tea can be enjoyed all day long. It's been popular for centuries as a cure for headaches, insomnia, allergies and premature ageing. Get yours: Tick Tick Organic Roobois tea, £1.99
Nettle Tea
Feeling sluggish? It could be your iron levels - women are especially vulnerable to low iron levels through blood loss during menstruation and pregnancy. Nettle is a well-known source of iron, as well as vitamins A, C, D, E, K and all the B vitamins. Get yours: Heath & Heather Nettle tea, £1.59
Isa Jaward is a journalist from London who has written for the likes of Time Out, The Guardian and Music Week.