Could This Bestselling French Diet Plan Help You Stay Slim?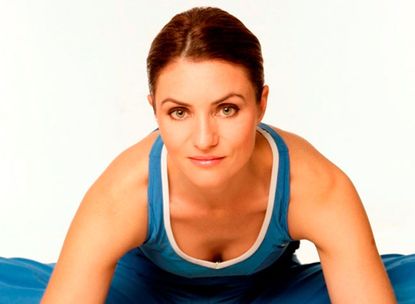 A radical new take on dieting from creator of LeBootCamp, Valerie Orsoni
Could this French diet be the weight-loss programme to keep your excess weight off for good? Valérie Orsoni, author of Le Boot Camp Diet is living proof that it can.
With a strong determination to make 'the planet healthier one person at a time', she shares her own personal experience of her long struggle with excess weight. After many years yo-yo dieting using over 40 different diet plans, Valérie was ready to embark on a dramatic lifestyle change to maintain a healthy weight.
At the time, Valérie was living in France, establishing a successful career in the finance sector. She found herself being deeply inspired by the French diet - it encouraged her to establish healthy life habits and focus on her body's energy - and she felt motivated to make that lifestyle change.
Frustrated by fad diets that never seemed to work, she educated herself on attacking excess weight and, through the pages of this new French diet book Le Boot Camp Diet (£9.99; Quadrille) (opens in new tab) Valérie combines her expert knowledge with her first hand experience of the healthy traditions and attitudes that the French encourage.
This French diet plan is divided up into simple and easy to follow phases: detox, attack, booster and maintenance. Each phase takes inspiration directly from the French diet and works to kickstart and then maintain safe, steady weight loss which will last.
Following the success of her French diet plan, Valérie worked as an internationally acclaimed weightloss coach to several A list celebrities before deciding that this French diet secret should be affordable and accessible to all who share the same struggle as she did; finding a sustainable and maintainable weight loss programme.
Today Valérie Orsoni continues to expand her knowledge in diet and nutrition working with renowned doctors and nutritionalists, but stays true to her first inspiration: the French diet.
Here, Valérie reveals the radical tricks she uses to keep the weight off...
'I buy food I don't 'like'...'
'If you are, like me, a seriously insatiable gourmand; in other words, you cannot resist the temptations your house harbours, so you need an infallible strategy so that you never fall prey to those traps that lurk in cupboards', Valérie says. 'My solution? When it comes to treats, I choose flavours that I don't like when I shop or bake for my family. Ice-cream? Orange; the only ice-cream flavour I don't care for - but luckily my family loves! 'I am a true advocate of delicious food and would never miss an occasion to thrill my tastebuds. But I want to not do so on my terms, not by falling into hidden traps.'
'I blog'
'To make sure I stay on the right path, I keep a blog - a public one (myblog.lebootcamp.com) and a private, little one, where I jot down my weight, my body fat, thigh circumference, waist, and so on', Valérie explains. 'I encourage you to take your measurements regularly - you will be so pleased to see your results.'
'I use mint to suppress my appetite'
'Chew mint-flavoured gum at the end of the meal, or brush your teeth with mint toothpaste', Valérie says. 'You'll be amazed at how you are no longer attracted by this piece of cheesecake or that big brownie.' 'When you need to attend a party or function with a tempting buffet, arrive (discreetly) chewign mint gum so that you spend your first few minutes doing this instead of jumping on the rich foods. Empirical studies have shown that this tip can help you curb your appetite by 25 per cent.'
'Tea signals the end of a meal'
'If, like me, you like to end a meal on a sweet note, a square of chocolate, two spoonfuls of your companions dessert does the trick, [but] the problem is that we very rarely stop after those two spoonfuls', Valérie explains. 'Without realising it, we end up eating more than 200 calories. 'A nice cup of tea is my absolute signal that the meal is over. And to help keep a flat tummy I usually go for an infusion of fresh mint (with no black or green tea added, and no milk), which reduces bloating.'
'I create a weight-loss photo album'
'Take pictures of yourself', Valérie advises. 'This will do wonders if you have a lot of weight to lose. 'I suggest you take a picture each week, in the same place, in the same outfit. At the end of the journey you will be able to create a surprising slideshow of your figure's evolution with time.'
'I never, ever, wait for the lift'
'The University of South Carolina Aiken has conducted an interesting study', Valérie says. 'It concludes that, since lifts always take some time to arrive, if you take the stairs instead you will gain an average of 20 seconds. 'The amusing finding points to one conclusion: save time, tone your thighs, mould your calves and slim your ankles by taking the stairs. Those gazelle legs are within your reach!'