3 Ways To Lose The Love Handles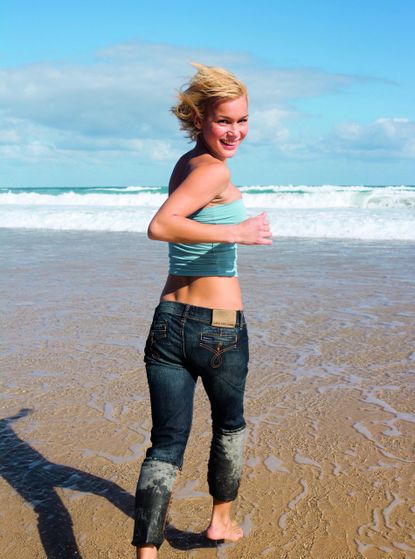 (Image credit: Reinke Productions / jump fotoag)
Yes, you CAN ditch those love handles - follow our 3 steps to a smoother sillhouette...
No matter how hard you work, there are always problem areas that seem so much harder to get rid of. And if, like us, love handles are at the top of your list, you might feel like you've tried every trick in the book to get rid of that annoying area just above your waistband.
But don't fret - there IS a way to get rid of your love handles, and keep it that way - and all you need to do is follow three simple steps for a slimmer, smoother sillhouette in a matter of weeks.
If the thought of regular exercise automatically fills you with worry, this is the plan for you. The steps are simple enough to follow even if you're not confident in your own ability. From the exercise that will take you right back to your childhood, to the step that's so indulgent you'll almost feel guilty for treating yourself when you've been taught that only sweating in the gym will work, this could be the easiest plan you've ever tried - and the results will speak for themselves!
But remember, coupled with exercise, you need a lower calorie diet plan to lose the accumulated fat and keep it off. But if you combine a healthy diet with our simple three steps, you'll get the body you've always dreamed of - just in time to show it off for summer!
Click through to find out how to get rid of your love handles for good with our easy 3 steps...
Melt fat with a massage
Okay, so that's a little optimistic, and the jury's out on whether massage can truly help, but it will boost circulation and improve the appearance of skin. Pinch your hips and waistline, then press your fingers and make little circular movements. To further enhance microcirculation, use essential oils such as grapefruit, oregano, lemon, cypress and black pepper. Black pepper stimulates the circulatory system, which has a fundamental role in melting away fat deposits. Mix together 15 drops of black pepper essential oil, ten drops each of lemon and cypress, and five drops each of grapefruit and oregano in 100ml jojoba oil. Shake well. Apply twice a day and massage into skin.
Have fun with a hoola hoop
It is not only a great laugh but really targets the waist and hips. Choose a hoop that reaches your waist or chest when you put it on its side; larger ones are easier to use because they spin more slowly. Put one foot in front of the other for balance. Then grip the hoop firmly and relax it against one side of your torso. Now spin: if you're right-handed, go anticlockwise, and vice versa if you're a lefty. Keep moving your waist in a circular motion as you let go, and aim to get the hoop to wrap itself around your waist. You'll drop it at first, but as you get better, manoeuvre the hoop higher and lower up and down the column of your waist area. When you feel your oblique muscles kicking in, you are starting to have some effect on burning excess fat.
Do the bicycle
This exercise has you quickly shifting from side to side, which works the love handle muscles and keeps the stress on the oblique muscles. The bicycle is great for those who want to firm up lower abs as well, as they are in a state of constant contraction with your legs hovering above the floor. Just lie on your back on a hard floor and raise your legs in the air at the waist. Support yourself with your hands by placing your elbows under your lower back, so your legs are raised fully off the ground, and do cycling motions with your legs in the air. Keep to a nice slow movement pattern, as this keeps maximum tension on the oblique muscles.