Canapé recipes that will impress your guests
Canapés complete any party, giving your guests something to nibble on and leaving them in no doubt of your capabilities in the kitchen!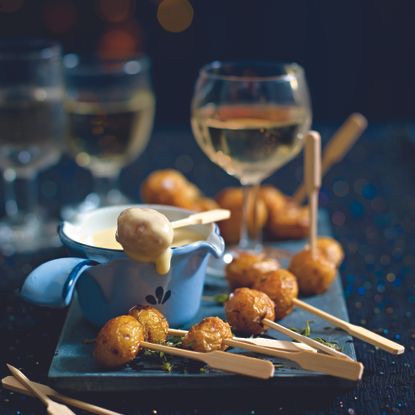 woman&home newsletter
Sign up to our free daily email for the latest royal and entertainment news, interesting opinion, expert advice on styling and beauty trends, and no-nonsense guides to the health and wellness questions you want answered.
Thank you for signing up to Woman & Home. You will receive a verification email shortly.
There was a problem. Please refresh the page and try again.
No party is complete without a selection of stunning canapés. Try our canapé recipes this weekend for the perfect party.
Canapés complete any party, giving your guests something to nibble on while they catch up over a glass of wine. Plus, our stunning (yet secretly very easy) canapé recipes will leave them in no doubt of your capabilities in the kitchen. If you're looking for interesting ways to delight guests' palates, you've come to the right place.
Canapés are a really simple, lovely way to get people talking at your party, and because they're so easy to eat and are usually small nibbles, they're the perfect food to socialise over. They allow people to mingle and have a good time without tying them down to one spot. Our canapé recipes are all really easy to make and make the ideal bite sized treat.
Our favouritecanapé recipes
Whether you're looking for savoury canapés like out mini crostinis made with figs and black olive tapande or something sweeter, like chocolate truffles or mini éclairs, we've got something to suit any soiree.
If you're serving canapés with an aperitif pre-dinner, then try to stick to some of the lighter options like our clever little soup shots (think bloody Mary flavours) or marinated king prawns. However, if you're having a drinks reception, with no sit down meal, then go all out on the canapés and serve up plenty of potato and bread based bite-sized treats as well as some pudding options, too. The cheese fondue with crispy new potatoes in the picture above are a perfect if you fancy a few hot bites.
We have plenty more crostini, tartlet and bruschetta ideas that are meat-free so you can pick whatever tickles your fancy. But for a more meaty option, try our pork and prawn dim sum. They are quite the treat!
So, what are you waiting for? Try our exciting and unique flavour combinations and you'll be wowing friends and family in no time with some original and delicious little treats.
Click through for more canapé recipes...
Mini Apple Rarebit
Apple, cheese and mustrad come together in these goregous mini apple rarebits, which are perfect for passing round at a party. Plus, they only take 15 minutes to make! See the mini apple rarebits recipe.
Medjool Dates Stuffed With Roquefort
This is on eo fthe easiest assembly party nibbles, ready in just 5 minutes - and a fantastic flavour combination that tastes just like Christmas. See the Medjool dates stuffed iwth Roquefort recipe.
Smoked Salmon Blinis
Our smoked salmon blinis are a canapé favourite, especially if you make your own blini. They're a lot softer and airier than shop-bought, and everyone will appreciate the extra effort you've gone to, to really make your party stand out. We love them topped with wild Alaskan smoked salmon, which is thicker cut than most other types and a little drier too.
Soup Shots
Pass round some very easy soup shots, in Bloody Mary, white gazpacho and guacamole flavours, which you won't believe takes just 15 minutes to make! See the soup shots recipe.
Fig and Black Olive Tapenade Crostini
It's so easy to make these simple crostini with salty tapenade topped with a fig slice that you can make 25 in 10 minutes. See the fig and black olive tapenade crostini recipe.
Kale Pesto and Curd Cheese Crostini
Have you seen a canapé with as much colour as our kale pesto and curd cheese crostini? They're a delight to both look at and eat, and what's even better - they take no time at all to make!
Oven Dried Cherry Tomato and Mozzarella Bruschetta
Bruschetta is one of our favourite choices for a canapé as it's easy to eat and a real crowd-pleaser. Try our recipe for oven dried cherry tomato and mozzarella bruschetta - both easy and tasty!
Hot Smoked Salmon Pate
Served on bite-size granary toast squares, this hot smoked salmon pate recipe makes the perfect fishy appetizer. Add a squeeze of lemon to the pate to give that extra flavour.
Lentil Falafel with Garlic Yogurt Sauce
If you're expecting vegetarians round, or simply want to opt for a vegetarian canapé option, try our lentil falafels with garlic yogurt sauce. They're a dream for both those who are meat-free and carnivores alike.
Roasted Red Pepper and Goats' Cheese Crostini
There's nothing quite like the sweet flavour of roasted red peppers, so if you like them, then you'll love our roasted red pepper and goats' cheese crostini. They're an absolute delight.
Hot and Sour Marinated King Prawns
These hot and sour marinated king prawns are irresistibly moreish and wonderfully easy to prepare - you may want to make a double batch! Great for pre-dinner nibbles in place of a starter.
Tapenade Crostini
Everyone loves a freshly made tapenade so give our tapenade crostini a go. They make for a delightfully moreish canapé.
Ricotta Tartlets with Fig and Honey
Sweet and savoury come together in the best possible way in the form of these ricotta tartlets with fig and honey. They are lovely party food and guests will be delighted.
Broad Bean Roasted Pepper Mozzarella and Anchovy Bruschetta
Try this lovely new flavour combination of broad bean roasted pepper mozzarella and anchovy bruschetta. Guests will be delighted by how delicious and original this recipe is.
Filo Tarts with Caramelised Onion and Goats' Cheese
These delicious filo tarts with caramelised onion and goats' cheese make great canapes for a party. You can easily make them the day before and assemble right before your guests arrive.
Vietnamese Lemongrass, Chicken and Prawn Wraps
This is typical of much Vietnamese food where you wrap and dip. It's very sociable and we love to serve this Vietnamese lemongrass, chicken and prawn wrap recipe with drinks pre-dinner, rather than as a starter.
Herring Caviar, Creme Fraiche and Toasted Brioche Fingers
Looking for a glamorous but quick and easy recipe? Simple: serve herring caviar, creme fraiche and toasted brioche fingers for a really impressive and yet simple and delicious canapé.
Braised New Seasons Garlic with Tapenade Toasts and Fresh Goats Cheese
Serve this braised new seasons garlic with tapenade toasts and fresh goats' cheese as a medium-sized canape, or elaborate the recipe and serve as part of an anti-pasti platter for dinner party starters.
Mini Crab Tartlets
Our mini crab tartlets are a dinner party dream. They're so easy to make and are really sociable food as they are perfectly bite sized.
Pork and Prawn Dim Sum
For a canapé with an Oriental twist give our pork and prawn dim sum a go. They're everyone's favourite and are surprisingly easy to make at home.
Tandoori Marinated Prawns with Raita
Our tandoori marinade prawns with raita are a real favourite - they're packed full of flavour and are so delightfully moreish!
Red Pepper Anchovy Crostini
Sweet and salty, these gorgeous red pepper and anchovy crostini bites are perfect for a quick nibble before dinner. We've added a good kick of garlic too, for a strong Italian flavour.
Jamon and Manchego Croquettas
Creamy and cheesy on the inside, yet light and crunchy on the outside, these jamon and manchego croquettas are a wonderful way to bring a touch of Spain to your next soiree.
Vietnamese Pork Balls
These fragrant mini Vietnamese pork balls are packed with the flavours of ginger, fish sauce and mint, giving them a heady taste of Asia.
Chocolate and Salted Caramel Canapes
Sometimes you just want a couple of small sweet treats at the end of your drinks party, and these chocolate and salted caramel canapés are perfect. Made with rich cream, smooth chocolate and a delicious salted caramel these truffles are dangerously moreish!
Mini Baileys Eclairs
It's not every day you're met with a mini Baileys filled eclair! Give your guests a really delicious finish to your canapé offering with these gorgeous little puffs of choux pastry.
Mini Bakewells
This is a canapé for those with a sweet tooth - made with soft frangipane, sweet raspberry jam and buttery pastry. Whenever you decide to serve these mini bakewells, you can be sure of one thing - they'll be a hit with your guests.
Mini brown sugar and hazelnut meringues
What says party more than a pile of cloud-like meringues? These delicious mini brown sugar and hazelnut meringues give more flavour than your average and don't need the addition of any fruit or cream - they're perfect as they are (which also means less mess!).
Sign up to our free daily email for the latest royal and entertainment news, interesting opinion, expert advice on styling and beauty trends, and no-nonsense guides to the health and wellness questions you want answered.