Marks and Spencer's reveal their best selling Christmas foods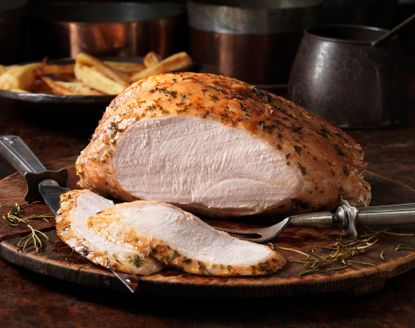 (Image credit: REX/Shutterstock)
It takes days of planning, hours of preparation, and millions of us will be tucking into it this year - but what are we all buying this year for our Christmas dinners? M&S have revealed all.
As you can guess, turkey tops the list when it comes to the meat we'll be eating, but they've also revealed that 1 in 4 of us will be eating an M&S Turkey. Their most popular turkey so far has been the British Boneless Oakham Turkey Breast with Pork with Sage and Onion Stuffing.
Top Side of Beef follows a quick second, while their Leg of Lamb has also been a bestseller so far. And if you think you've got enough to feed an army for your Christmas meal, M&S customers will probably have more than you.
The supermarket chain predict sales will be high for traditional Christmas food and drinks. They estimate there will be 10 million glasses of prosecco drunk, 140 million pieces of party food eaten, while 720 tonnes of stuffing and 500,000 litres of ready-made gravy will also be bought.
Their customers have also gone less traditional this year too when it comes to dessert. With their Chocolate Pine Cones, filled with chocolate sauce, being their most popular desserts this year.
Their festive sandwiches have been flying off their shelves too. Over the Christmas period their Turkey Feast sandwich has been the most popular and they predict 1.2 million of us will eat one. And with the popularity of vegans soaring in the last couple of years, there is no surprise that their festive vegan sandwich is popular too.
Instead of turkey the sandwich has roasted soya with cranberry chutney, caramelised onion, spinach and sage dressing.
Overall they are expecting to sell over 3.6 million Christmas sandwiches.
And if you thought you'd been quick off the mark when it came to organising the Christmas meal this month then there were lots of people ahead of you. The supermarket saw searches for festive food go up by 35 per cent two months ago in October.