This innovative drinks brand has taken 1.36 million cans out of the waste stream and is making home brews seriously cool
You're going to want to invest!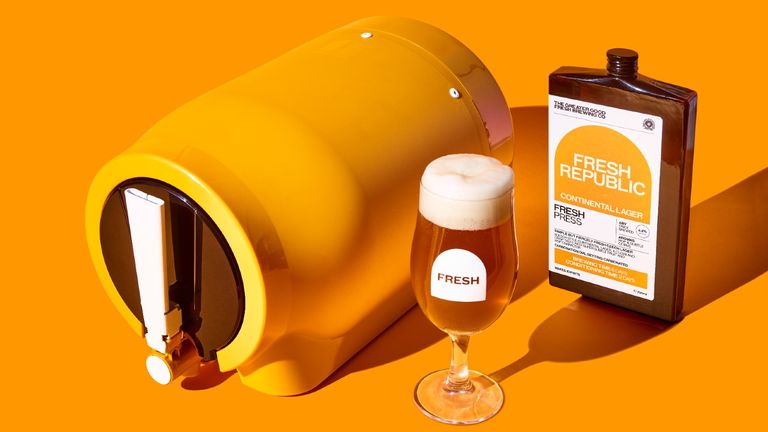 (Image credit: The Greater Good Fresh Brewing Co)
Home brewing and stylish aren't words that usually go together but new company on the block The Greater Good Fresh Brewing Co is here to change that with their bold cask designs that won't look out of place next to your best food processor or best blender.
The Pinter is a seriously slick piece of home brewing kit that recently caught my eye with its fun aesthetic that feels similar to something Apple might have designed. I'd even go as far as to say it's the iPhone of the brewing world, I mean just look at the colours…
Creating your own beer, ale, and cider at home is far from a new concept, but what the market has been lacking for decades is a way to make delightful brews in a stylish way. The Greater Good has succeeded in making home brews cool again but that's not the only benefit.
In creating your very own microbrewery at home, less cans and bottles are bought - meaning that in just six months the company have done their own bit for the planet by taking 1.36 million cans out of the waste stream in the UK.
And the product isn't all style and no substance, once you invest in your very own Pinter, all you need to do is choose one of the 11 drinks available, from Cloudy Nine Cider to West Nuevo Larger and get brewing.
You'll be left with a crisp beer, smooth ale or tangy cider that will rival your favourite pubs version. And with each Pinter purchased you'll be saving 17 bottles or cans from going into the waste stream, each and every time you brew.
How can I brew my own beer, ale or cider?
---
• Order your Pinter, add your Fresh Press of choice, Brewing Yeast, and regular tap water.
• Click your Pinter into the Brewing Dock and leave upright for the recommended time.
• Place in your fridge and wait for the ingredients to do their thing, then enjoy 10 pints of amazingly fresh, home-brewed drinks.
Lydia is Lifestyle News Editor at woman&home
She specializes in travel, food & drink, fashion, beauty and wellness.

Her travel writing has been published in BBC Good Food, Oh magazine, Harper's Bazaar, Town&Country, Elle and MailOnline.
Before joining woman&home Lydia headed up the fashion & beauty print team at Now, and worked as Fashion & Beauty Editor at Top of the Pops magazine where she interviewed and styled some of the world's biggest pop acts, from Taylor Swift and Little Mix to Demi Lovato and One Direction.