Starbucks issues huge recall on products over glass fears
Starbucks has issued a huge recall on over 300,0000 drinks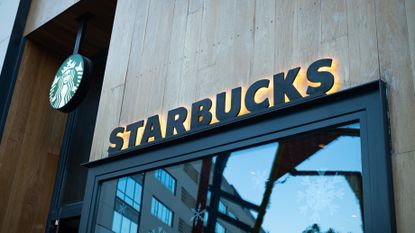 (Image credit: Getty Images)
A huge Starbucks recall has been issued on over 300,000 of its popular bottled Frappuccino drinks over fears they may contain glass.
PepsiCo, who distributes Starbucks' beverages, recently announced a recall for one of its top-selling products: the bottled Vanilla Starbucks Frappuccino.
The drinks, which can often be found in Target, Walmart, on college campuses, and other vending machines across the country, are pretty popular. However, the beverage company reported recently that 25,200 cases of the drink, with 12 bottles per case, were being recalled for possibly having pieces of glass in them.
The bottles started being recalled on January 28, after glass was specifically detected inside the 13.7 oz bottles. According to People (opens in new tab), the affected cases include products with a "best by" date of either March 8, 2023, May 29, 2023, June 4, 2023, and June 10, 2023.
This recall is a class II according to the FDA (opens in new tab), meaning exposure to the product could potentially cause "temporary or medically reversible adverse health consequences or where the probability of serious adverse health consequences is remote."
However, representatives from PepsiCo have ensured that the initiative to remove all recalled products from shelves is ongoing. "The removal of these products from the marketplace is currently underway. The products are not sold at Starbucks retail locations," they said in a statement.
Although there are a handful of other flavors of this product, including mocha, and even matcha in some areas of the world, the only flavor that has been specifically recalled for potentially obtaining glass is vanilla.
This is, however, not the first time Starbucks products have been recalled. In August of 2022, PepsiCo had to recall 221 cases of Vanilla Espresso Triple Shot drinks in multiple states after metal fragments were detected in the bottles.
If you have purchased bottles or cases the vanilla Starbucks Frappuccinos and have concerns, the FDA recommends reaching out to PepsiCo or Starbucks directly for more details.
Madeline Merinuk is woman&home's US lifestyle news writer. She covers celebrity, entertainment, fashion, and beauty news but is also obsessed with internet trends - you can find her reciting trending TikTok sounds out loud at any given time.
After winning multiple student journalism awards for her investigative work, she graduated from Hofstra University in 2021 with a B.A. in Journalism. After graduating, she worked at today.com, the digital site for the Today Show, where she wrote pop culture news and interviewed big-name personalities like Emily Ratajkowski, Haley Lu Richardson, Emma Corrin, and more.
Her personal interests, in no particular order, are: cheese, Joni Mitchell, reading, hot yoga, traveling, having multiple chapsticks in every handbag at all times, and dancing to ABBA songs as if she were in the Mamma Mia movies.