Victoria Beckham's shimmering green dress and epic bucket bag provide the winter outfit inspo we've been waiting for
Posh Spice Victoria Beckham does it again, this time releasing a new handbag collection that fans are already obsessed with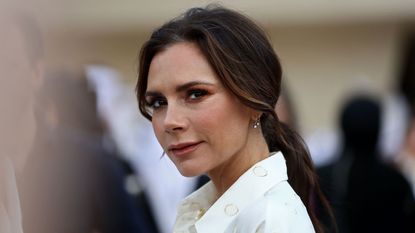 (Image credit: Getty)
In a new Instagram post, Victoria Beckham showed off one of the many bags that are part of her label's new leather handbag collection - and fans seemed to have loved it.
Victoria, who recently shared a touching photograph of the whole family together at Paris Fashion Week, snapped a video from what appeared to be her own bathroom. Wearing a gorgeous dark green long dress with beige and black stilettos, Posh completed the ensemble with her own black leather mini bucket bag with gold hardware and a long strap to wear both cross-body and down one shoulder.
"Just leaving for the day and I am obsessed with my new bucket bag, it's so good," the Spice Girl said in the clip. "It fits so much in it. I love this color. I actually have it in every single color."
In the caption to her video, Victoria, who recently returned to her Spice Girl roots with rendition of Stop, joked about her not-so-great camera skills.
"Best I stick to fashion and beauty and not camera work 😂🤪," she wrote, referring to the pretty shaky take she decided to post. "Keeping it real, people!! I love my new Bucket Bag.. it's so versatile and easy to wear xx VB."
---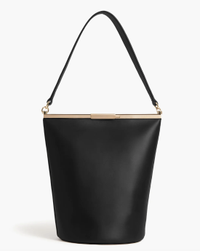 (opens in new tab)
Frame Bucket Bag In Black Leather ($1,990 (opens in new tab)) | Victoria Beckham
The spacious bucket back comes with two detachable shoulder straps and boasts a rectangular gold clasp for easy use.
The bag was actually first teased back on the fall 2022 runway, when the former band girl member announced the launch of her new permanent leather handbag collection. The line includes six different styles, one of which is the frame bucket bag that Victoria donned in the Instagram video. The specific style also comes in burgundy, cognac and in a house monogram jacquard print that really catches the eye.
Other styles include a mini version of the bucket bag (the color options are the same as the bigger product, with the addition of a petrol leather); a chain pouch bag with gold detailing in lilac leather, off-white leather, burgundy leather, black leather or green leather; a satchel bag in similar hues; a large half moon bag that can be ordered in either black or the house monogram jacquard print and a smaller model that's similar to it. Price wise, the products range from about $800 to over $2,000.
Fans of the fashion icon immediately took to social media to exult the praises of her new line.
"You have definitely the best taste in the business," someone wrote.
"Obsessed with everything you are wearing in this video 🙌," another commenter noted.
"Wow love this style stunning bag❤️😍❤️," yet another posited.
"I designed each piece to feel like an extension of the body or look. Uncomplicated in its appearance, thoughtful and considered in its creation," Victoria said last month in an official statement about her new creations. "The lines are smooth and the complexities hidden, which results in some incredibly elegant silhouettes."
Clearly, Victoria knew exactly what she was doing: if there is one word that comes to mind when browsing through her new handbags, it is elegance.
Anna Rahmanan is a New York-based writer and editor who covers culture, entertainment, food, fashion and travel news. Anna's words have appeared on Time Out New York, the Huffington Post, Fortune, Forbes, Us Weekly, Bon Appetit and Brooklyn Magazine, among other outlets.