10 Easy Ways To Update Last Year's Party Dress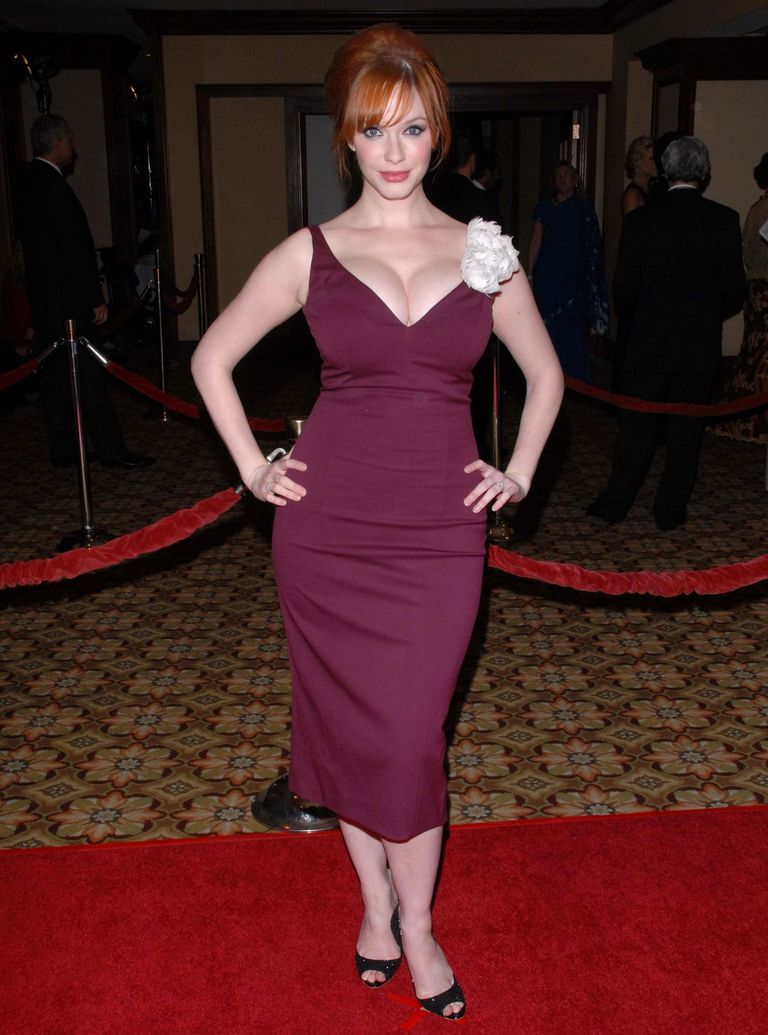 (Image credit: Jim Smeal/BEI/BEI/Shutterstock)
If money is a little tight, or you're trying to cut back in time for Christmas, you might find yourself wondering whether you can get away with wearing last year's party dress to this year's crop of festive gatherings. Good news - with some nifty styling know-how, you can make that tired LBD feel like a brand new frock EVERY time you wear it. None of our top 10 tips and tricks will set you back more than £30, but each and every one is guaranteed to make you feel like a million dollars... 1. Never underestimate the power of the flower
Thought oversized corsages were reserved for bridesmaids, show ponies and Carrie Bradshaw? Think again. Steal Christina Hendricks' favourite styling trick by pinning one to the strap of your favourite party dress.
Buy now at johnny-loves-rosie.com for £18
2. Test your mettle
A metallic belt will make almost any dress look designer.
Buy now at amazon.co.uk for £8.49
3. Shrug it off
A sheer embroidered shrug will lend a chic 1920s vibe to a simple black dress.
Buy now at tuclothing.sainsburys.co.uk for £20
4. When in doubt, add sparkle
A statement collar-style necklace will have your old favourite frock feeling (and looking) brand new.
Buy now at dorothyperkins.com for £22
5. Layer up
Love strapless and sleeveless dresses but hate your arms or decolletage? Layer a lace turtleneck top under your old party dress for a fashion-forward, bugbear-banishing twist.
Buy now at oasis-stores.com for £25
6. Opt for a statement shoe
When your footwear packs more sparkle than your Christmas tree, who's going to be looking at your dress anyway? You'll be able to dance all night in these bejewelled beauties, thanks to their extra wide fit and comfy block heels.
Buy now at simplybe.co.uk for £30
7. Amp up your hosiery
Step away from the opaques and give the tan gloss a miss, because a pair of pretty lace tights is all you need to revive that tried-and-tested ensemble.
Buy now at marksandspencer.com for £6
8. Get crafty
Iron-on patches aren't just for kids. Put your own stamp on one of winter's biggest trends by putting your faith in the stars. Whether or not you believe in magic, a sprinkling of stardust is guaranteed to bring a tired old LBD back to life this Christmas.
Buy now at amazon.co.uk for £11.49
9. Try a tux
A velvet tuxedo jacket will revitalise the most overworked of ensembles, not to mention tap into this season's biggest trend.
10. Go for gloves
No, opera-style evening gloves don't have to be (a) made of silk (b) armpit-skimming or (c) confined to the royal box. This polka dot pair is sure to bring new life to that dress you thought was on the critical list.