The Duchess' Blazer Collection And Where You Can Buy Them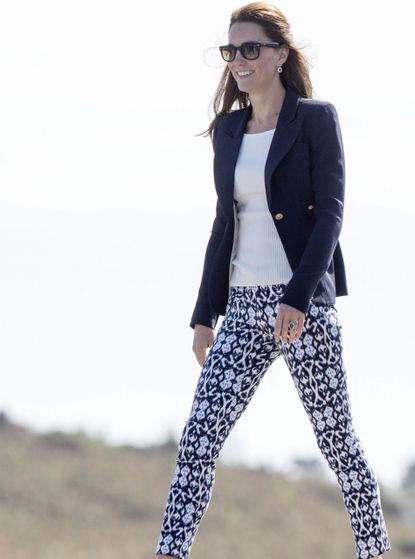 The Duchess is well known for her designer dress collection, however for some of her more active events and dressed-down occasions she also enjoys sporting a blazer. The Duchess has worn blazers dating back to as early as 2007! Her blazer collection is varied and she's chosen to recycle her blazers for various looks on multiple occasions.
From Wimbledon to her royal tours, the Duchess opts for blazers time and time again as an alternative to her more formal jackets and coats. Her signature look is often a blazer paired with black jeans or trousers and a Breton or patterned top underneath.
We've taken a look back at her most memorable blazers and how you can recreate her look for yourself with pieces on the high street.
Zara Navy Military-Style Blazer
On her royal tour of New Zealand in 2014 the Duchess opted for a military style navy blazer with gold buttons down the front. She teamed it with a blue and white checked shirt underneath and navy jeans for a smart everyday look. The military trend is big this A/W so in many ways the Duchess set the trend two years ago! At the time her blazer was from Zara but it soon sold out after she was spotted wearing it in New Zealand. However this blazer from F&F (£25), is a great contemporary alternative to the one the Duchess wore.
F&F Military Blazer, £25 (opens in new tab)
Smythe Navy Blazer
The Smythe Navy Blazer is a firm favourite with the Duchess as she's been spotted on multiple occasions wearing this piece. Most recently she wore it on her two day tour of Cornwall, pairing it with some patterned GAP trousers and a plain t-shirt. Navy coats and blazers are a top trend this year so why not recreate the look for yourself with this navy blazers from H&M and Hobbs.
H&M Fitted Jacket £29.99 (opens in new tab)
Hobbs Cara Jacket, £89 (opens in new tab)
Cream Zara Blazer
On her recent royal tour of Canada, the Duchess stepped out on her final day in a gorgeous cream blazer from Zara. She paired it with a simple t-shirt from H&M, black jeans also from Zara and some tweed hassled loafers from J. Crew. Unfortunately the original Zara blazer is sold out but if you want to try styling a cream blazer similar to Kate's you can recreate the look with this piece from Mango.
Essential Structured Blazer Mango £49.99 (opens in new tab)
Green Ralph Lauren Blazer
Kate wore a gorgeous green Ralph Lauren blazer back in 2013 when she visited a Ring of Fire Ultra Marathon event in Anglesey. She styled the blazer with a pattern top, black jeans and wedges for a smart daytime look. You can recreate this winning look without having to spend the designer price tag, this green blazer from Wallis is a great alternative to the Ralph Lauren piece and comes in at only £32!
Wallis Khaki Smart Blazer, £32 (opens in new tab)
Red Zara Blazer
Back in 2012 the Duchess sported a stunning red blazer when visiting Team GB's headquarters. The eye-catching blazer was from Zara and was styled with a spotty top underneath and skinny black jeans. You can imitate this timeless look adopted by the Duchess three years ago with this vibrant blazer from J. Crew.
J. Crew Campbell Blazer in Corduroy, £168 (opens in new tab)