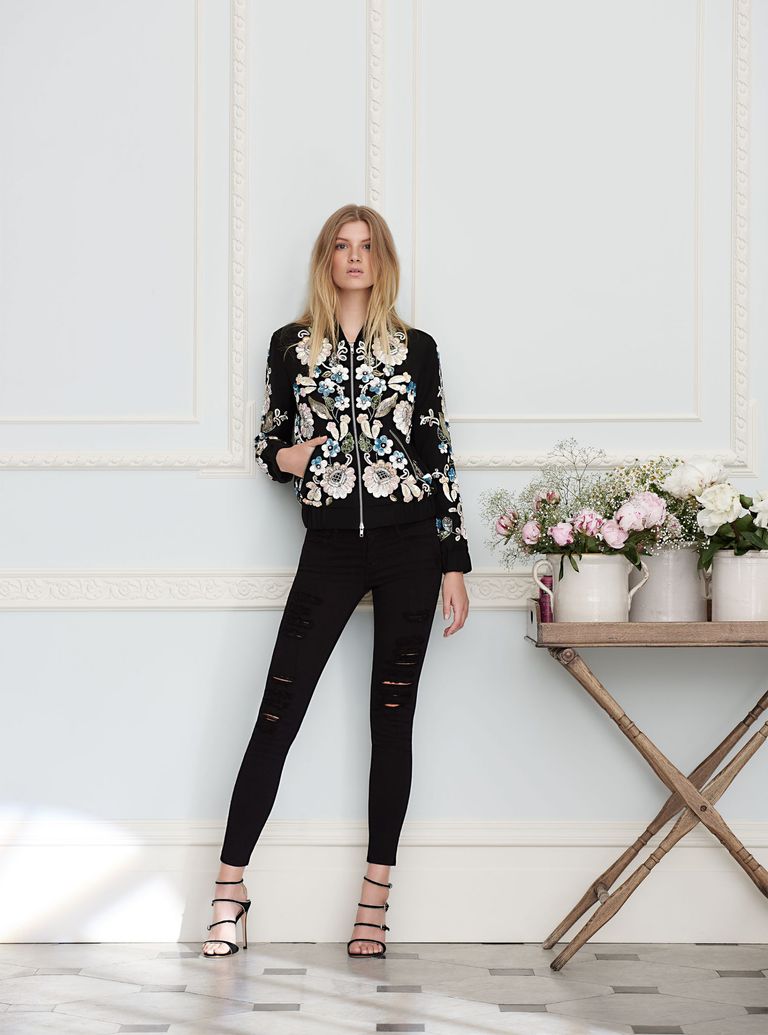 The ONLY jacket you need this spring. Click through to view all our highstreet favourites!
Spring is (at last!) edging closer and closer upon us. And with a new season, comes a new jacket. No one wants to be donning their heavy winter coat in the spring, especially when the weather finally begins to clear up. But to fully enjoy the lighter evenings and the warmer days, you do need the correct jacket - one that is light enough to keep you cool, but heavy enough to warm you up.
We're currently lusting after the versatile bomber jacket. The bomber looks all at once modern, stylish and effortless. It exudes classic cool, and can be worn with just about anything. There are so many different options to choose from. You could keep it classy in a silky textured bomber, or jazz your wardrobe up with a statement printed version. Either way, a bomber ticks all the right boxes. The bomber jacket is also on trend for this season - ensuring that you'll score some serious style points.
Originally hailing from military roots - the bomber jacket was worn by pilots in WWII, the bomber has stood the test of time and is fast becoming a wardrobe staple. So we've rounded up all our favourite bombers available now. From the investment pieces to the high street bargains there's a bomber jacket to suit any budget.
First up we've got the beautiful buy pictured above...
If you're looking for a statement piece then look no further than this embellished jacket by Needle and Thread, £250. This can be paired your a smart evening look, or used to seriously jazz up a simple daytime ensemble. We're obsessed.
Keep flicking through for our pick of all the best bomber jackets...
Nylon Bomber Jacket, £29.99, Zara
We love the simplicity of this versatile khaki bomber from Zara. Team it with with your favourite black jeans and a pair of sneakers for an easy, off-duty look.
Navy Bomber, £29.50, Marks & Spencer
Whether you're lunching with friends or doing the school run, this is jacket from Marks & Spencer is your go-to throw on for spring. Navy is always chic and can easily be incorporated into your wardrobe.
Printed Bomber Jacket, £50, JD Williams
This game-changing piece from JD Williams is not for the faint hearted, but a printed jacket is guaranteed to brighten up your look. It is (or will be!) springtime after all. And if you can't don a printed jacket in spring, then when can you?
Satin Bomber Jacket, £39.99, Mango
This jacket from Mango is the ultimate classic bomber. The silky texture makes it look extra stylish, and yet it is still versatile without being boring. Yup, we love it. Race you to the checkout!
Leather Look Bomber Jacket, £60, Wallis
If you're after a stylish leather piece without the pricetag, look no further than this Wallis offering, which perfectly combines the toughness of a leather with the cool of a bomber.
Bonded Bomber Jacket, £59, M&S
Neutral and nude tones are here to stay this spring, so make sure you're seen wearing this season's key shade in this M&S jacket.
Jacquard Print Bomber Jacket, £49.99, Zara
There's no better way to put a spring in your step than by dressing in florals. Bored of ditsy print? Get your hands on this William Morris-esque print jacket from Zara.
Embellished Bomber Jacket, £269, Ted Baker
Bomber jackets aren't just for casual daywear - spruce up any formal ensemble with this dazzling embellished piece from Ted Baker.
Hackamore Bomber Jacket, £89.95, Barbour
Barbour jackets are renowned for their excellent quality and contemporary style. We love this navy blue piece, just screaming to be worn with spring Breton stripes.
Suedette Bomber Jacket, £34.99, New Look
Feast your eyes on this gorgeous faux suede offering from New Look. Team it with your favourite blue jeans and a crisp white shirt for a laid back yet stylish look.
Metallic Embroidered Bomber Jacket, £59.99, Mango
Dare to wear a little sparkle this season. Mango, as ever, have a fantastic selection of bomber jackets, but our inner magpie was drawn to this sparkly number.