Our Editor's Top Picks: Clarks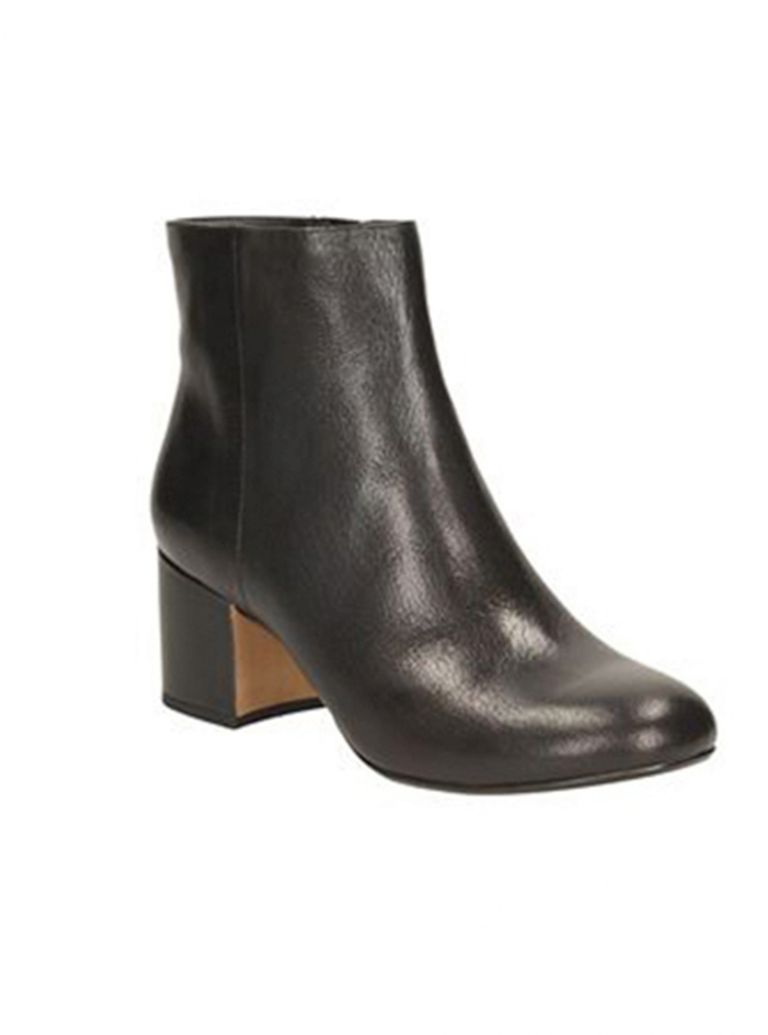 Clarks has always been the nation's favourite go-to shoe shop. Their high quality materials and timeless designs means there's something for everyone and styles for every occasion.
Clarks' versatile and long-lasting shoes will get you through the harsh winter months and won't fall apart on you like other cheaper high street shoes might. Their new A/W collection oozes luxury and practicality - everything you look for in a sturdy winter shoe.
Their new collection incorporates key trends for this A/W, from sporty pumps to durable winter boots, so you can instantly update your winter wardrobe by investing in some new footwear.
Check out our edit of the best pieces from their winter collection: Taylor Shine Black Leather Boots, £60.00
This traditional black chelsea boots are the perfect addition to your winter wardrobe. Their timeless shape makes them easy to style with any outfit - from skirts to jeans. These boots feature double elastic gussets and a durable contrast sole with a slight heel for a feminine touch. Barley May Black Leather Boots, £65.00
These black leather ankle boots are inspired by the 1970s gogo boot and are perfect for instantly dressing up an outfit with the 6cm block heel. Their simple but timeless design means they are perfect for any occasion and this style also features a unique Cushion Soft Technology for underfoot cushioning, which means you can wear them all day without getting sore feet - perfect for a day to night look!
Glove Echo Silver Leather Shoes, £45.00
Metallic accessories are a key trend for A/W 2016 so these sporty shoes are perfect for bringing your autumn wardrobe up to date. Their athletic design also plays into another key trend of the year -sportswear - so you can make any outfit bang on trend with just the simple addition of these shoes. Barley Charm Purple Grey Smart Sandals, £50.00
Great for a day to night look, these animal print heels are great for workwear, paired with smart black trousers and a blouse or they can be styled with a shift dress for an evening look. These versatile shoes feature a peep toe front and have Clark's Cushion Soft technology for extra comfort. Carousel Ride Black Patent Shoes, £32.00
These ballerina style pumps are perfect for this time of year when we are transitioning from warm summer days into crisp autumn weather. These glossy patent flats are incredibly adaptable as they can be worn as workwear but also for a dressed-down look with blue jeans and a top. The bow trim addition also gives these pumps a great feminine touch. Othea Ruby Dark Tan Leather Boots, £95.00
These dark tan boots are a great twist on the traditional black leather ankle boot. They're crafted from premium dark tan leather and have elastic panel detailing - making them easy to slip on and off. This beautiful boots are great for a dressed-down look with jeans and white shirt or can be styled with a dress and tights for an autumnal evening look. Glick Darby Black Leather Shoes, £60.00
These black leather brogues have an athleisure influence - a top trend this A/W - giving them a sporty take on the traditional brogue. They're great for smartening up an outfit and are perfect for workwear!
Chinaberry Fun Black Snake Shoe, £65.00
Block heels are everywhere this A/W and the midi-height ensures these shoes are both stylish and practical. This retro inspired shoe is brought up to date with the snakeskin print - pair them with tailored trousers for a sophisticated and smart office look. Caddy Belle Black Leather Boots, £140.00
These premium black leather boots are worth the investment as the knee-high riding boot style is great paired with a whole range of outfits - from skinny jeans to pencil skirts! They feature an elastic panel which hugs the legs and allows them to be easily put on and taken off, likewise the 3cm heel makes them incredibly practical and comfortable! Taylor Spring Black Patent Combi Shoe, £50.00
This smart black loafer design is timeless and is a capsule wardrobe piece that can be worn year after year. The tassel detail adds interest to the shoe and updates the classic design. This shoe also incorporates Clark's Cushion Soft technology, providing long lasting comfort - great for all day wear!