One Of The Duchess Of Cambridge's Favourite Designers Launches House Of Fraser Collection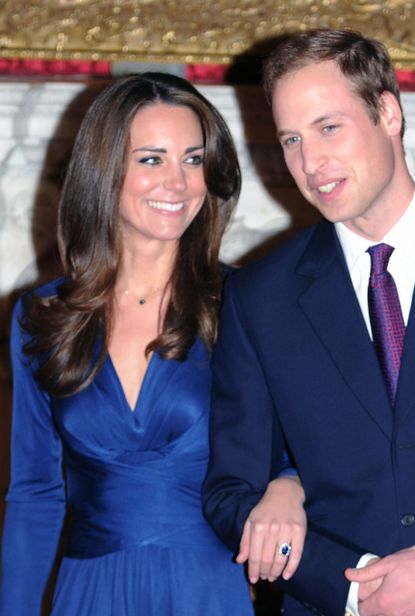 Remember the dress that the Duchess of Cambridge wore to announce her engagement to Prince William? You may not have heard of Issa back then, but everyone coveted the long-sleeved navy blue dress worn by a then-lesser-known Kate Middleton at the Buckingham Palace photocall.
The dress was so madly popular, in fact, that the label was put out of business! Lucky for us - and Catherine - then, that the label is back. In even better news, it'srelaunching at one of our favourite high street department stores, with prices starting at just £25.
Issa, a London-based brand, was launched by Brazilian-born designer Daniella Helayel in 2003. When Kate wore the Sapphire London dress for her engagement photocall in 2010, Helayel had just 25 staff members and three pattern cutters working in her West London studio and was on the verge of financial crisis. "Issa was a niche brand; we had a loyal following, but we were in serious financial trouble," the designer previously told the Daily Mail.
Helayel says she had no idea that Kate would be wearing the dress. "That morning, I'd gone to yoga as usual, and then I got a call from a friend telling me about the royal engagement," she explains. "We didn't have a TV at the studio and this was pre-Instagram, but at four o'clock the phones began ringing and didn't stop. It was bonkers." By 4.05pm, the dress was sold out.
"From the day of the royal engagement our sales doubled," Helayel recalls. Unfortunately, however, the designer just "didn't have the money to finance production on that scale." She sold 51% of the company to her friend Camilla Al-Fayed in 2011, but left the label in 2013. "I couldn't take any more," she told the Mail. "I felt so stressed that my hair went white and started falling out. I was broken by the end of it."
The designer behind the infamous 'Kate Middleton engagement dress' is back, and there are some lookalike pieces in her new collection. Buy the Darcy Pleat Detail Dress now for £99 (opens in new tab).
Issa folded in 2015. But the good news is, it's back! The brand is relaunching in high-street department store House of Fraser. In the very first Issa collection for House of Fraser, the brand is doing what it does best - making day-to-night and occasion dressing a cinch with figure flattering, affordable outfits. The new collection draws inspiration from the iconic styles and prints which made it famous. If you missed out on Catherine's Sapphire London dress the first time around, you can pick up the lookalikeDarcy Pleat Detail Dress(also available in purple and orchid pink) for just £99.
Shop the Kate Tie Wrap Dress here for £99. (opens in new tab)
Knitted Geometric Maxi Dress, £129: Coming Soon
Embellished Cuff Cold Shoulder Maxi Dress, £129: Coming Soon
The designer has even paid homage to the Duchess by naming one of their iconic styles after her. TheKate Tie Wrap Dress, (pictured far left, above) is similar to label's most iconic style, too. Pick it up in black, lime or, if you're feeling brave, this bold clashing print style. Shop the Kate Tie Wrap Dress here for £99. (opens in new tab)
But the range doesn't stop there. There's a statement jumpsuit, midi or maxi dress to fit any occasion, and you won't have to look any further to find the perfect clutch or cover-up, either!
Shop the Scarlett Bi Colour Wrap Maxi Dress here for £139 (opens in new tab).
Frill Sleeve and Hem Fitted Dress, £99: Coming Soon
Maisie Printed Jumpsuit, £129: Coming Soon
The new collection launches online and in-store today. Race you to the till...