Lidl is launching a patented bra promising 'comfort and support' without wiring
It won't break the bank either.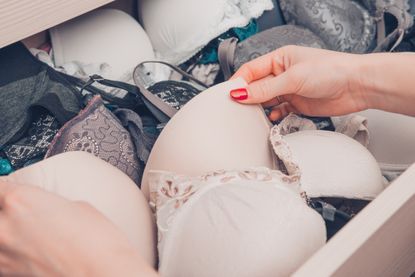 (Image credit: Getty Images/iStockphoto)
Lidl is known for its bargain food and drink, but now the supermarket is branching out into affordable lingerie, too.
Lidl is launching its first ever patented bra, which has been crafted for maximum comfort.
The product, called the Sensational Bra, has been designed to be both comfortable and supportive - without any wiring.
Instead it featurespatented technology - designed in a reinforced Y-shape - which provides a natural lift. Apparently, this also ensures that no bra lines are visible underneath clothing.
MORE:The best vibrators for a buzz with benefits – with expert recommendations for dryness, sensitivity and toning pelvic floor
It features soft padded strips across the bra too - so there's no need to worry about painful straps or corners digging into your skin.
According to the Lidl website, the bra "creates a natural shape and provides good, even support."
Shoppers can get their hands on the bra from Sunday 17 November, when the piece is due to hit the shelves.
Lidl's Sensational Bra is priced at just £9.99, which is significantly cheaper than lingerie found at some supermarket competitors.
It also comes in three different colours - a classic black, a practical nude and a vibrant red.
According the the Lidl website, the bra will be sold in sizes 34B, 36B, 38B, 36C and 38C. Currently, it's unclear whether the bra will be available in more sizes in future - but watch this space.
The website also has a handy size calculator, for customers to work out their own bra size.
MORE: Lidl launches new hyaluronic skincare range, starting from just £1.49 (opens in new tab)
What's more, shoppers can get their hands on a three-pack of matching briefs,for £6.99. All three colours feature in this multipack.
This means a whole set - along with two extra briefs - can be purchased for less than £17.
The product has striking similarities to the world famous Wonderbra - which is known for its supportive and cleavage-enhancing products.
The Wonderbra collection offers a variety of shapes and cleavage effects. Products also come in a number of different colours.
Lizzie Thomson is a regular contributor to woman&home, and also contributes to Metro.co.uk, Ideal Home, Culture Trip, and Evening Standard, covering all things lifestyle.