Asda's £10 Gucci lookalike trainers are selling out - fast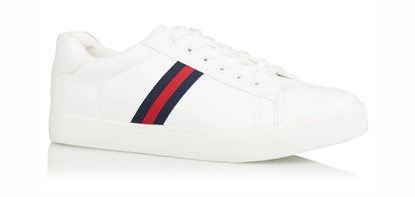 Next time you pop into Asda for a few essentials, you may find yourself a much sought-after accessory.
George at Asda is known for its must-have bargains - but we didn't have them pegged as the place to go for designer lookalikes.
However, a cute pair of white trainers - that look near enough identical to a pair of designer Gucci trainers - have proved so popular they've already sold out online.
The white-striped trim trainers will only set you back £10 compared to their designer counterpart, which cost £405.
Both trainers are white and feature a navy and red stripe but the difference lies within the material with Asda's version being faux leather and Gucci's Ace trainers being leather.
Asda shared a picture of the trainers on social media and fans went wild for the product with one writing, '*gets changed out of pyjamas and runs to nearest ASDA* these are amazing!'
One customer said, 'Love these' while another, recognising the resemblance to the designer brand said, 'GUCCI'.
The stylish trainers have been receiving positive reviews from online shoppers who are very happy with their purchases.
One reviewer said, 'This is my second pair I have purchased. Love them! I have had so many complements and asking if they are by a well known designer'.
Another said, 'I'm in love with these trainers I have been after them for ages but there have always been out of stock but thankfully I got some this time there so stylish and so cheap too!!'
Looks like you'll need to be on watch if you want to bag yourself this bargain!
A final customer said, 'Amazing trainers great value for money originally bought for a spare pair but wear them a lot so comfortable definitely recommend and have bought another pair lots of compliments'.
If you fancy the real deal, you can buy the Gucci trainers from here.
For those hoping to invest in Asda's cheap alternative, you will need to keep an eye out when you're next picking up your groceries!
Despite selling out online, the trainers are still available to buy from some Asda stores.