This Year's Prettiest Party Tights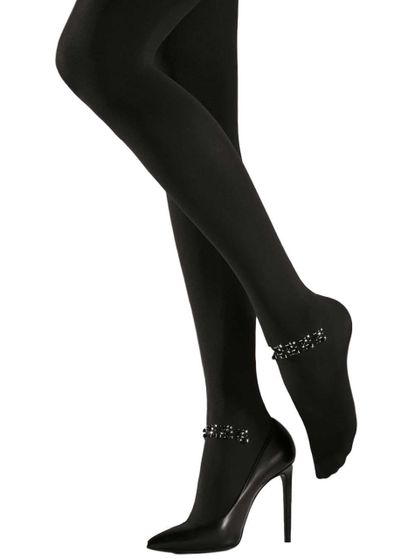 Tights might be practical, but that doesn't mean they have to be boring. In fact, this party season, they're set to become your favourite accessory. Whether you opt for a subtle hint of sparkle, or all out glitz and glam, they'll not only conceal keep out the cold and conceal pesky thread veins, but give your favourite party frock an update into the bargain. Scroll down to see our pick of this season's prettiest party tights...
Fiore Desert Glitter Rose Tights
If you fancy a hint of sparkle, but all-over lurex isn't really your style, this elegant black rose motif will be right up your street.
Buy now at thetightspot.com for £5.95 (opens in new tab)
Accessorize Pinspot Sheer Tights
Buy now at uk.accessorize.com for £6 (opens in new tab)
M&S Collection Baroque Opaque Tights
Buy now at marksandspencer.com for £9.50 (opens in new tab)
Wolford Tiara Swarovski Fashion Tights
Buy now at tightstightstights.co.uk for £90 (opens in new tab)
Girardi Starlight Lurex Glitter Tights
Buy now at luxury-legs.com for £24 (opens in new tab)
Falke Jewellery Glitter Fashion Tights
Buy now at tightstightstights.co.uk for £28 (opens in new tab)
Gipsy Silver Sparkle Star Tights
Buy now at amazon.co.uk for £12 (opens in new tab)
John Lewis Diamante Back Seam Tights
Buy now at johnlewis.com for £26 (opens in new tab)
Wolford Lace Tights
Buy now at luxury-legs.com for £70
Aristoc Swarovski Backseam Tights
Buy now at prettypolly.co.uk for £35
Accessorize Multi Sparkle Tights
Buy now at uk.accessorize.com for £8
M&S Collection 60 Denier Opaque Tights
Buy now at marksandspencer.com for £8 (opens in new tab)