The 7 Brands Doing Knitwear Best This Season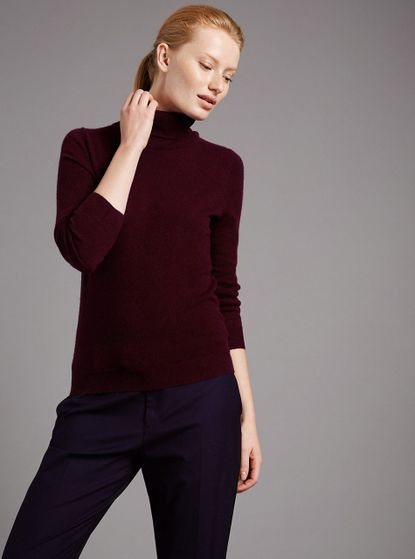 Knitwear is often thought of as a necessary evil - a concession to practicality. But these brands will have you revising your preconceptions. Yes, you can be snug and stylish. No matter how big or small your budget for those new season staples may be, our favourite high street and designer brands have got you covered. Stand out from the crowd or keep it chic, sleek and classic: the choice is yours.
1. Marks & Spencer
M&S should be your first port of call when it comes to affordable cashmere: sumptuously soft scarves and hats nestle alongside sweaters knitted in a myriad of colours and styles. They've also managed to pull off the 'coatigan', in the form of the perfect cover up for those days when the weather just won't make up its mind...
Pure cashmere polo neck jumper (opens in new tab), £79; pure cashmere scarf (opens in new tab), £45; oversized long sleeve coatigan (opens in new tab), £45, all Marks & Spencer
2. Warehouse
This season, Warehouse has nailed cashmere, everyday basics and statement knits with its standout knitwear range. Dress up your work or weekend look with an on-trend statement sleeve, ruffle detail or luxe embellished jumper, or take all the hassle out of deciding what to wear by opting for a cosy knitted midi dress in autumnal berry tones.
Bell sleeve mohair jumper, £55; crew jumper dress, £45; pearl high neck jumper, £45, all Warehouse
3. Hobbs
Hobbs' new season knitwear collection puts a subtle contemporary spin on classic British style. Take, for example, their cable knit jumper, with its softly cut swing silhouette and three-quarter length arms, or their Colman's mustard-hued '60s-inspired roll neck...
Rosa sweater (opens in new tab), £99; Audrey sweater (opens in new tab), £79
4. John Smedley
Labelled 'the world's finest knitwear', John Smedley's expertly cut pieces are crafted from 100% merino wool. Their understated combination of masculine and feminine elements imbues them with the feeling of 'modern classics'.
Chinta dress (opens in new tab), £225; Catkin sweater (opens in new tab), £140
5. Maje
Maje's fashion-forward pieces are perfect for the woman who refuses to sacrifice either style or comfort. Cold shoulder detailing gives a classic midi dress a subtly sexy edge, whilst lace adds interest to a plain sweater.
Cutout ribbed-knit dress (opens in new tab), £240; lace-panelled knitted sweater (opens in new tab), £280; ribbed-knit midi skirt (opens in new tab), £200, all Maje
6. Elizabeth and James
Founded by the Olsen twins, Elizabeth and James is renowned for 'elevating the everyday'. Think luxurious fabrics, expensive-looking neutral tones, relaxed cuts and feminine embellishments.
Ruffle-trimmed sweater (opens in new tab), £225; wool-blend knit sweater (opens in new tab), £285, both Elizabeth and James
7. Diane von Furstenburg
Diane lifts the simple sweater and cardigan from practical necessities to the objects of dreams with unexpected injections of print and innovative cutting. Don this cardigan and you won't even need to wear jewellery!
Ballerina wrap cardigan (opens in new tab), £224; sweater (opens in new tab), £248, both Diane von Furstenburg
Samantha Rnic is a fashion stylist and writer from Colchester. She has worked for titles such as Grazia, The Sun and Look magazine. She is currently studio bookings manager at Matches Fashion.