Best Hats and Fascinators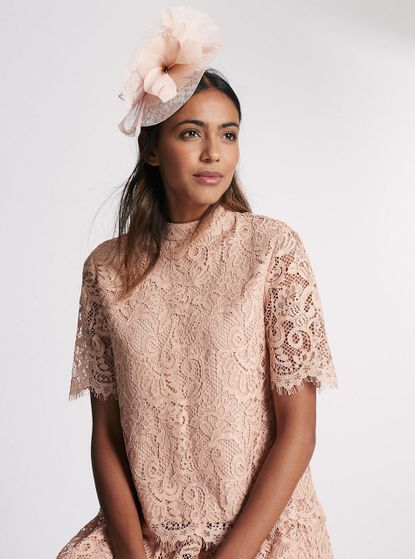 Discover our edit of hats, hair accessories and fascinators for weddings and the races - whatever your budget
Looking for an elegant wedding hat or glamorous fascinator for that summer nuptials, party or day at the races? It wouldn't be spring without the traditional hunt for the perfect hat or fascinator. But this year, take the hassle out of shopping with our pick of the most stylish wedding headpieces and fascinators in the shops and online.
We've rounded up the best hats and fascinators, whatever the occasion or budget. From fabulous high street luxe-looking wedding hats, to blow-the-budget bespoke headwear that you'll never tire of wearing. These beautiful buys are comfortable, chic and will never go out of style.
There are no real rules when it comes to picking your perfect hat, but taller women may want to opt for hats that have less height but are wider, while shorter women can add height with a taller hat. The important thing to remember is to have fun with your accessory - the right hat or fascinator can really lift an outfit and inject a bit of life to your style. Whether you like your hats to be elaborate and feathery or prefer a more subtle and elegant headdress, there's something to suit every taste. We've even got pieces in muted tones that will work with any dress or outfit, making it the ideal investment. Shell Fascinator, £29.50, Marks & Spencer
Go girly with this soft pink flower fascinator from Marks & Spencer. Its feminine style will finish off a pretty summer dress instantly.
Buy now from Marks & Spencer for £29.50 (opens in new tab)
Click through now to find the perfect wedding hat or special occasion fascinator for your next event...
Hats & Fascinators
Add a touch of elegance to a summer occasion with this wide brimmed hatinator. It's soft duck egg colour looks great with blue and grey shades. Buy now from House of Fraser for £125 (opens in new tab)
Hats & Fascinators
Occasion head-wear doesn't have to be all frills and feathers, if that's just not your style this textured headpiece is the accessory for you. Opt for colours that tone in with your outfit, we love this flash of red. Buy now from Emily London for £465 (opens in new tab)
Hats & Fascinators
Ascot hat at the ready! This structural volute with fluid curves oozes sophistication. Don't be afraid to make a statement with this headpiece. Buy now from Camilla Rose for £345 (opens in new tab)
Hats & Fascinators
If you're new to the fascinator world and are looking for a little exciting addition to your outfit, this structured headband is just the thing for you. Wear this Coast style all day comfortably and it will see you through any occasion. Buy now from Coast for £39 (opens in new tab)
Hats & Fascinators
This Ivory panama hat is perfect for a wedding abroad. With a large duchess silk bow in a colour of your choice it's a classic and elegant design that will work with a number of outfit options. Buy now from Emily London for £485 (opens in new tab)
Hats & Fascinators
This flower and feather-filled fascinator will definitely make a demure statement. It's subtle sparkle adds glamour instantly. Buy now from Dorothy Perkins for £25 (opens in new tab)
Hats & Fascinators
Embrace a pop of colour with this standout fushia fascinator from John Lewis. It will certainly make the guests look twice and for all the right reasons. Buy now from John Lewis for £89 (opens in new tab)
Hats & Fascinators
Perfect for a minimal ensemble, this simple cream design will look chic for any occasion this season. The teardrop fascinator is calling out for wedding invites. Buy now from Accessorize for £35 (opens in new tab)
Hats & Fascinators
A check mesh makes this fascinator instantly lighter and different to the rest. Set on a slim headband this lovely design is so easy to wear, just make sure to blend your hair around it. Buy now from Phase Eight for £59 (opens in new tab)
Lydia Taylor is an accomplished fashion stylist, writer, and content producer with a strong working knowledge of in-house and freelance production across digital, print, and social media platforms. Her expertise lends itself to editorial, commercial, and e-commerce styling.
Previously, she worked across household magazines, where she contributed on main fashion, catalog imagery, digital features, and shopping pages.