Back To Work Bags: Our Autumn Edit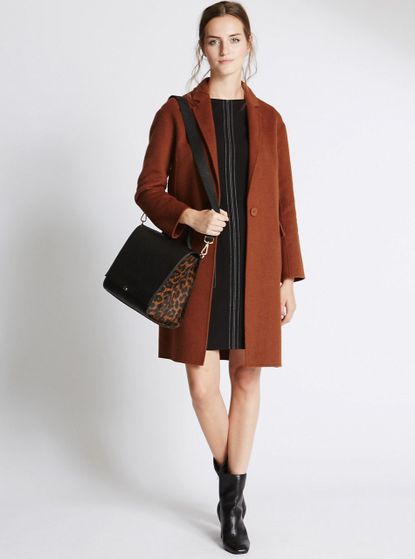 Style up for the boardroom with these fashion-forward work bags...
It's nearly time to pack away the bright beach bags as we wave goodbye to the British summer for another year. But despite the longest days of the year being behind us, it's clear crisp, autumnal evenings are looming as the new season approaches.
For many of us, September signifies getting back into work routines and packing our summer clothes away into the loft for another year, but with a new season brings a new selection of incredible back-to-work bags.
Whether you're on a budget or looking to splash out on a A/W investment piece for your wardrobe, there's something for everyone - from totes to backpacks.
Animal print and military details are top trends this autumn and our selection of bags will help you update an outfit through one key piece - your handbag. However, the signature black handbag is a wardrobe staple so we've included some timeless pieces too!
If you feel it's about time you updated your beloved work bag, check out our edit of the best back-to-work bags this season.
M&S Faux Leather Handle Tote Bag, £39.50
Leopard print is a key trend this A/W so this animal print detailing (opens in new tab) on a classic black tote is the perfect accessory to add your to wardrobe this season. The bag is perfect for work with its adjustable shoulder strap but the eye catching print also works as a great evening accessory - perfect for a day to night look!
Hobbs Pimlico Work Bag in Tortoiseshell £249.00
Perfect paired with a neutral trench coat or black jacket, this eye catching bag (opens in new tab) is great for adding a splash of interest to a plain work outfit. Animal print is a key trend this autumn so this leather bag is great for updating your autumn wardrobe. This luxury bag from Hobbs is perfect for work, it has three large compartments with a central zipped section for your laptop or other important items.
Jigsaw Blake Leather Backpack, £179.00
Backpacks are the new wardrobe must-have this year and they are dominating the high street this A/W too. If you fancy something different to your classic tote or shopper why not consider swapping your traditional work bag with a stylish backpack. This leather backpack (opens in new tab) from Jigsaw is both practical and stylish with an interior purse pocket to keep your valuables safe and a drawstring close for extra security.
Mango Leather Shopper Bag, £49.99
This brown leather bag from Mango (opens in new tab) is great for transitioning into autumn. The tassel detail and front pocket adds instant interest to the bag and the leather makes the bag appear high-end. If you're worried about ruining the leather why not invest in an affordable protecting spray to guard against rainy downpours and general markings.
M&S Khaki Slouch Shopper Bag, £35.00
Military is a top trend this season so this khaki bag (opens in new tab) from M&S is perfect for autumn, creating a modern twist on the timeless shopper bag. The khaki also instantly adds a splash of colour to a work outfit, making plain outfits look instantly more interesting
Zara Embossed Bucket Bag, £39.99
This black bag with embossing (opens in new tab) from Zara is a great update on the conventional black bag - incorporating a key trend this autumn - animal print. This long bucket bag has three compartments - perfect for storing stationary, electronics and books. The bag has short handles as well as a detachable shoulder strap, so you can carry it on your forearm or as a shoulder bag.
Zara Burgundy Zip Up Tote, £19.99
This Zara Zip Up Bag (opens in new tab)is an autumnal take on the classic tote bag. If you're looking for another twist on your traditional black work handbag, this burgundy colour is perfect for this season. The deep colour and simple design makes the bag look up-market - and at £19.99 how could you possibly refuse?
Oxford Leather Duffle Bag, £225, Jaegar
If you like to go hands free, then this drawstring bag by Jaegar (opens in new tab) is the one for you. It also features internal slip pockets which are handy for storing your phone and keys. And, as you can see, its incredibly gorgeous. Well worth the price tag we think.
Reiss Louie Open Top Tote, £195
This tote from Reiss (opens in new tab)is a twist on a classic style, as the snake-effect design updates the traditional tote style for A/W 2016. This spacious open top bag is also perfect for packing in all your work essentials and also comes in burgundy and neutral.
Lizzie Thomson is a regular contributor to woman&home, and also contributes to Metro.co.uk, Ideal Home, Culture Trip, and Evening Standard, covering all things lifestyle.