Add shine to your daywear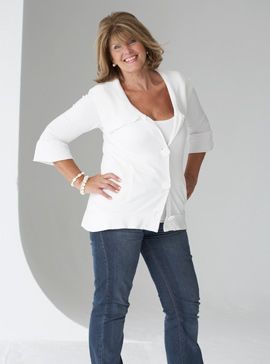 Four women whow you how to reinvent your daytime look with a dash of night-time chic
Jane Russell, 60, from Beaconsfield.
Jane before the makeover
Her style Confident and polished
We say Asparkly knit is a top-priority buy this autumn. Over leggings, it'slow-key for day; over wide silky trousers, it takes centre stage withreal evening glamour.
Try the trend
Knitwear with sparkle – a touch of glitter or a sprinkling of sequins on key zones, like the raised shoulder, can transform a knit into full-on glamour. An easy option for fuller figures, knits that stretch and skim really work to flatter curves. Jane wears Knit dress, £35, 14 to 32, Evans. Zip leggings, £19, 6 to 20, Littlewoods. Earrings, £4, Accessorize. Ring, £12, Freedom at Topshop. Bangle, £49.50, Angie Gooderham. Bag, £230, Coccinelle
From night into day
The glitter knit is just about the most versatile piece in any woman'swardrobe. It will take you from work to evening with minimal effort, itpacks like a dream and needn't cost a fortune, as every high streetlabel is pushing this look. Jane wears Jacket, £200, xxs to xl, By Malene Birger. Vest, from a selection, Sita Murt. Leggings, as above. Pumps, from a selection, Brantano. Earrings, Jane's own
Sequins and jeans are glam
Deborah Clare Walker, 37, lives in Buckinghamshire. Deborah before the makeover Her style Laid-back luxe, based around her uniform of jeans that fit where it counts. We say Sequins add a touch of je ne sas quoi to a tough fabric like denim. The mix makes you feel instantly special.
Try the trend
Sequins with jeans. If a top is too much for you, a scarf can still give that fix. Jeans are the ultimate credit-crunch wardrobe staple. To get the right cut, invest in the best you can afford for the mileage they will offer. Deborah wears Trench, £35, 8 to 20, Matalan. Sequin top, £55, s to l, Joy. Jeans, £165, 6 to 14, Lofli at John Lewis. Heels, £99, Boden. Pewter bangle, £59, Artigano. Bag, £599, Jaeger
From night into day
It all hinges around teaming a sequin top with stylish top-of-the-range jeans. Forget that rock 'n' roll image of sequins for night; switch into a new mind-set and you can make them work for daytime too. Take a sequin vest and team it with dark denim – the darker the better to bring out the sparkle. Deborah wears Tuxedo shirt, £49.90, xs to l, Benetton. Sequin vest, £350, s to l, Joseph. Jeans, £165, 6 to 14, Lofli at John Lewis. Heels, £155, LK Bennett. Ring, £10, Dorothy Perkins
Layered luxe looks on trend
Katie Hollamby, 38, lives between her home in Herefordshire and her work in Egypt. Katie before the makeover Her style Long, loose and free-flowing when she's working in the Egyptian heat, with layers that can be added, as the temperature drops dramatically at night. We say There's an art to making layers work for you, so that they look on trend rather than over-laboured. Always go tone-on-tone, short over long and keep accessories simple.
Try the trend
Layered luxe in rich, textured fabrics. Tunics over tops, sweaters and lean pants. It's all about making a strong statement in an opulent fabric, like velvet or metallic jersey. Katie wears Velvet dress, £270, 6 to 16, By Malene Birger. Jumper (worn underneath), £39, 8 to 20, Trinny & Susannah at Littlewoods. Tights, £9.50, Autograph at Marks & Spencer. Pumps, £125, French Sole. Ring, £15, Dorothy Perkins. Earrings, her own
From night into day
Go for a rich velvety fabric in a dark colour for day and don't be afraid to go for bold glittery trims. Katie wears Tunic, £145, 8 to 14, Gerard Darel. Waistcoat, £99, s to xl, Windsmoor. Leggings, £40, 8 to 18, Dorothy Perkins. Pumps, as above. Necklace, £33, By Malene Birger. Ring, £12, Accessorize
Strike it rich with silver and gold
Gail Goodrich, 65, lives in south-west London. Gail before the makeover Her style Pared down and simple except for her jewellery, which she designs and piles on. More is more! We say It's the finishing touches that make all the difference. The right accessories can lift last year's look into this year's trend.
Try the trend
Mix metals – try silver and gold jewellery worn together, or rich sparkly brocade fabrics that mix gold and silver together in one luxurious sweep. It's as much to do with how you wear it as what you're wearing. Gail wears Cardigan, £35, 8 to 20, F&F at Tesco. Camisole, £19, 8 to 18, Phase Eight. Jewelled skirt, £545, 8 to 16, Ann Louise Roswald. Heels, £25, Brantano. Jewellery, from a selection, Argent of London
From night into day
If the cut is simple, make the fabric opulent. Opposites attract, so take a full brocade skirt and team it with an easy cardi to achieve that rich daytime look. Jewellery and jewelled fabrics are a chic way of making the switch from night to day. Gail wears Brocade dress, £199, 8 to 18, Hobbs. Jewelled cardigan, £115, 8 to 16, Nougat. Heels, £25, Brantano. Jewellery, from a selection, Argent of London