The Latest High-Tech Facials You Can Get Nationwide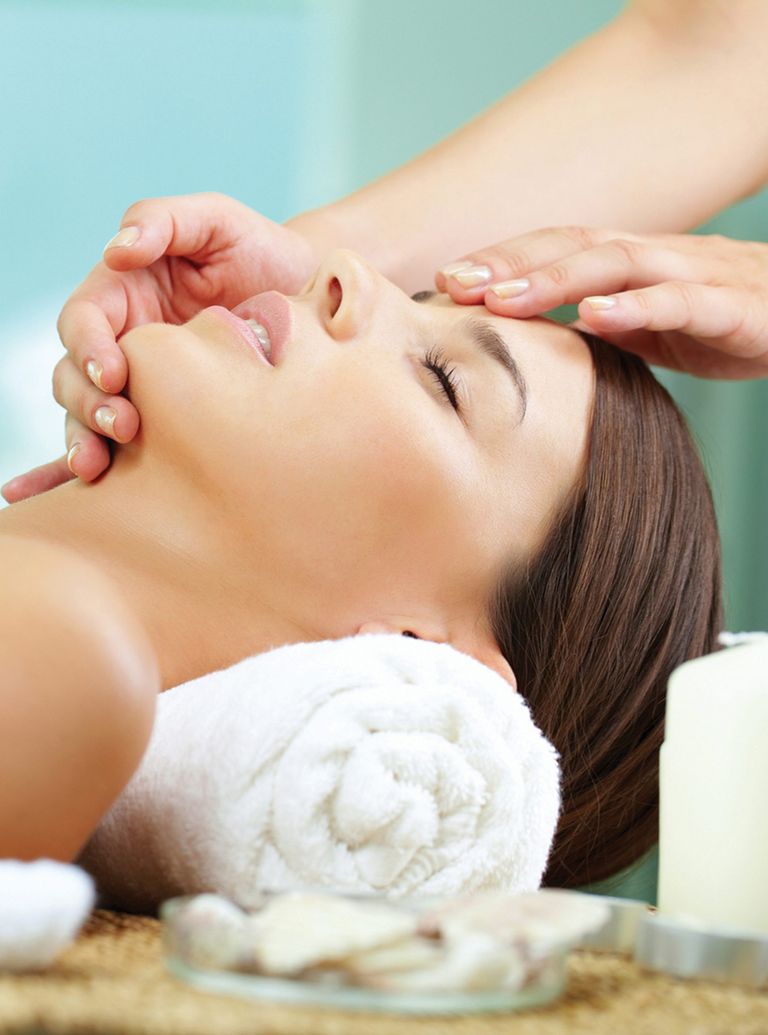 Facials have certainly come on of late, and thank goodness for that. We've probably all spent the equivalent of a flight to Paris on a softly-softly spa treatment with nothing to show for it (nothing we couldn't achieve at home with a scrub and a mask anyway) Now, basic pampering is out and real results are in. The most exciting and effective new treatments use lasers, LED lights, peels and proper muscular workouts to make an instant and lasting difference to your skin. Read on to discover the latest high tech facials the A-Listers who can't get enough of and where you can treat yourself to a slice of the best-skin-ever pie. Your face will thank you for it.
The Triad Facial
What? This famous three step treatment from LA Dermatologist Dr Colbert has famous fans Angelina and Robin Wright queuing up for one very good reason - no downtime. It's a hardcore glow-getter including microdermabrasion, laser toning and a chemical peel, so dead skin cells are blitzed, skin is smooth and plumped right away plus collagen is stimulated for long-term results. It's not sore, just a little tingly when the laser and peel are doing their thing, and unlike most deep treatments you can go right back to your day afterwards, no redness, just fabulous glowing skin.
Where? A treatment with the man himself costs around $800 (plus a ticket to LA) but Fenwick Bond Street offer a mini Triad facial on a limited basis every couple of months, for the absolute bargain price of £25. Keep an eye out for announcementshere
Or try:Elemis Biotec Anti Pigment Brightenercombines an ultrasonic peel, LED light therapy and pigmentation-busting vitamin C. You can pick from 30 minute, 1 hour or 1 hour 30 minute durations, and it's available nationwide.
The Ultra Oxygen Facial
Think of this like a personal training session without the sweat. Hungarian brand Omorovicza's clever new facial combines their latest skincare launch - Oxygen Booster - with intensive massage to exercise all those little muscles in your face that may have been slacking off of late. Using traditional Hungarian techniques, this hands-on facial workout seriously tones and firms plus helps with lymphatic drainage to depuff eyes and plump up cheeks. Sounds good, right? It feels even better.
Where? Fittingly, this treatment is exclusive to the spa in super-luxe Equinox Gym in Kensington, it's £125 and they'll throw in an energising health juice too.
Or try You'll never get a duff facial from Omorovicza, and the Deep Cleansing & Pore Refining Facial, available atOmorovicza locations across the UK, combines Hungarian massage with pineapple enzyme exfoliation and a Moor mud mask to pull unwanted gunk out of your pores.
Skin Laundry
Another one fresh from LA (home of the spick and span complexion) this deep cleansing laser and light treatment is loved with Gwyneth et al and it's easy to see why. It's only 15 minutes long, for starters, it's much cheaper than normal laser treatments at £50 and you won't be smothered in greasy products. So what does it do? The YAG laser gets right into pores, blitzing bacteria and stimulating future collagen, then IPL tackles surface sun damage, inflammation and scars. It's fast, friendly and won't leave you red in the face.Skin Laundry may not be for everyone - those on prescription acne medication, for example - but fans of the treatment are evangelical it's the ultimate lunchbreak skin saver.
Where? Justlaunched inLiberty of London, with appointments bookable online - we've already joined the waiting list.
Or Try Clarins Beauty Bars offer quick-fix 25 minute treatments at £30 a pop in Debenhams and John Lewis stores across the country. No laser treatments on offer but the Skin Care Workout deeply decongests.
The Murad Method
Dr Howard Murad doesn't want to give you a facial, he wants to overhaul your entire lifestyle. If you're still in the market for a treatment, don't worry, The Murad Method still includes a gorgeous facial, starting with a five zone in-depth analysis of your skin then completely bespoke treatments using professional-grade products for each, whether that's an AHA peel, intensive vitamin C for brightening or spot purging salicylic acid. Everyone gets lymphatic massage and acupressure as well as a personalised emotional and wellness consultation, and advice on nutrition, sleep and more. You'll emerge clearer of skin and equipped to continue the good work at home.
Where? Murad spas and salons nationwide, find your nearest onehere