Sunblock vs sunscreen: What's the difference and which should you wear on your face?
Heading on holiday and stocking up on SPF? Dermatologists break down the differences between sunblock vs sunscreen so you can find the right formula for you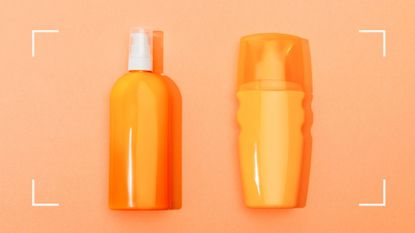 (Image credit: Getty)
woman&home newsletter
Sign up to our free daily email for the latest royal and entertainment news, interesting opinion, expert advice on styling and beauty trends, and no-nonsense guides to the health and wellness questions you want answered.
Thank you for signing up to Woman & Home. You will receive a verification email shortly.
There was a problem. Please refresh the page and try again.
Shopping for SPF isn't always simple. Do you go for sunblock vs sunscreen? And what's the difference between the two? According to dermatologists, sunblock and sunscreen are, in fact, interchangeable terms. And these terms describe topical products that are used to protect skin from the sun's harmful UV rays.
An essential step in your daily skincare routine, "sun protection is vital to maintaining skin health and preventing signs of skin aging such as pigmentation, fine lines and wrinkles," says Dr Alexis Ganite, CeraVe consultant dermatologist. The key, however, is finding the best facial sunscreen that works for you. Nowadays, there are so many sunscreen formulations to choose from – from sunscreen lotion vs spray to sunblock vs sunscreen.
To understand the differences between the two, we asked consultant dermatologists Dr Emma Craythorne and Dr Thivi Maruthappu to break down everything we need to know about sunblock vs sunscreen. Their answers may just surprise you.
Sunblock vs sunscreen: The key differences
If you Google 'sunblock vs sunscreen', most results will tell you that sunblock contains physical (or mineral) filters while sunscreen contains chemical filters – and that this is the differentiating factor between the two. But according to Craythorne, this isn't true.
"A sunblock and a sunscreen are essentially the same thing," says Craythorne. They both describe products that protect our skin from the sun. "Both can be physical or chemical and some can be a mix of the two."
While you would like to think that sunblock would block out more of that electromagnetic spectrum than a sunscreen – this is purely an assumption. "They're both words that can be used interchangeably and are often actually referring to the same thing," adds Craythorne.
So, to recap, a screen is not just made of chemicals and a block is not just made of minerals.
Should you use sunscreen or sunblock on your face?
You can use either a sunscreen or sunblock on the face and, as we mention above, these terms often refer to the same thing. The most important thing when shopping for SPF is "to look for a broad-spectrum sun protection with a minimum factor of SPF 30 and UVA coverage indicated as 4 stars or above," says Maruthappu.
If you're following a skincare routine for sensitive skin, consider formulas containing mineral filters (these can be labelled sunscreen or sunblock) as "they're better tolerated and less like to irritate than chemical ingredients," notes Maruthappu. Mineral SPF works by sitting on the skin's surface (as opposed to being absorbed by the skin).
Can you use sunblock and sunscreen together?
You can use sunblock and sunscreen together, if so desired. Just consider whether it's a mineral or chemical sunblock and a mineral or chemical sunscreen. One 2021 study showed that zinc oxide (a common mineral ingredient) made chemical products less robust. But according to Craythorne, "the best sunblocks and sunscreens have a combination of both chemical and mineral within them.
"And the mineral sunscreen does not work by reflecting the light away from the skin, it still works by converting that energy to heat – it's an old mistake that people refer to them as one reflecting and one absorbing and protecting – that's just not true," adds Craythorne.
Is it OK to use sunblock every day?
The short answer is yes, absolutely – "sun protection should be applied daily and topped up throughout the day as needed," says Maruthappu. Something Craythorne tells her clients is that you should consider why you're wearing sun protection in the first place.
"If you're wearing it to protect skin from burning and skin cancer primarily, then you only really need to wear an SPF 30 or above between the middle of March until the middle of October in the UK. But if you're worried about pigmentation, melasma or skin ageing, then you should wear a broad-spectrum sunscreen or sunblock every single day."
Best sun protection for face and body
If you're after a new skin-savvy sun protection to add to your summer skincare routine, here are four of my favourites as a Beauty Editor: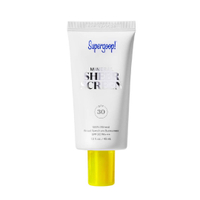 Supergoop! Mineral Sheerscreen SPF30 | RRP: $38/£34
No longer are we limited to chalky sunblocks that leave a white cast on the skin. This formula, from Supergoop!, has a sheer, barely-there finish and ultra-lightweight feel. It's also incredibly hydrating thanks to squalane, sodium hyaluronate and aloe leaf juice.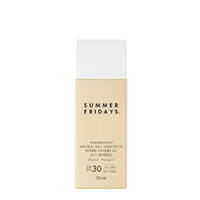 Summer Fridays ShadeDrops Broad Spectrum SPF 30 Mineral Milk Sunscreen | RRP: $36/£36
Another lightweight formula that's ideal for sensitive skin, Summer Fridays' Mineral Sunscreen boasts a silky, milky texture that sinks into skin speedily without leaving behind a chalky film. It's also brimming with hydrating squalane and vitamin E to support the skin's moisture barrier.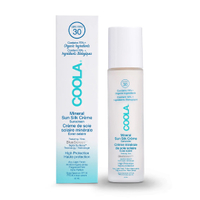 Coola SPF30 Organic Mineral Sun Silk Crème Full 360 Spectrum | RRP: $48/£45
This lightweight, oil-free SPF provides broad-spectrum protection with non-nano zinc oxide. Fragrance-free and non-comedogenic, it's the perfect pick for sensitive and blemish-prone skins. Oh and the addition of niacinamide helps to brighten and reduce the look of redness. Tick, tick, tick!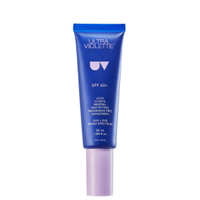 Ultra Violette Lean Screen Mineral Mattifying Fragrance Free Skinscreen SPF 50+ | RRP: $38/£34
Take down shine with Ultra Violette's Mineral Mattifying Skinscreen. The fragrance-free formula, that contains zinc oxide to protect skin from UVA and UVB rays, has a lightweight feel and a subtle matte finish that sits well under makeup.
Sign up to our free daily email for the latest royal and entertainment news, interesting opinion, expert advice on styling and beauty trends, and no-nonsense guides to the health and wellness questions you want answered.
Emma Stoddart is a freelance beauty journalist and self-confessed skincare aficionado with over five years' industry experience. Emma has worked for some of the UK's top women's titles including Net-A-Porter, Stylist and Grazia. Her experience spans online and print as well as producing editorial shoots with some of the industry's biggest artists, including Val Garland. Asides from working with them behind the scenes, she's also had the chance to interview the likes of Patrick Ta, Pat McGrath, and Sam McKnight for all their insider tips and tricks.