Laura Mercier Tinted Moisturizer vs L'Oréal Paris Skin Paradise Tinted Water Cream
Looking for a tinted moisturiser but not sure whether to pick Laura Mercier Tinted Moisturizer vs L'Oréal Paris Skin Paradise Tinted Water Cream? We're here to help.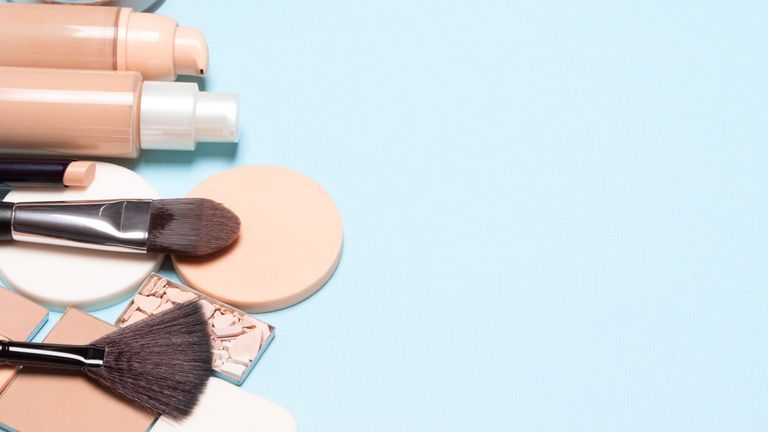 (Image credit: Getty images)
Whether you're searching for the best foundation to use every day, a lighter formula for lazy weekends or are battling dry skin, each of these tinted moisturisers has something great to offer.
In this Laura Mercier Tinted Moisturizer vs L'Oréal Tinted Water Cream guide, we'll explore the pros and cons of both foundations.
Quick comparison
Price
Laura Mercier Tinted Moisturizer: £35
vs L'Oréal Paris Skin Paradise Tinted Water Cream: £10.99
Coverage
Laura Mercier Tinted Moisturizer: light to medium, satin finish.
vs L'Oréal Paris Skin Paradise Tinted Water Cream: light to medium, glowing finish
Shades
Laura Mercier Tinted Moisturizer: 20
vs L'Oréal Paris Skin Paradise Tinted Water Cream: 10
What is special about Laura Mercier Tinted Moisturizer?
Laura Mercier Tinted Moisturizer is the original tinted moisturiser, combining skincare benefits with light to medium buildable coverage. It's a beauty industry classic and although a recent formulation saw off the illuminating variant, it still offers a lightly radiant, satin finish.
On the skincare side of things, it includes hyaluronic acid, a hydrating sugar that holds up to 1,000 times its weight in water, plus macadamia and kukui seed oils. It also includes antioxidants vitamin E and C to brighten and protect the skin and has seen a recent bump up on the sun protection front, from SPF20 to SPF30.
It's a little bit thicker in texture, and a touch more polished in terms of the finished look, than you might expect. This means you'll need to pick the best foundation brushes and tools to apply, but will be a good thing if you need slightly more coverage and better lasting power than the average tinted moisturiser is able to provide.
What is special about L'Oréal Paris Skin Paradise Tinted Water Cream?
L'Oréal's latest blockbuster launch isn't strictly a tinted moisturiser, they say, but a water tint. The principle is similar in any case – it's a light foundation that focuses as much on moisturising ingredients as it does pigment and finish.
As expected from the name, this formulation is based around water as well as some silicones, which give it a pleasing blendability and silky texture. As well as moisturising glycerin and aloe vera it also includes antioxidants and SPF20 sun protection.
Much like Laura Mercier Tinted Moisturizer, the coverage of this base is a little more robust than you might think. This will be a good thing if you have anything tone-wise that you prefer to even out and will also make it the best foundation for combination skin types.
What are the differences between Laura Mercier Tinted Moisturizer and L'Oreal Paris Skin Paradise Tinted Water Cream?
Let's start with the most obvious difference: cost. Laura Mercier Tinted Moisturizer is over three times the price of L'Oréal Skin Paradise, which means comparing the two isn't exactly apples for apples.
This is apparent in the shade range, with L'Oréal offering half of the options of Laura Mercier. There are also differences between the formulas, as despite being highly sophisticated for a budget base, Skin Paradise does not include some of the more highfalutin nourishing seed oils of Mercier.
Coverage-wise these both offer a decent light-medium level of pigment that can be built up, but the finishes are what sets them apart. Laura Mercier sets down to something closer to a satin foundation look while L'Oréal is undoubtedly more illuminating, with light sheen.
Which of the two should I buy?
This really comes down to budget, and also your skin type.
Whether you want to spend upwards of £30 on one piece of make-up is between you and your current account. If not then L'Oréal Skin Paradise is an excellent sub-£15 base and will be very unlikely to disappoint.
If budget is not an issue, consider your skin's needs. If you have oily skin, experience hot flushes or just prefer the "done" polish of traditional foundations, then Laura Mercier may well be the better choice for you. It also lasts a bit longer than the L'Oréal, without giving in to midday melt.
If shine isn't particularly an issue and you're happy with a more light-reflecting finish, the L'Oréal could suit. The looser texture of Skin Paradise also makes it more flattering for very dry skin, as it'll spread more happily over any rough-textured patches.
It's hard to argue with a 'the more the merrier' approach to shades, and Laura Mercier certainly has the edge in that department. That said numbers aren't everything. Despite offering fewer shades overall, Skin Paradise does have more options in the medium and deep side of the spectrum than it does light – so if you have a darker skin tone it may well meet your needs perfectly.
As woman&home's Beauty Channel Editor, Fiona Mckim has tried more beauty products than she's had hot dinners and nothing makes her happier than raving about a brilliant find on womanandhome.com or her instagram grid (@fionamckim if you like hair experiments and cute shih-tzus)

Fiona joined woman&home as Assistant Beauty Editor in 2013, working under industry legend Jo GB, who taught her everything she needed to know (clue: learn about ingredients and employ extreme cynicism).
In a previous life, Fiona studied journalism back home in bonnie Scotland and honed her skills as a features writer at publications including Junior and Prima Baby, with a brief and terrifying stint on the showbiz pages of a tabloid newspaper in between. She's a skincare fanatic who can't resist adding an extra step to her routine, adores fragrance, has fun with makeup and never turns down the chance to test a new hair tool. Basically, she loves it all.

When not slathering herself in self tan or peering at a tiny ingredients list on a moisturiser, you'll probably find Fiona enjoying something to do with food - cooking it, eating it, cajoling her friends into trekking across London to try a hyped pop-up in a dirty car park.
Come to think of it, the hot dinners and beauty products are probably about even.